EXCLUSIVE — After asking plenty of U.S. national team players how strong the other nations are that they'll be facing at the 2014 World Cup in Brazil, I got the same initial response from most of them.
They puff their cheeks out and look down to the ground in a reflective pause before answering the question. Without saying anything, they've already answered my question.
On Friday, the draw for the World Cup next summer in Brazil will finally be made after 32 nations have risen to the top of international soccer and qualified. Now they'll find out who they can pit their wits against in the Group Stages in South America next June.
Arguably the 20th edition of the world's greatest sporting showpiece will be the hardest test yet. Is that the way the USA see it?
"Yeah… that's the way it looks when you break down the pots," U.S. 'keeper Tim Howard said. "Who can get who and potential match ups. It's hard with so many different challengers. I'll be an interested observer come December 6. But at the moment I'm not trying to figure out too many scenarios."
(MORE: 2014 FIFA World Cup Draw – Here's how it's going to work)
Central midfielder Michael Bradley, who will arguably be the USA's most pivotal player in Brazil, echoes Howard's sentiments that an incredibly tough task lies ahead as all the big names in world soccer will be in Brazil.
"For sure, when you start looking at the pots and looking at the draws… you realize it," the AS Roma maestro said. "Look. it's going to be a good World Cup and there's not going to be any easy groups, that's for sure."
Placed in Pot 3, the USA are unseeded for the tournament and know a clash against either the host Brazil or one of the big names in European or South American soccer awaits. Jurgen Klinsmann's side are up for the battle and after an encouraging year that has seen them knock off some top European opponents in friendlies and totally dominate CONCACAF, they're better equipped than they've ever been for a World Cup, expect this one is a tournament many are calling the toughest in living memory.
(MORE: What US Soccer wants from the World Cup draw)
Howard believes the fact that he's now a veteran of two World Cups, and most of his teammates are too, will help the USA reach the top of their game when the big matches come around in Brazil.
"When you play at the highest level the more big matches you can have, the bigger occasions you can have, it just kind of hardens you and allows you to have that fear factor dissipate," Howard said furrowing his brow. "Because you've been there before and you're not rattled by the crowd, the occasion or the moment or 'oh my god this is a big game, we need a result.' We've been there and done that, so that's what you see our players are all about. And that's why it's  important to have senior players in your team so you can settle everyone's nerves."
(MORE: 2014 FIFA World Cup Draw – Everything you need to know)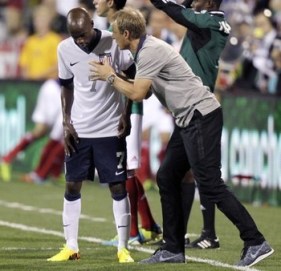 There will be some World Cup virgins in the U.S. squad though, and Stoke City defender Geoff Cameron is one of them. Recently when I spoke to the man many believe is nailed on to be the USA's starting right back at the World Cup, Cameron insisted he's just focusing on getting to Brazil and isn't too bothered about the draw.
"It's all about just putting your name on the list," Cameron said. "That's obviously the goal, going to the World Cup. You just have to be consistent and be a regular player and go from there, little baby steps you know? I'll watch the draw on December 6 and kind of go from there."
(MORE: 2014 FIFA World Cup Draw – The sum of all fears scenario for the United States)
Right now, as all the different permutations and worries about who the USA will be playing in Brazil swim around the heads of management, players and fans, what we can expect when the USMNT turn up in South America in six months time has sort of fallen by the wayside.
(MORE: 2014 World Cup Simulator – One last time, lets fret over how hard it'll be for USA)
So, what can Klinsmann's men achieve? Is a semifinal berth out of the question, or is the aim to just get out of the group?
"It's always a tough one to put your finger on," Howard said. 'I think our best ever finish was quarter finals [in the modern era], I think if you look at this team and the results that we've had and how we're put together, certainly we want to get out of our group as we did in 2010. Unfortunately we lost in the second round, but we feel like if we can win that game and get ourselves to the quarter finals… we're in touching distance of doing something special. What that is, I don't know. But we're all going to try and get ourselves back to that quarterfinal game."
Make sure you log onto NBCSports.com and ProSoccerTalk for live updates of the World Cup draw and plenty of analysis and reaction from Brazil.