On Friday morning Brendan Rodgers announced that Liverpool are preparing themselves to sit down with star striker Luis Suarez and work on a potential new contract.
Suarez, 26, has been in scintillating form since returning from his ban earlier this season and has scored 13 goals in just nine PL games.
The Uruguayan forward is in the form of his life and with that in mind, Liverpool are looking to tie him down to a long-term deal at Anfield. Suarez still has two and a half years left on his current deal but with the World Cup coming up and the feisty striker set to be a star in Brazil, Liverpool will be hoping he commits his future to the Premier League side.
Of course you will remember the protracted transfer saga surrounding Suarez throughout the past summer when he stated he wanted to leave Liverpool and Arsenal put in a bid, whilst Real Madrid, Chelsea and others were sniffing around. But after all that, Suarez looks happy and at home at Liverpool and his four stunning goals (watch above) against Norwich on Wednesday prove he's at the top of his game.
"We want him to stay and, with his contract running for two and a half years, I am sure there will be something between now and the end of the season to keep him here," Rodgers told Sky Sports. "The most important thing is that the player is happy. I think all parties are fairly comfortable at the moment. We made our feelings known in the summer and it is where it is. The only concentration now for us and Luis is to keep him playing at that level, and the rest takes care of itself."
Over the summer an agreement was said to be in place between Suarez, his agent and the club that if a side offering UEFA Champions League soccer came in for him, he could leave Anfield. However, the club reject any notion of that ever being part of his contract, informally or formally. But you have to think if Livepool don't qualify for the UCL this season, Suarez may be on his way out of Anfield after the World Cup this summer.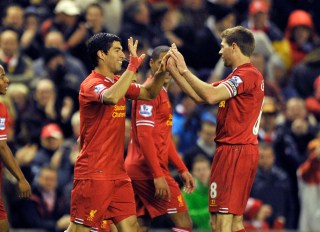 "Is his future here linked with the Champions League?" Rodgers said. "It is linked with him being the best player he can be, playing at the highest level he can. He has two and a half years left on his contract, so there will be another two years to go in the summer. That's all there is to be said. But I just have a feeling, an inkling (that he may stay), and it is based on where he is in his life and conversations with him. His behavior, mannerisms and performance levels tell me he is very happy being with Liverpool and in the Premier League. That gives me confidence."
One thing is for sure, Liverpool can't afford to not have Suarez on their side. With him they have a chance of making the Champions League. He is arguably the most in-form striker on the planet right now and if he does get the chance to shine in European club soccer's biggest stage with the Reds, then I think his legendary status at Anfield will be rubber-stamped as he helps usher in a new successful era at the famous club. He can change the game in an instant in Liverpool's favor as players that do that are worth their weight in gold.
Liverpool's American owner John W. Henry should not play harball with these contract negotiations. Give Suarez whatever deal he wants, just make sure he remains a red. Then, and only then, can Liverpool fans look to the future with optimism and certainty that they will at least be perennial challengers for the Champions League spots.
Suarez must stay.