Amongst MLS's goalkeeping elite, Jimmy Nielsen and Nick Rimando can both claim places, each veteran number ones having held major sway on the league's last two Goalkeeper of the Year honors. In 2012, the Sporting captain snared the award, while the Real Salt Lake veteran finished second to Portland's Donovan Ricketts this season. Over the last two seasons, these may be Major League Soccer's two best keepers.
They are, however, very different players, a divide that starts with their stature. At 6'3″ tall, Nielsen has the traditional size of a top flight keeper, while at 5'9″, Rimando's height is more reminiscent of an outfield player. Yet whereas you'd expect the taller man to have the greater presence coming off his line, the opposite's actually true.
Nielsen's earned his nickname "White Puma" for his cat-like reflexes, attributes most often displayed while the 36-year-old stays between his sticks. With defenders like Aurélien Collin and Matt Besler patrolling the box, his strategy may be influenced by his teammates, but entering the final years of his professional career, it also serves a player whose athleticism continues to wane. At his best waiting and reacting, Nielsen rarely presses his luck off his line, something that can come back to haunt him on the rare occasion one of his central defenders is beat in the air.
Rimando is surprisingly strong in the air – an attribute that's improved throughout his career. Though his size still works against him, Rimando's quick, decisive reads on crosses allow him to beat opposition players to the ball, his ability to read the game seeing him evade most physical challenges. Particularly on deep crosses, Rimando distinguishes himself from his peers, with his performance in the 2012 conference semifinals at Seattle standing out as one of the best games from a goalkeeper in MLS postseason history.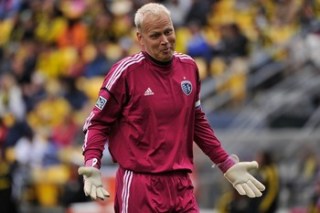 Rimando's other obvious edge on Nielsen is in his distribution. Whereas the Real Salt Lake keeper is thought to be one of the best in the league putting the ball back into the field, Nielsen's kicking game isn't considered a strength. His play on the ball is another area where the more well-rounded Rimando makes up for his six-inch height disadvantage.
But being well-rounded doesn't make you a better keeper any more than having a more versatile skill set automatically makes a midfielder better than a pure goalscorer. The overriding principle: How do you influence the bottom line? Rimando can be the most well-rounded goalkeeper in the world, but if he isn't preventing more goals than Nielsen, he's probably not the better keeper.
Though Rimando probably was the better keeper in 2013, the gap between Saturday's keepers isn't so big that one game's variables couldn't shift the scales. Particularly against an RSL team unlikely to persistently challenge with crosses (16th in MLS in crosses per game), Nielsen's weaknesses will be masked. Likewise, Sporting's become less apt to use their strikers as target men (13th in crosses), meaning Rimando's unlikely to replicate last year's performance in Seattle.
If it's a battle of shot stoppers, Nielsen's ability to cover more of the goal may give him the edge, but given the razor-thin nature of that advantage, you'll forgive us a slight cop-out:
EDGE: Basically even
MORE ProSoccerTalk MLS CUP COVERAGE
Report says Jason Kreis on sure track to take NYCFC job; the RSL manager just frowns
Looking back on RSL's top moment as a club, the 2009 MLS Cup
Real Salt Lake in 2013: the "not-so-rebuilding" year
Looking back on 2013: Talking through Real Salt Lake's path to MLS Cup
What we learned as SKC dispatched Houston in the Eastern finals
Sporting KC's new way; the team is far more versatile today
MLS Cup 2000 flashback: Meola, Molnar and the SKC heroes
The Benny Feilhaber conundrum; has Peter Vermes finally cracked the code?
Notes from Sporting Kansas City's Thursday press conference
MLS Cup will close banner 2013 season for Sporting Park
MLS Cup first: manager who are both former players in the league
Debunking the myth of Sporting KC, Real Salt Lake as bitter rivals
MLS Cup history: the three best finals yet