Manchester United has a firm grasp on the all-time series, having won more than half of the matches with a 72-36-34 record.
Wayne Rooney will miss the fixture after picking up his fifth yellow card of the season.
Newcastle hasn't won at Manchester United since 1972.
Foul moods should abound when Newcastle United march into Old Trafford for a Saturday's tilt with Manchester United (Watch live on NBCSN 7:45am ET and online via NBC Sports Live Extra).
One loss in 13 shouldn't be a big deal, even for a massive club like Manchester United, but a 1-0 defeat that signaled the end of home dominance of Everton is resounding in Manchester. Throw in that the loss came to manager David Moyes former club, a Toffees team currently five points ahead in the table, and life is noisy for the Red Devils.
WATCH LIVE ON NBCSN AND ONLINE NBC SPORTS LIVE EXTRA, 7:45AM ET, SATURDAY
Meanwhile, Newcastle is coming off their first defeat in five matches, a 3-0 loss at Swansea that did not come without controversy. Alan Pardew was hot with referee Howard Webb after multiple penalty calls went unheeded and Jonjo Shelvey, sitting on yellow, went unscathed after appearing to launch his head at Mathieu Debuchy.
Still the plaudits continue to roll in from Newcastle's unbeaten November, with Tim Krul and Alan Pardew honored, and the Magpies have seen some success against Manchester United in the past two seasons. Manchester took both matches last season, 4-3 and 3-0, but Newcastle took points from both tilts in 2011/12, to the tune of 3-0 and 1-1.
Fair play to Newcastle: they've shown well against top competition thus far, aside from a 4-0 Opening Day loss to Manchester City at the Etihad that came without engine room star Yohan Cabaye, embroiled in transfer controversy. Aside from that they beat Chelsea and Spurs, drew Liverpool and dropped a 3-2 thriller to Everton.
The absence of Wayne Rooney signals distress for Manchester United, who may also be without Robin van Persie and Shinji Kagawa. All that is a welcome relief for the Magpies defenders; The team has freely substituted at several defensive positions and are at their best when allowed to move forward. Phil Jones should return for Manchester United.
Loic Remy remains one of the PL's hottest scorers and was quite dangerous in the loss to Swansea and the on-again, off-again drama of whether captain Fabricio Coloccini wants to go back to his family in Argentina is off… for now. Pardew could also have Hatem Ben Arfa and Papiss Cisse back in the fold as Newcastle looks to keep danger in their line-up.
What they're saying
Alan Pardew backs Moyes to succeed at Old Trafford: "I think everybody knew that the first person to follow Alex, it was going to be very, very difficult. But he's a strong man and I think he can handle it, and there's a long, long way to go. I think they had gone 12 games unbeaten up until that game, so it's not as if there's a crisis there. They have lost a game, which as I say, anybody can do in the Premier League at the moment."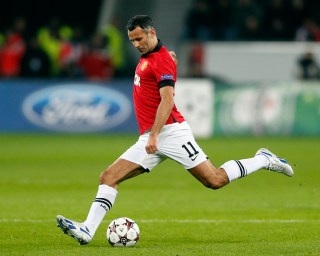 Manchester United midfielder Ryan Giggs on the challenge of rebounding from the Everton loss: "It's a quick turnaround, but we've got to pick ourselves up. We cannot feel sorry for ourselves for too long. It's a home game and hopefully it will be a different result. We need to get on a run, before this we were on a 12-game unbeaten run. We have to get over this disappointment now." 
Prediction
Newcastle's 3-0 loss away to Swansea on Wednesday has the potential to be written off as an anomaly with some controversial Howard Webb non-calls combined with terrific saves from Michel Vorm, while the Everton defeat's echoes could be quickly erased with a strong performance on Saturday. Both teams aren't exactly defending dynamos, so it's fair to expect the goals often seen in this fixture. The Red Devils get off the mat with a 2-1 win.