Three years in the spotlight has given us plenty of time to appreciate Sporting Kansas City's talents, from now-United States regulars Graham Zusi and Matt Besler to the previously under-appreciated Seth Sinovic and Chance Myers. Trying to explain this team's success season-over-season, we've been able to detail everyone's virtues, with even a relative new guy like Benny Feilhaber getting some time in the spotlight after his postseason resurgence.
Through that time, however, it's become difficult to get a grasp on French defender Aurélien Collin, with the nature of his game making it almost impossible to have a rational conversation about him. Some see his league-leading 13 yellow cards and penchant for borderline play and theatrics as mitigating the quality he brings to the field. Others see those as distractions, red herrings that fans choose to latch on to rather than acknowledge him as one of the league's best defenders.
The discussion is so polarized, it's near-impossible to get at the truth. At times, Collin is Sporting Kansas City's best defender, his instincts and physicality allowing him to dominate a game the way his partner, the more heralded Matt Besler, can't. Crudely, Collin imposes where Besler controls, the aggression that often gets him into trouble making him the league's best defender in isolated spurts.
But that aggression can also take him out of games. Instead of being dominant, he can be destructive, those 13 yellow cards three more than any other player in Major League Soccer. In three seasons in Kansas, Collin's drawn 29 yellow cards, forcing him to miss a number of matches with accumulation suspensions. While his lack of red cards (one in three years) hints he knows how to tone it down, the time he misses with collected cautions hurts his team. That can't be ignored.
Those discipline issues haven't been a problem this postseason, however. In four playoff games, the Kansas City central defender has more goals (two) than cards (one). His worst traits in check, Collin has been Sporting's best defender in the playoffs. If he hasn't been the team's best player overall, he's possibly been their most consistent game-to-game, even if his bad side came out a little in leg one against Houston.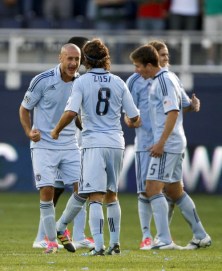 But perhaps this postseason proves the detractors' point. If Collin can just keep his focus on defending and forgo the dark arts, he can be one of Major League Soccer's best center backs. There's no question about it. Given Kansas City's consistently been among the league's best defenses since his 2011 arrival, there's ample evidence to illustrate the point.
But imagine how much better he would be if he didn't insist on pushing the boundaries between dominant and dirty? Often, we can't let it go.
The mistake we make, however, is thinking it's either-or. Collin can be dirty and great at the some time, but because we hate rewarding players who practice those dark arts, there's a reticence to fully acknowledge what he brings to the team. His strength in the air, decisiveness stepping into midfield, and ability to impose himself on the other team's attack get ignored. It's as if we think admitting Collin is one of the league's best defenders somehow condones how he goes about it.
That's why he's so underrated. That ethical dilemma we embrace every time we discuss Collin gets in the way of acknowledging his value. With a better reputation, he may have been a contender for this year's Defender of the Year award. As is, he's just the man in the black hat.
On Saturday, however, that reputation won't matter. When the first whistle blows, our ethical qualms become irrelevant. All that matters is his ability to help contain Álvaro Saborío.
He may play the villain in match previews and on social media, but on Saturday, Collin will go back to being one of the best defenders in Major League Soccer – one of the most underrated players in Sporting's XI.
MORE ProSoccerTalk MLS CUP COVERAGE
Report says Jason Kreis on sure track to take NYCFC job; the RSL manager just frowns
Looking back on RSL's top moment as a club, the 2009 MLS Cup
Real Salt Lake in 2013: the "not-so-rebuilding" year
Looking back on 2013: Talking through Real Salt Lake's path to MLS Cup
What we learned as SKC dispatched Houston in the Eastern finals
Sporting KC's new way; the team is far more versatile today
MLS Cup 2000 flashback: Meola, Molnar and the SKC heroes
The Benny Feilhaber conundrum; has Peter Vermes finally cracked the code?
Notes from Sporting Kansas City's Thursday press conference
Sporting Kansas City's key players
Sporting's underrated man: Is it Aurélien Collin?
MLS Cup positional edges: Goalkeepers
MLS Cup positional edges: Defenses
MLS Cup positional edges: Midfields
MLS Cup positional edges: Forwards
MLS Cup will close banner 2013 season for Sporting Park
MLS Cup first: manager who are both former players in the league
Debunking the myth of Sporting KC, Real Salt Lake as bitter rivals
MLS Cup history: the three best finals yet