LONDON — Following their 1-1 draw with Everton on Arsenal, one thing is clear as we enter the cold winter months of the long Premier League season and teams at the top of the table continue to drop points.
Arsenal only have one main competitor for the title… themselves.
After their slightly nervous display on Sunday, Arsene Wenger revealed that his side must stay focused on the matter on hand as they're five points clear at the summit. Despite all the hype and hubbub from many speculating a first Premier League title since 2004 will arrive at the Emirates this season, their long-time French manager is urging caution but believes his team are much stronger than they have been in recent years.
"We have shown consistency up until now and an absolutely fantastic attitude," Wenger said. "That's why we are different to last season. We are a better team too and more stable defensively and better offensively. Overall, you could see today with the toughness of the game we have to prepare ourselves for every single game."
The weight of expectancy on Arsenal's shoulder was palpable from the offset in an entertaining end-to-end game, as Everton put in an impressive display that pushed the league leaders to their limits.
(MORE: Arsenal 1-1 Everton – Late breakthroughs cancel as Deulofeu denies Arsenal all 3 points)
When Mesut Ozil put Arsenal 1-0 up in the 80th minute, the relief was obvious amongst the home fans as they celebrated the strike with thunderous chants of "1-0 to the Arsenal" and they believed, that was that. Many times this season it has been, as five shutout wins from their last seven league games prove, but that huge sigh of relief following Ozil's goal turned into groans of discontent four minutes later as Gerard Deulofeu scored a stunning late equalizer to send Arsenal's fans into silence.
Ozil's opener should have kicked Arsenal on but they sat back, looked edgy and failure to clear several crosses late on cost them all three points. Wenger was left scratching his head.
"The regret I have is that we were pulled back after being 1-0 up with seven minutes to go," Wenger said. "You have to give credit to Everton, they continue to play well and they always looked dangerous. We played against a very good side we are disappointed to get caught with one at the end, but it's still a point."
Throughout the draw with the Toffees, especially early on, Arsenal's fans were getting on their sides back as their team gave the ball away needlessly and the away side were pressing the Gunners high up the pitch to great success. Negativity reigned supreme around the Emirates as large spells of prominent silence from the home fans was telling. U.S. international 'keeper Tim Howard put in an inspired performance in goal for Everton, pulling off three fantastic stops to thwart the league leaders as anxiety levels rose in the Emirates as the pulsating clash wore on.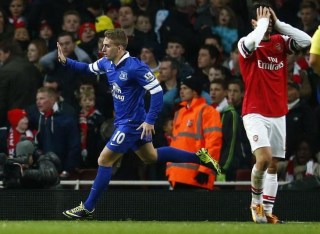 "We took time to get into the game, Everton started stronger," Wenger said. "After that we had three one-on-one's against the 'keeper in the first half. But we didn't our chances very well."
Wenger was right, plenty of players like Aaron Ramsey, Jack Wilshere and Santi Cazorla weren't quite at the races as needless giveaways were greeted with endless sighs and cries of disbelief from the home fans. You can't blame the players for feeling a bit under pressure, Arsenal's fans are desperate for some silverware after eight barren years and reminders of that are all around the Gunners stars as they continue to stay on top of the PL.
Emblazoned on the balconies splitting up the four tiers of the vast 60,000 plus Emirates Stadium are the outlines of which trophies they've won and which year they've won them in. FA Cups, Premier League titles, League Cups… they all hang over the pitch as an ominous reminder, to the players at least, of Arsenal's great history and level of success spanning decades.
Asked afterwards if Arsenal were serious title contenders this season, Wenger kept his cards close to his chest.
"It depends what you call serious," Wenger said. "As long as we are five points ahead we cannot rule ourselves out. So, let's keep that going. It shows you that it will be a tough a Premier League and consistency, in the end, will be a reward. Consistency if of course down to us to keep this attitude going from now until the end of the season."
This season many expect them to break that duck of no trophies since switching from their historic Highbury Stadium for the Emirates back in 2006. But as the nervy atmosphere on Sunday suggested, that huge level of expectancy could bring the walls crumbling down around them.
Against Everton, some cracks were starting to show.
Their next two games against Manchester City and Chelsea may reveal further blemishes but the toughest task will be how to deal with their own demons that have robbed them of success in recent campaigns. Mental toughness is key and Wenger believe his sides attitude is spot on, as Arsenal have rolled teams over all season and deservedly sit top of the standings.
But now the biggest battle of all is coming up, a battle against themselves.