KANSAS CITY, Kan. — Last year, when Houston visited Los Angeles for a second straight MLS Cup, there were no real surprises, be it in the match or in the two teams' paths to Carson. This year was a little different. While nobody was shocked to see Sporting Kansas City or Real Salt Lake in the final game, a handful of individuals played unexpectedly large roles in their successes, perhaps changing the way those players perceived around Major League Soccer.
In alphabetical order, here are the four that raised their profiles (or, changed perceptions) most over the last six weeks:
AURÉLIEN COLLIN, D, SPORTING KC
Before Saturday's game, we talked about the Collin-ian dualism that undermines the Frenchman's renown, something his own indiscretions play into. That physicality-versus-efficiacy debate took center stage against RSL, with Collin nearly drawing a second yellow card late in regulation time.
Ultimately, Collin's quality won out, his second half equalizer and shootout-winning kick part of his Most Valuable Player performance. While his handling of Robbie Findley may have drawn some pained groans from the RSL faithful, the assembled media saw beyond those grey areas and voted him to the game's highest individual honor. It was proof Collin's worst traits need not overshadow his ability to be a dominant MLS defender.
[MORE: MLS Cup Man of the Match: Sporting Kansas City's Aurelien Collin]
In five playoff games, the 27-year-old scored three times, and while his play in defense wasn't perfect, his overall postseason performance was enough to force his detractors to reconsider. Maybe Collin does cross the clean-dirty line too often, but that's not enough to justify overlooking him as one of the league's best defenders – somebody who may look to capitalize on his postseason performance to get back to Europe.
BENNY FEILHABER, M, SPORTING KC
Feilhaber's virtues were trumpeted so much after Sporting's second leg against Houston, revisiting them now would be redundant. Instead, let's look at what's ahead for the 28-year-old former U.S. National Team member. To what extent did his playoff run revitalize his career?
We've heard some say Feilhaber's postseason should vault him back into national team contention, but that's probably not going to happen. When you have players like Sacha Kljestan fighting for time (or, sometimes even callups), it's hard to see why two or three good games should reshuffle Jurgen Klinsmann's depth chart. Perhaps Feilhaber's done enough to justify another look in January, but given the limited time the full U.S. team will have together before starting World Cup preparations, Feilhaber's probably on the outside looking in.
On the club-level, though, Feilhaber's month was huge. The postseason provided a proof of concept after a season where the former Revolution midfielder failed to establish himself in Peter Vermes' XI. Now, going into the offseason, he's given his coach and technical director reason to believe he's a solution for 2014, not just another Bobby Convey-esque failed experiment. Now, the question shifts from whether he can contribute to whether he can replicate this performance in the regular season.
In that respect, it was a huge month for Feilhaber. While Feilhaber's always been capable of this type of impact, he still needed to show it. In the playoffs, he did.
ROBBIE FINDLEY, F, REAL SALT LAKE
Who knew Findley would play such a big part in RSL's postseason? Apparently Jason Kreis and Garth Lagerwey, but few others. After Findley scored twice in the Western Conference finals against Portland, Kreis noted the importance of bringing back a player who could score in big games. On Saturday, the former U.S. international nearly came through again, putting a first half chance off the post.
Findley's broader reputation has always been a strange one, with fans constantly asking for more from the burner's game. When, in 2010, he was brought back into the national team to try and emulate the injured Charlie Davies, he fell victim to the hopes being cast upon him by the hype of  South Africa. His failure to form a Davies-esque bond with Jozy Altidore became many's lasting memory of the 2009 MLS Cup champion.
Perhaps 2013 will remind people that Findley is more than 'not Charlie Davies.' He's a player that scored 12 goals for RSL in 2009, somebody who can still exploit very specific matchups.
He may not quite be international caliber, but few are. As the 2013 postseason showed, you don't need to be one your national team's four best forwards to be a valuable piece at the club level.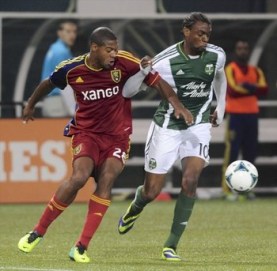 CHRIS SCHULER, D, REAL SALT LAKE
On an individual level, this is the postseason's big winner, the 26-year-old having made a name for himself with MLS's national audience. While injuries prevented the 2010 draftee from making his mark before the playoffs, his play over the last five games has sparked Feilhaber-esque national team discussion. But whereas the discussion around the Kansas City midfielder is driven by a sense of nostalgia and vindication, Schuler's credentials are being lauded by those within the game, something Real Salt Lake's decision makers predicted would happen at the outset of the 2013 season.
Whether U.S. Soccer agrees with those accolades remains to be seen, but during Real Salt Lake's postseason run, Schuler's performance made a compelling case. In defense, he teamed with Nat Borchers to shut down Robbie Keane and Landon Donovan before helping his team hold Caleb Porter's Portland Timbers to two goals in 180 minutes. Against Kansas City, he got caught under Collin on Sporting's only goal, but by that time, he'd already made the case.
Going forward, fitness will be the biggest concern, but if Schuler can stay healthy, he'll establish himself among MLS's best defenders, national team or not.