Lionel Messi went scoreless in the last World Cup. Cristiano Ronaldo scored once. In a combined four finals (both players debuted at Germany 2006), the world's marquee duo have a combined three goals. For some, that lack of success on the biggest stage keeps them out of any best player ever debate. Thankfully, those people are outnumbers. Most have come to acknowledge the World Cup isn't the be all, end all of world soccer.
But if Messi or Ronaldo fans are hoping their favorite players can dispel that minority opinion, Friday's 2014 FIFA World Cup draw delivered good news. While Portugal was drawn into a difficult group (Germany, Ghana, U.S.A.), that quartet shares one quality with Argentina's (Nigeria, Iran, Bosnia-Herzegovina): Neither group offers a lot of defense.
[MORE: 2014 World Cup Draw: Recapping the event]
For Messi, Bosnia-Herzegovina may end up the group's second-best team, but in seven games against World Cup qualified countries over the last two years, Bosnia's given up 11 goals, including four at home to the United States on Aug. 14. In late 2011, Bosnia gave up six to Portugal. Though they're talented going forward, the World Cup debutants can be had at the back. Sure to play a more advanced role than he did at the last World Cup, Messi could be one of the beneficiaries, Argentina having already beaten Bosnia-Herzegovina 2-0 without Messi in St. Louis on Nov. 18.
The other members of Group F are less tested, with Nigeria and Iran having played a combined seven games against World Cup opposition since 2011. The African champions gave up 10 goals in five games this year to qualified nations (Italy, Spain, Uruguay, Mexico, Ivory Coast), while Iran kept clean sheets in both of their World Cup Qualifiers against South Korea. Carlos Queiroz's team is generally considered one of the weakest in the field, but with the former Portugal boss in charge, they may prove the most difficult for Argentina to break down (though two games against South Korea are hardly cause for conclusions).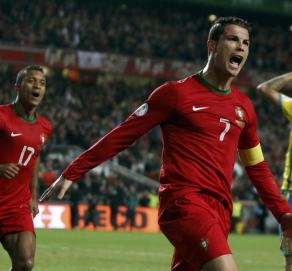 As for Ronaldo, Germany is the big name in Group G, but Joachim Löw's team has posted a terrible defensive record over the last two years. In 13 games against World Cup qualifiers, Germany has given up 21 goals. They gave up four to the United States in June (albeit with a mostly reserve team) and five to Switzerland last May. Among their more disturbing performances against non-World Cup competition, Germany has conceded four on one occasion (Sweden, Oct. 2012) and three on two others (Sweden, Oct. 2013; Paraguay, Aug. 2013). Although Germany kept a clean sheet against Portugal at Euro 2012, the broader defensive record is much more suspect.
The United States has been boom-or-bust, keeping seven clean sheets in 15 games against World Cup qualifiers over the last two years. They've also had two games where they've give up four goals (Brazil, May 2012; Belgium, May 2013) and three others where they conceded three times (Germany, June 2013; Bosnia-Herzegovina, Aug. 2013; Costa Rica, Sept. 2013). As others have noted, the U.S.'s current glaring weakness is at fullback, something that could cost them against Ronaldo.
Group G's other team, Ghana, has played four 2014 World Cup teams since Jan. 2012 and never kept a clean sheet. Their latest such game was in August against Japan, with the Black Stars conceded three times against Asia's champions.
The draws are encouraging if you're hoping for goals from the game's biggest stars, but there are a couple of problems with looking at Messi and Ronaldo's prospects in this way. The players selected for the games in question may not have been part of their country's "A team," and even if they were, those players may have fallen out of favor over the last two years. The teams that show up in Brazil could be very different from those that had trouble keeping goals out.
But any other type of analysis brings in player and roster evaluations that can become subjective. From the right eyes and minds, those evaluations can be powerful. From those relying on reputation over performance, they' can be useless. For this exercise, for better or worse, we only look at actual results from the last two years, letting you decide how much validity to give the "method."
If you find any meaning in past results, you probably see a lot of room for Lionel Messi and Cristiano Ronaldo to put up some nice group stage numbers, perhaps sending them toward the tournament's Golden Boot. If you don't find the numbers convincing, you have to at least concede: Most of the teams trying to stop Messi and Ronaldo will need to be better in Brazil than they've been leading up to the World Cup.