1. Manchester United: Making the wrong kind of history
Everton hadn't won at Old Trafford in 21 years. Newcastle hadn't won at the Manchester United since 1972. It's the first time the Red Devils have lost back-to-back games at home in 11 years, and they've already dropped as many games this league season as they did in the entire 2012-13 campaign. People who think David Moyes hasn't accomplished anything at United are kidding themselves, because the former Everton boss has already collected a list of dubious accomplishments few thought possible.
[MORE: Manchester United 0-1 Newcastle: Red Devils slip up once again (video)]
[REVIEW: Manchester United 0-1 Everton: Moyes defeated by former club (video)]
Newcastle certainly deserve credit, their 1-0 win on Saturday seeing Alan Pardew's team successfully go toe-to-toe with Red Devils, but the way they went about it only highlights Manchester United's faults. Moving away from the 4-4-2 that produced four November wins, the Magpies bolstered their midfield to play more of a possession game, assuming they could wrestle away some control despite playing at Old Trafford. With Michael Carrick's absence becoming more important by the game, Pardew was proven right. Handing Manchester United their second home loss of the week, the Toon resumed their winning ways, five wins in six leaving them seventh in the Premier League.
David Moyes says his team can get back in the title race, but consider the assumption behind that statement. Manchester United, by their manager's own tacit admission, is not in contention right now. Fifteen games into defending a title they won by 11 points, Moyes's new club are out of this year's chase, if perhaps temporarily so.
While that might not be enough to justify showing Moyes the door, it's certainly enough to doubt whether United made the right choice last May. There are other managers who would have the Red Devils in the title hunt.
---
2. Arsenal slips, but Everton the real story from Sunday in North London
Sunday's result may have provided reason to worry in North London, but let's look at this another way. One season after finishing fourth, it's too much to expect perfection from the Gunners. It's also too much to expect them to replicate last year's Red Devils and run away with the title. They are going to have bad games, and if they are going to occasionally stumble against some of the good-but-not-great sides in the Premier League, today's minor setback could have been worse.
[MORE: Arsenal 1-1 Everton: Late breakthroughs cancel as Deulofeu denies Arsenal all 3 points (Video)]
[MORE: Arsenal could be own worst enemy as title challenge sees tension rise]
Everton played well, had the better of the game through the first half, yet still gave up the opening goal. Keeping Mathieu Flamini on the bench to open the game, Arsène Wenger probably got it wrong. Yet his team held out until he could make an early second half triple substitution, a move that eventually generated a lead. If Wojciech Szczesny does a better job on Gerard Deulofeu's 84th minute shot, Arsenal's "meh" day still ends in victory. Even if they couldn't protect Mesut Özil's opener, Arsenal still increased their lead atop the table.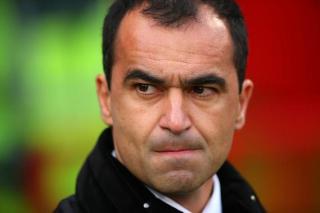 The bigger story here is Everton, a team that took four points from a week where they visited Old Trafford and The Emirates. Those are points Roberto Martínez wouldn't have expected when he initially looked over his new team's fixtures, and though the Toffees have yet to show they have enough punch to avoid adding to their league-leading seven draws, you can see why they also have a league-low one loss. There's a resilience to this team that you wouldn't have expected this early in the Martínez era, something that allowed them to scrounge three points at Old Trafford before coming back for one in North London.
The scariest part about Everton may not be their early success under Martínez. For their Premier League opposition, the Toffees' future may be even more worrisome. While at Wigan Athletic, Martínez always saw his teams improve as the season went on, their tendency to linger at the bottom of the table before a late charge casting Martínez as a kind of relegation battle master (before Wigan finally went down).
After their undefeated week, the Toffees are only one point out of a Champions League spot, and while clubs like Chelsea, Manchester City, Tottenham and Manchester United are likely to improve, so is Everton. This may be more than a mere strong start.
---
3. Goals keep coming for Liverpool
Luis Suárez's name may have only been on the scoresheet once, but he deserves some kind of recognition on Guy Demel and Joey O'Brien's own goals. Maybe "own goals forced" could be a category? Regardless, his attacking accounted for three of Liverpool's four goals against West Ham, and while other defenders may have found a way to keep those own goals out, Suárez's persistence played a part in both.
[MORE: Liverpool 4-1 West Ham: Own Goal stars in Liverpool win (video)]
The performance capped a nine-goal week for Liverpool, now second on goal difference after stumbles from Chelsea and Manchester City. With 17 goals in their last five games, the Reds are also second in the league in scoring, a reassuring rise considering the fears that were summoned by Daniel Sturridge's injury.
But within that success you can see some of the flat-track bully criticism that's been linked with Brendan Rodgers' style. In their last six games, Liverpool is 3-0-1 with a 14 goals and a +9 difference against Fulham, Hull, Norwich, and West Ham. In games against Arsenal and Everton in that same span, the club's 0-1-1 with three goals and a -2.
It's no surprise teams play worse against better competition, but Liverpool's divide is bigger than most, so while our jaws are slacken by a nine-goal week, this may be part of Rodgers' approach. Where other teams might play out a 2-0 result, Liverpool's posting 5-1, 4-1 wins.
---
4. Stoke break through; Chelsea's "trouble" in perspective
José Mourinho's right to worry about his Blues. Their annual late-fall swoon is here, a problem set to exasperate a bipolarity they've shown throughout the season. While Mourinho unlikely to suffer the same fate as André Villas-Boas or Roberto Di Matteo (as well as Luiz Feliipe Scolari and Mourinho before them), he's being forced to deal with the same ailments. Despite all the changes it go through each summer, something about this Chelsea team leaves it vulnerable at this time of year, a weakness that was evident in Saturday's 3-2 loss at Stoke.
[MORE: Stoke City 3-2 Chelsea: Assaidi's screamer hands Potters massive win (video)]
[MORE: Jose Mourinho: "We're in trouble" after Chelsea's defeat to Stoke]
As porous the defending has been (allowing six goals to Stoke and Sunderland this week), Chelsea is still in third place. They're only five points out of first, and although games like Saturday's at the Brittania have been too common, the Blues are still capable of performances like last weekend's versus Southampton (or the match before against West Ham). Chelsea has problems, but they're not Manchester United problems.
As for Stoke, Saturday's result was the best of the Mark Hughes era, not only in terms of the result and the opposition but also the goal output. Coming into the day with 12 goals in 14 games, the Potters had only scored multiple goals three times this season. While this weekend's goals weren't exactly the prodcut of great buildup or execution, strikes by Stephen Ireland and Oussama Assaidi show there is some talent in the squad. If they can add a productive striker in the winter window, Hughes may be able to ease Stoke away from relegation worries.
---
5. Have Manchester City's road woes returned?
It's already being asked in the wake of City's 1-1 draw at St. Mary's on Saturday, but instead of spending all our time worrying about the Citizens, let's give some love to Southampton. Losers of three straight going into the match, the Saints found a way to keep the league's best attack to one goal, and while their own score was a kind of shot-in-the-dark from Dani Osvaldo, that's why you pay the big bucks for a talent like his. Over the course of the second half, Southampton proved they deserved to share points with one of the league's hottest teams.
[MORE: Southampton 1-1 Manchester City: Osvaldo's wonder-goal pegs back Citizens (video)]
So why are people harping on City's road form? It's natural, given City is now 2-4-2 away from The Etihad, but it also ignores the fact that Saints are a good team (something everybody was more than willing to dwell on a month ago). This is a result that should satisfy any team in the league, so while it's easy to fall back on City's home-road narrative, it may be better to note: This week, the Sky Blues took four points from matches at West Brom and Southampton. Which is perfectly fine.
6. New coaches + new results = New relegation outlook
Since Tony Pulis was hired as manager at Crystal Palace, the Eagles have gone from one win to four, the formerly bottom-dwelling club 2-1-0 with their new boss on the sidelines (they won one with him in the stands). While few are going to fear the Eagles' new talons, goals by Cameron Jerome and Maraoune Chamakh remind us that they have players who can pull them by other struggling sides, should those teams fail to improve. Saturday's 2-0 win over visiting Cardiff was a perfect example.
[MORE: Crystal Palace 2-0 Cardiff City: Two on the trot for Palace (video)]
Now 19th with only one loss in five, Crystal Palace is just two points from 15th place, a status that highlights the collection of clubs struggling to pull themselves free of relegation doubts. Sunderland has sunk five points back at the bottom, West Ham is under-performing in 17th, while Cardiff and West Brom persist within reach of the drop. Even though Norwich, Hull, and Stoke are four points clear, nobody would be surprised to see them pulled back into a relegation battle, should a team like Crystal Palace suddenly find a way to win.
Fulham is another candidate to climb, now that they've replaced Martin Jol. With their 2-0 win Sunday, the Cottagers snared their first win of the Rene Meulensteen era, though we may want to wait another week before proclaiming Fulham a threat. The up-and-down nature of Aston Villa means there's only much we can conclude from Sunday's performance.
[MORE: Fulham 2-0 Aston Villa: Berbatov leads Whites to first win in eight (Video)]
The result, however, means Fulham were back in the win column for the first time since Oct. 21. Whether they've completely turned around or not, they're making progress. How many other teams can say the same?