BEARDLESS HOWARD EXCELS, AS EVERTON ARRIVE
Tim Howard looked ten years younger on Sunday, as the bushy beard was gone and he delivered a sterling display in Everton's 1-1 draw with Arsenal. Two quick saves off his line in the first-half and a great stop from Aaron Ramsey after the break saw the USMNT 'keeper one again give the Toffees a solid foundation to build off. Roberto Martinez' side impressed against the Premier League leaders and in a week where they beat Manchester United away from home and drew with Arsenal at the Emirates, Everton are looking like a top four side in the making.
What will get them to that next level? Clinical finishing, said Howard, when I spoke to him in the tunnel afterwards.
"That's the one thing, as well as we played in the first half for the possession we had, we didn't create enough chances. I think nearly at the halfway point [of the season], that's something we're looking to get better at. We defended really well, we've shown that with the clean sheets that we've kept. We have been getting in the attacking third a bunch of times but now we have to try and finish off our chances."
Howard is right.
For all their early dominance — which frustrated the home crowd mercifully and piled the pressure on the Gunners —  Everton had no real substance to show for a sublime first half display. Both full backs bombed on and provided good crosses but so often not enough men were gambling to get in the box. Ross Barkley was a shining light in midfield and whenever he was on the ball he turned and ran at the Gunners back-tracking defense in one swift movement. Just 20-years-old and already a PL regular and England international, Barkley has the world at his feet. He was handed the man of the match award on Sunday, and in his first post-game interview he looked timid and shy. Everton's attackers are looking a little like that at the moment, Romelu Lukaku aside, and if they're going to make it to the Champions League in Martinez' first season in charge, more goals and a clinical ruthlessness is whats needed.
FULL PREMIER LEAGUE PLAYBACK ARCHIVE
As they bullied Arsenal for vast swathes of their game at the weekend, Everton proved from back to front their capable of sticking with anyone in this league. A work in progress, but after watching them scare the life out of Arsenal, with some fine tuning here and there Martinez' men could become a work of art.
Premier League Schedule – Week 15

MOURINHO: "WE'RE IN TROUBLE"
After Chelsea's 3-2 defeat to Stoke City on Saturday, Jose Mourinho resembled a dejected figure. In the cauldron of the Britannia Stadium his saw his sides defense once again succumb to relentless wing-play. In their two away games last week, Chelsea conceded six goals and scored six. That is not a Mourinho team. Not at all. His sides are built on solid defense and are always hard to beat. Not this Chelsea side. Take nothing away from Stoke, they pushed, cajoled and harried the Blues and Oussama Assaidi's stunning stoppage time howitzer was worthy of winning any game.
But the Chelsea of old would've seen this game out with at least a point.
"I don't feel comfortable enough to tell you what I think about the game," Mourinho said afterwards. "We're in trouble. It is a concern [conceding many goals recently]. I don't like it, I don't organize my teams to be like this. Sometimes mistakes kill an organization."
It is that lack or organization that killed Chelsea on Saturday.
Stoke were clever and left men in wide areas that confused Chelsea's packed midfield of John Obi Mikel, Juan Mata and Ramires and left the defense in a muddle. Take a look at the image on the right.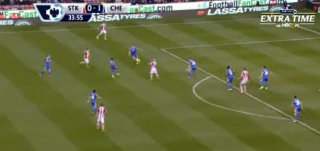 This was after Chelsea went 1-0 up and the Potters were pushing for an equalizer. Time and time again the wide men were left unmarked, look at the space in behind full back Branislav Ivanovic and notice how the right center back, Gary Cahill, has inexplicably pushed up to try and close the ball. Obi Mikel should be doing that but the holding midfield is instead stood almost holding hands with CB John Terry. You don't need two men to mark Peter Crouch when the ball is in that position. This shape is awful and Chelsea's defensive problems seem to come from a sheer lack or organization. No wonder Mourinho is miserable, he prides himself on meticulously setting his team out to be impenetrable. Often standing with his hands in his pockets on the sideline, lacking his usual charisma in post-game interviews and sporting bags under his eyes, Mourinho has one heck of a job on his hands with the Blues. It's a miracle they're only five points off the top after defensive displays like this.
BOTTOM CLUBS UP FOR THE BATTLE
What a good weekend it was for the PL's bottom clubs (except for Sunderland, sorry Mackems fans) as Crystal Palace, Fulham, Stoke and Norwich all won to ease the pressure on their relegation struggles. Being in and around the bottom around Christmas, historically, isn't a good place to be. Only one side in PL history (West Brom in 2005) has avoided relegation when being bottom of the standings on Christmas Day. There's a mad scramble to get away from the basement door to the Championship.
MORE: Latest Premier League Standings
So to see Palace picking up their second win in as many games under new boss Tony Pulis, Fulham totally dismissing Aston Villa in a first win for Rene Meulensteen, Stoke dispatching Chelsea and Norwich traveling to West Brom and beating the Baggies, shows that this seasons relegation scrap has plenty more twists and turns in it. The basement boys are up for the battle and will fight for their lives. Five points separating West Brom in 15th and Fulham in 19th shows how tight it is. Hope springs eternal and after this weekend, Christmas for fans of those struggling teams we mentioned is set to be a lot brighter.
FESTIVE SEASON TO SEPARATE PRETENDERS
Talking of the impeding festive season, come on scrooges out there, you know you love it, take a look over the following fixtures. One thing springs to mind when I have a gander, after the festive period, we'll have a much better idea who's for real at the top of the table and which teams stock will be falling lower than a scarf salesman in the post-festive shopping season.
Tottenham v Liverpool – December 14
Man City v Arsenal – December 15
Arsenal v Chelsea – December 23
Chelsea v Liverpool – December 29
Man Utd v Tottenham – January 1
In just over two weeks of fixtures, some sides will drop out of the title race altogether, others (Arsenal and Liverpool in particular) could strengthen their title credentials considerably.
MOYES TAKES THE BLAME, SO HE SHOULD…
On Monday David Moyes took one for the team after saying he takes "complete responsibility" for Manchester United's terrible start to the season. It's a noble act that many would see as deflecting the pressure away from his players and protecting them, something Sir Alex Ferguson was a master at. But there's something less noble about Moyes taking responsibility, when in reality the problems probably has a lot to do with his ineptitude for change. For me, unless United score early in games, there's often no plan B. That was the case against Newcastle on Saturday as the longer the game remained at 0-0, the home side were panicking and the substitutions from Moyes were poor. Bringing on defensive midfielder Anderson… when you needed a goal to stop United losing their second-straight home league game for the first time since 2002, nah, that's not right.
Stop panicking Moyesy, positive subs and positivity is needed to help alter United's worrying trend. They sit in ninth and are 13 points off league leaders Arsenal after another defeat. Worryingly, without the injured Wayne Rooney they looked lost going forward as they had the lowest number of passes in the final third of any team in the PL over the past weekend with just 93. I urged more attacking impetus from United in the last edition of Playback, that fell on deaf ears and I still believe more emphasis on attack needs to prevail at Old Trafford. The stat below from our mates at Opta says it all…