LONDON — After pulling off a string of fine saves for Everton against Arsenal on Sunday, U.S. national team 'keeper Tim Howard reminded us just how good he really is.
Minus the beard.
Howard, 34, shaved that beauty off before the match against the Gunners and made three stunning stops, two while racing quickly off his line in the first half and the other a remarkable reaction save from Aaron Ramsey's close-range volley after the break.
He was in inspired form and only Mesut Ozil's close-range tap in the 80th minute spoiled Howard's shutout but his team then went straight up the other end to equalize and grab the Toffees a deserved point.
I caught up with Tim after the game in the tunnel on Sunday, he looked about 10 years younger without the beard might I add, and we spoke about his display, Everton's terrific start to the season and how he rates the World Cup draw the USMNT were handed on Friday.
Over to Howard.
On playing as a 'sweeper-keeper' to make saves in the first half:
It was something we worked on [coming off his line fast]. The boys had to get to the edge of the box when Arsenal possessed, so I needed to be sharp of my line knowing that balls can get played through.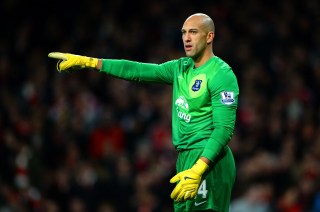 On what's going through his mind when strikers are coming in on goal:
I'm just trying to close the distance. You have got to get at their feet and the sooner you go down, the more space you leave for them to lift it over, so you have to close the distance as close as you can.
On Everton's superb comeback after conceding late on:
I was just looking for a reaction and I think we got that, which was a huge positive. There wasn't much time left, there's never a good time to concede but I thought that was a really bad time to concede because it didn't allow us to pick ourselves back up off the floor. But credit to us, we did that and Gerry takes his goal really well. Then Rom sets one up and maybe if he hits the target with it, it's a different story. I thought we showed a great reaction.
On how Everton can improve going forward:
That's the one thing, as well as we played in the first half for the possession we had we didn't create enough chances. I think nearly at the halfway point, that's something we're looking to get better at. We defended really well, we've shown that with the clean sheets that we've kept. We've got in the attacking third a bunch of times but now we have to try and finish off our chances.
On if the draw was a fair result:
I think so, they probably had more clear cut chances. It looked like a 0-0 for a very long time. They wouldn't think so, but for us we're happy.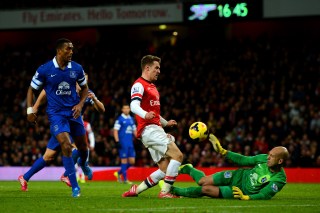 On Everton's impressive defensive unit frustrating Arsenal:
We did a really good job. The goal we conceded was not like us at all. A ball over the top and then second and third defending, normally that's our bread and butter. It happens. Arsenal threaten you in front so it opens up space behind but I'm very happy with the guys. No question.
On Gerard Delofeu's equalizing goal…
Gerry's got a bit, he's shown that in the games. He's done really, really well and he's a difference maker. We saw him standing on the touchline and we were looking for him to come on and give us something and he did really well.
On tough World Cup draw for the USA…
It's a tough draw for us. I think we're gonna, without question, go there and stand in the middle of the ring and give as good as we get. It's going to be difficult. But looking across the board, I won't tell you which group, but I think one group is pretty easy. Other than that they are very difficult groups.