Reports are starting to spring up across England that Clint Dempsey's loan destination is likely to be his old club Fulham.
The 30-year-old Texan made a well-known exit from Craven Cottage under Martin Jol, falling out with the manager before jumping ship to Tottenham Hotspur.
His time at White Hart Lane was short lived, heading out to Major League Soccer, but with Dempsey's club form dropping rapidly since leaving SW6, a reunion might not be the worst thing in the world for his confidence.
British rapper Example, a very open Fulham supporter, tweeted at a fan yesterday saying Dempsey had told him he was returning to Craven Cottage.
The fan asked him "You hear @clint_dempsey's coming home? he turned down West Ham for #ffc" referring to a report by the ever-reliable ZapSportz.com (who?).  Example replied with the following:
The tweet has since been deleted, but what goes up does not always come down on the internet.
Dean Jones of The People also said on the Fulham fan show Cottage Talk that it's a "very probable" move and that "next week things will seriously move on."
But does a spell at Fulham – reportedly a 2-month loan – really make sense for the USMNT star?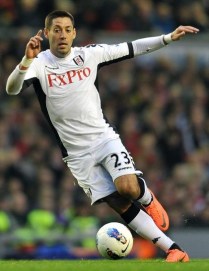 With Jol out at Fulham and Rene Meulensteen managing in his stead, the move is an understandable one for both parties…somewhat.
Fulham are struggling in 18th place, trying desperately to avoid relegation that would halt a 12-year run in the English top flight.
With just three points in their last seven matches, results have been hard to come by at Craven Cottage, and the return of a both talented and familiar player would be a massive boost to Meulensteen's squad.
However, there's a flip side.
Meulensteen's preferred tactics are still a relative unknown, but if his first win with Fulham – a 2-0 triumph over Aston Villa last weekend – is any indication, it may not be a perfect fit for Dempsey.
The Dutch manager swapped out Jol's static 4-2-3-1 formation for a more technically sound 4-5-1, placing the central midfielders in an inverted triangle and eliminating the CAM position altogether.  That trio of midfielders – Giorgis Karagounis, Steve Sidwell, and Scott Parker – ran the show and tamed an Aston Villa squad that has been fantastic away from Villa Park.
If that continues, Dempsey's only real spot on the team (assuming Dimitar Berbatov stays to man the striker slot) would be on the wing, which has been a revolving door at Fulham this season, with everyone showing flashes of talent but nobody doing enough to lock down a spot. Alex Kacaniklic, Adel Taarabt, Pajtim Kasami, and Ashkan Dejagah have all given Fulham a youthful shot in the arm, but only for short spurts.
Other teams interested in the loan signature of Clint Dempsey appear to include West Ham and Stoke City.  It's not exactly a given those two teams would be a fit for him either.
Stoke City would be especially poor. They are also relatively full on the wings with Marko Arnautovic playing exceptionally well.  The style of play there is also not exactly suitable to Dempsey, with Mark Hughes still sometimes reverting to the Tony Pulis long-ball days of old.
Where do you see Clint ending up? And more importantly, where do you think the best location is for him to thrive?