When watching soccer on TV, have you ever sat there and wondered what the man behind the microphone really thinks?
Maybe this will go someway to helping with that.
In the latest edition of "View from the Booth" we chat with NBC Sports' lead soccer announcer Arlo White about the monster clash between Manchester City and Arsenal at the Etihad on Saturday as the Premier League title contenders lock horns. We chat about how Spurs can beat Liverpool and Arlo also lets us know what else he's looking forward to this weekend.
(MORE: VIEW FROM THE BOOTH ARCHIVE)
You can hear Arlo calling live games this weekend on NBC Sports Network and NBC, and watch every single game available live online via NBC Sports Live Extra,
So, let's get to it.
Man City had a great result away at Bayern, while Arsenal have had a little wobble of late. Does this clash see the two favorites for the PL title square off?
Let's hope that Saturday's game can live up to the hype, because it promises to be a cracker.
The numbers swirling around Manchester City's home form are staggering. They've won all seven games so far on home turf, scoring 29 goals and conceding only twice, put seven past Norwich and Spurs were thrashed 6-0. In fact, it's hats off to Hull City, the only Premier League team not to concede at least three goals in a Premier League game at the Etihad.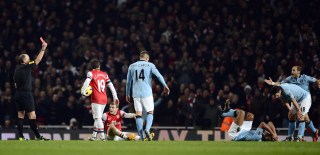 Where I think City have the edge with a lunch time kick-off in Manchester, is the talent that Manuel Pelligrini can call upon to freshen up the team that won at Bayern Munich during the week. That victory has been over shadowed somewhat by the startling admission by the City boss that he thought his side needed to win 5-2 at the Allianz Arena, and not 4-2, to win the group and thus avoid the European super powers in the last 16 of the Champions League. It was an incredible oversight at this level. But his side over came poor away form, and over turned a 2-0 deficit against the holders, all without Sergio Aguero, Vincent Kompany, Samir Nasri and the suspended Yaya Toure. Plus Alvaro Negredo started the game on the bench before entering the game for a late 2nd half cameo.
That's not a bad set of fresh legs to bring into a match of this magnitude.
But Arsenal have been terrific on their travels this season. They've won 5 out of 7 games so far and no one has scored more goals or conceded fewer on the road than the league leaders. But with only 63 hours or so between the final whistle in Naples on Wednesday, and the first whistle at the Etihad, they have precious little time to recover sufficiently.
Arsene Wenger insists that his side can't use their busy schedule as an excuse, and has claimed that it's City who are under "negative" pressure to win the game. If they do, the gap will be down to 3 points, but if City lose, the Gunners will have opened up a yawning 9 point gap on them.
Tottenham vs. Liverpool is live on NBCSN this Sunday, which way do you see this going? Can Spurs stop Liverpool's free-scoring ways?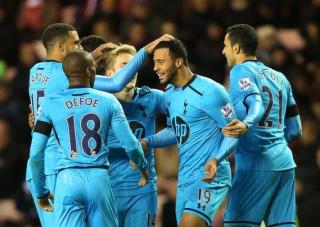 Speaking of Manchester City's 6-0 thrashing of Spurs, the North Londoners have recovered pretty well from it. Michael Dawson spoke to the NBC team this week, and talked to us about a very positive meeting the team had the day after that Etihad debacle.  He said it was an opportunity for some to air their views, and the squad came away with fresh resolve to put that "disaster" behind them.
Whilst they have yet to truly hit the heights this season, AVB's men responded very well in their 2-2 draw with Manchester United and the 2-1 wins at Fulham and Sunderland. The only way for the manager to deflect the newspaper's insatiable appetite for crisis, was simply to win Football matches.
Could they use more wins at home? Yes. More goals at home? Sure. Maybe Sunday will kick-start a stuttering home campaign.
Liverpool arrive at White Hart Lane in free scoring form, and are 11 points better off than at the same stage last season. But they are without the services of Daniel Sturridge and Steven Gerrard. Dawson joked with us that the tactic of keeping Luis Suarez far away from goal as possible is being reviewed after seeing his 4 goal salvo v Norwich. The Uruguayan is playing out of his skin, and will have to maintain that level to help cover for two significant absentees.
Spurs have been goal shy this season. Liverpool have kept one clean sheet in their last 12 and have lost their last 6 games at White Hart Lane. Both will be keen to improve those respective trends.
Finally, what else are you looking forward to this weekend?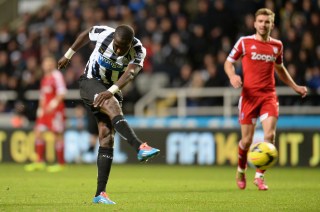 If I could choose a third game to be at in the Barclays Premier League this weekend, I'd take myself up to Newcastle v Southampton. Newcastle are coming off a famous win at Old Trafford last weekend, whilst an injury hit Southampton were sensational at times in a 1-1 draw against Manchester City.
I've really enjoyed watching the Saints this season. To think that the combined age of their full backs Luke Shaw and Calum Chambers last week was just 36. They were excellent. James Ward-Prowse and Steven Davis were very good in the middle of the park, whilst Jay Rodriguez and Adam Lallana were as busy as ever further forward. Add the sheer brilliance and x-factor provided by Dani Osvaldo, and they are an organized and dangerous side even without the injured duo of Schneiderlin and Wanyama.
Enjoy the weekend everyone.