On Sunday the Premier League action keeps coming thick and fast as three more crunch games are heading your way.
It all begins when David Moyes takes his Manchester United side down the M6 to face Aston Villa with the Red Devils hoping to get back on track after two-straight defeats in the PL.
Meanwhile in Norfolk, host Norwich City will be looking to seal back-to-back wins and ease their relegation worries with a victory over Swansea.
(MORE: Premier League Roundup – Big wins for Man City, Everton and Chelsea at the top)
After those two games have finished, the big one kicks off at White Hart Lane as Tottenham host in-form Liverpool as both sides are jostling to climb back into the top four.
Don't forget you can watch all the games live online or on the app via NBC Sports Live Extra.
As I said, it's a case of 'Sunday Funday' in the PL once again. Bring it on!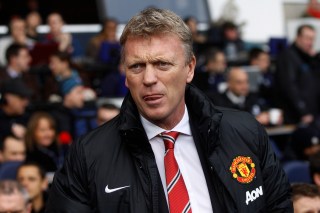 Aston Villa vs. Manchester United – 8:30am ET, live on NBCSN
The Red Devils haven't lost three-straight games in the PL since November-December 2001, so David Moyes certainly wants a response from his side when they travel to Villa Park. United are suffering an injury crisis at precisely the wrong time as Robin van Persie has been ruled out for a month, while Michael Carrick and Marouane Fellaini are still out injured. As for Villa, their up and down form suggests one of two things will happen on Sunday. Paul Lambert's men will either turn up and give United a torrid time… or they'll roll over like a puppy getting its tummy tickled and hand all three points to the Red Devils. With a fired up crowd sensing United's poor form could go on, expect the former.
This could get worse before it gets better for Moyes and United's fans.
Norwich City vs. Swansea City – 8:30am ET, live on Premier League Extratime
Swansea have fought back into the top 10 after a roller-coaster season which has been hampered by injuries and Europa League exertions. They made it through to the knockout stages of the competition this week, despite losing to St. Gallen on Thursday, and that means this could be the perfect time to face the Swans… from Norwich's perspective. Chris Hughton's men have won two of their last three and are back on track after some poor defensive displays. I don't envisage many goals in those one, but if Gary Hooper is at his game the Canaries could capitalize and beat a tired Swansea outfit.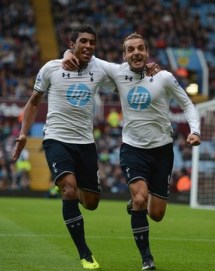 Tottenham vs. Liverpool – 11am ET, live on NBCSN
This clash will be hugely intriguing as both teams aim to make the UEFA Champions League by finishing in the top four. Last season Spurs and Liverpool finished fifth and sixth respectively and they're looking to push up the table after good starts to this campaign. Andre Villas-Boas' Spurs side have bounced back well after being battered 6-0 by Man City and are looking for their third-straight PL win when Liverpool arrive at White Hart Lane.
As for Brendan Rodgers' Reds, one little Uruguayan gives them everything they need going forward and if Tottenham want to take the win they have to stop Luis Suarez on Sunday. Scoring 14 goals in 11 games since returning from his ban, the explosive forward has been sublime. However the man who feeds him so many delicious deliveries, Steven Gerrard, is out injured with a hamstring issue so Suarez may have to fend for himself against Spurs. Plus his partner in-crime Daniel Sturridge is also out. The battle of the title pretenders will be an enthralling watch. Don't miss it.