Tough day in the Rhineland, as Borussia Dortmund had to battle back from two-down, and Borussia Monchengladbach could only muster a scoreless draw at ninth-placed Mainz 05.
In addition, second-place Bayer Leverkusen majorly disappointed at home against Eintracht Frankfurt, losing 1-0 and allowing Munich to extend their lead at the top of the Bundesliga table.
Everything else held true to league position, as Bayern Munich, Wolfsburg, and Schalke all won.
Bayern Munich 3-1 Hamburg
The league leaders increased their gap at the top to seven points, showing no ill effects from their 3-2 loss to Manchester City midweek.
It took most of the first half to get going, but after it was over Mario Mandzukic, Mario Gotze and Xherdan Shaqiri had all bagged goals.  The Bavarians host Bayer Leverkusen next weekend with a chance to make the gap even larger.
Hoffenheim 2-2 Borussia Dortmund
Two goals from the hosts in the first half forced Dortmund to battle from behind, finally pegging back level via Lukasz Piszczek in the 67th minute.
It was all Dortmund could muster though, as Piszczek, Robert Lewandowski, and Henrikh Mkhitaryan all wasted chances to clinch the full bounty, and Dortmund fell 12 points off the leaders Bayern Munich.
Bayer Leverkusen 0-1 Eintracht Frankfurt
The first home Bundesliga defeat since March leaves Bayer unable to keep pace with Bayern Munich at the top, as a Marco Russ header downed the hosts.
It could have been more too, had Eintracht taken advantage of their dominant first half, but goalkeeper Kevin Trapp made some quality saves to doom Bayer.
Mainz 0-0 Borussia Monchengladbach
The visitors were clearly on top but couldn't get the spoils despite moving their unbeaten run to seven matches.
Mainz's Shinji Okazaki wasted a counter opportunity, as did Monchengladbach's Max Kruse and the point moves the visitors level with Borussia Dortmund with 32 points.
Hannover 3-3 Nurnberg
Nurnberg blew a three-goal lead, but the comeback was marred by Hannover's second, which came on a missed offsides on Mame Diouf who grabbed the last two scores in the 87th and 90th minutes.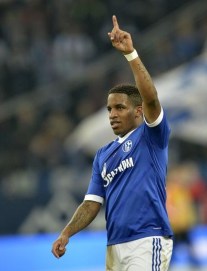 The comeback is bitterly disappointing for the visitors, who are still searching for their first win of the season, and three points would have seen them out of the relegation zone.
Schalke 2-0 Freiburg
It took an own-goal just before the break to start the scorebooks, but Schalke built on that with a 67th minute penalty by Jefferson Farfan.  American Jermaine Jones was bright along the right flank.
The victory also marked the substitute return by Kyriakos Papadopoulos, who made his first Bundesliga appearance in over a year on his way back from a torn ACL.
Augsburg 4-1 BTSV
Andre Hahn bagged a double within three minutes as Augsburg jumped Mainz in the table and moved to 8th place.  BTSV remains in 20th with just eight points on the year.
Hertha BSC 3-2 Werder Bremen
On Friday Werder Bremen were looking to bounce back from a 7-0 shellacking at the hands of Bayern Munich, but couldn't maintain an early lead.
Adrian Ramos led the comeback for Hertha with a first-half double and Ronny picked up the winner as they maintained their spot in seventh place.