It's a reoccurring theme, the thin margin for error in Spain's title race, but given how infrequently Barcelona, Atlético Madrid, or Real Madrid drop points, the notion doesn't come up that often. But when it does, we're typically talking about the Merengues, and after the team's 2-2 draw at relegation-battling Osasuna, we're again left wondering whether the Blaugrana and Atleti are going to led Carlo Ancelotti's team back into this title race.
The "and" part is important. If we were talking about one team stumbling, Real Madrid's odds would be better. Or if the goal was merely to make the top two, allowing los Blancos to take advantage of either team's stumbles, Saturday's draw wouldn't be such a setback. Instead, the team's second draw of the season (on top of two losses) leaves them five points back of both Barcelona and Atlético, tied atop La Liga's table. Given each of those clubs have collected 43 of 48 possible points, Real Madrid approaching a point where they may need to run the table. It's unclear whether (or when) Barça and Atlético will slow up.
The extent to which a title matters to a club's chasing a 10th European Cup is worth debating, but if Sergio Ramos keeps getting red cards, the conversation will be moot. After 43 minutes on Saturday, Ramos earned his second booking, sending him to the dressing room with his team already down 2-0. Having just come back from a red card suspension, the Spanish international again left his team playing shorthanded, a disadvantage that was eventually wiped away when Osasuna midfielder Francisco Silva picked up his second yellow in the 79th.
By then, Isco had halved Real's deficit, with Pepe eventually heading the visitors back even. Over the final 13 minutes, however, Real Madrid would only manage one shot on goal, Ancelotti's team only registering four tries on target against a team that came into the game with 10 losses.
"The first 20 minutes were very good and it is incredible that we went 2-0 down and had ten men," Ancelotti told media post game (as relayed by Reuters). "We responded well but we suffered a lot."
In another league, these types of slips could be forgiven. Arsenal has already dropped points six times, yet the Gunners remain on top in England. In Spain, however, with Barcelona and Atlético pushing each other every week, one point instead of three is a more significant setback. Having dropped points four times this year, it's unclear home many strikes are left in Real's domestic campaign.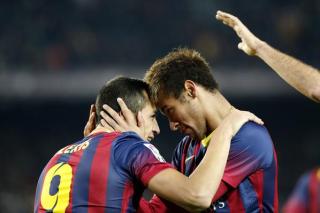 Neymar strikes twice as Barcelona down Villarreal
The Yellow Submarine were a potential stumbling block for Barça, something that came iton focus when Mateo Muscacchio pulled back the defending champions' one-goal lead minutes into the second half. Neymar, however, build on his first half penalty conversion (and his three-goal day in Champions League) with his second in the 68th, a goal set up by Alexis Sanchez. Against a dominated an inhibited Villarreal, Barça went on to a 2-1 win at the Nou Camp.
That the run of play was so lopsided, with Barcelona holding 76 percent of the ball, was a disappointment. To some, it was also a surprise. Villarreal has been an attacking team all season, but compensating for injuries, the visitors started Mexican international Giovani Dos Santos alone up top on Saturday. The result was one shot on goal: Musacchio's conversion of an early second half corner kick.
"This performance has made me the happiest yet as it follows on from the good performances against Cartagena (4-1 win in the King's Cup) and Celtic, and we were against a strong Villarreal side," Barcelona head coach Gerardo Martino said after the match, the Argentine in his first season with the club.
"Winning like that gives confidence to the players and it's only a shame that the (Christmas) break is coming up."
Atlético keep up with easy second half against Valencia
It was one of those days where Europa League came back to haunt them. Valencia, having finished off their group stage campaign on Thursday, had a relatively quick turnaround against Atlético, and although Diego Simeone's team had played in Champions League on Wednesday, Los Che were still worse off. Though the started strong, Miroslav Dukic's team ended the match without a shot on goal, giving up two penalty kicks in a 3-0 at the Vincente Calderon.
The result just piles on to what's becoming a garish record for Atlético Madrid. They're won 14 of 16 in league and have only lost once this season in all-competitions. Their nine goals allowed in La Liga gives them the league's best defensive record, while the 43 goals are only one off league-best Barcelona. With two more goals on Sunday, Diego Costa is now tied with Cristiano Ronaldo for the league lead (17), a honor he'd hold be himself had a successful converted a second half penalty.
Winners of six of their last seven, Atlético continues to show it's the equal of Barcelona, something few seemed to realize as Atleti were dubbed by some as a team to draw for Arsenal and Manchester City in Champions League. At this point, however, it's Atlético's crosstown rivals that are the easier matchup, with Diego Simeone's side continuing to stretch Spain's Big Two into a Top Three.
Elsewhere
Levante 2, Elche 1 – Goals in the 41st and 80th minutes from David Barral reversed an early score from Cristian Sapunaru, with Levante snapping their four-game losing streak.
Rayo Vallecano 0, Granada 2 – A second yellow card for Nacho in the 43rd minute gave Rayo little chance of pulling back Fran Rico's 35th minute opener, with Riki eliminating all doubt in the 89th by giving Granada their insurance.
Malaga 1, Getafe 0 – Snapping his team's three-game winless run, Roque Santa Cruz scored the game's only goal in the 75th minute, giving Malaga their first win since beating Real Betis on Nov. 3.
Almeria 0, Espanyol 0 – Almeria miss their chance to climb out of the drop, with Verza failing to convert on a 23rd minute penalty kick.
Real Sociedad 5, Real Betis 1 – La Real  recovered from Champions League disappointment to throttle the league's cellar dwellers, with the first two goals of the season from Imanol Agirretze complemented by scores from Ion Ansotegi, Antoine Griezmann (his 10th of the year) and Xabi Prieto.
Sevilla 1, Athletic Bilbao 1 – Perhaps the weekend's most competitive matchup, fourth place Athletic takes a point from the Sanchez Pizjuan, with Sevilla climbing to seventh after Alberto Moreno's fourth minute opener was cancelled out by Markel Susaeta's sixth minute response.
Monday: Valladolid vs. Celta Vigo