The Tottenham defense has been battered, bruised, and beaten into a shell of its former self.
With Spurs having gone from owning the Premier League's best back four to conceding 15 goals in its last five matches. Andre Villas-Boas didn't make it through with his job intact.
Where did it all go wrong?
For that answer, or part of it at least, you have to travel all the way back to September 19 – the day left-back Danny Rose broke his foot, and threw the Spurs defense completely out of whack.
Up to that point, Spurs had conceded just one goal in its first four matches, in a 1-0 defeat to Arsenal.  In fact, across the six matches he'd played up to that point including the Europa League, they'd still allowed just one goal.
With Rose going down, their cover at left-back is 25-year-old Kyle Naughton, and AVB knew he wasn't the answer.  He certainly wasn't this weekend, coming off at halftime, probably a good 20 minutes too late.
So what did the Portugese manager do to replace Danny Rose? At first he went with Naughton, and the results were decent.  They held Cardiff to a clean sheet and Chelsea to one score. But he is a right-footed player on the left wing, which doesn't give the team good width in the attack.
Then the West Ham match, the beginning of the end for Villas-Boas.  Naughton was partly to blame as Mark Noble, Mohamed Diame, and Stewart Downing (the right side of West Ham's attack) shredded the Spurs left flank, and they fell 3-0 to the Hammers at home.
So AVB made a change. He took his PFA Team of the Year center-back Jan Vertonghen and moved him to left-back. Again, initially the results were positive, and Spurs kept Aston Villa, Hull City, and Everton all to three consecutive clean sheets. But inside things were churning.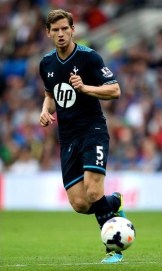 The well-documented Spurs attack failed to score against Newcastle at home, and it began to boil over. Vertonghen publicly criticized Villas-Boas for playing him out of position.
"Tottenham pay my wages, so I have to accept it, but it doesn't suit me," said Vertonghen on November 19. "The club know how much I want to play centre-half. I think I have done enough to deserve a place there now, ideally for every game."
With his gripes now out in the public eye, things officially unraveled. The Man City Massacre, we'll call it. With Vertonghen at left-back and Vlad Chiriches and Yohan Kaboul forced into regular duty in the middle, Sergio Aguero and company shredded the Spurs back line for a 6-0 victory.
Spurs found a bit of form in the attack, but their defense continued to concede goals. Two against Manchester United. One against woeful Fulham (which probably should have been more). One against Sunderland, with Naughton back in the lineup thanks to an injury to Vertonghen.
Then the kill shot.
This past weekend's 5-0 defeat was another blow to the team's confidence, and Villas-Boas paid the price.
Sure, there are questions in the attack that still haven't been answered. Sure, the oodles of purchased wingers and midfielders haven't gotten on the same page, and a preferred lineup still is a mystery.
But for a team that began the season with one of the staunchest defenses in the league, they should not be taking such heavy defeats.
Not without Danny Rose in the lineup, anyways.
He returned to the lineup against Anzhi in the Europa League last week, but only played 45 minutes and spoke afterwards about how he's barely trained with the club. He could return this coming weekend against Southampton, but most likely the following weekend against West Brom.
The sooner the better for Spurs, no doubt. Especially now that Vertonghen is injured until the new year and Chiriches is also missing out.