BIRMINGHAM – In the industrial heartland of England sits a sprawling city encapsulated by soccer. Scratch that, make that several cities and towns, wedged beside one another whose citizens view soccer as an escape. Especially the intense rivalries they have with those neighbors.
Welcome to the Midlands.
On a gray day last Sunday, light winds gusted around Aston Villa's famous Villa Park stadium as a drizzle descended and swirled under the floodlights. It was 1:30 pm on and the Villans were hosting Manchester United. An air of optimism engulfed the streets and pubs surrounding the 42,000 capacity stadium as the biggest crowd of the season sensed an upset over the Red Devils, who were without a win in four Premier League games before that trip.
Villa were easily dispatched 3-0 by United. Moans and groans filled the damp winter air when the home fans exited. As you'll find out, optimism isn't one of the greatest traits people from the Midlands possess. Right now, spirits aren't high as the three sides in the PL are all in the bottom half and a long-hard season beckons.
But that's the way fans in this land-locked area of England like it. They're up for the battle.
Aston Villa, West Bromwich Albion and (at a slight geographical stretch) Stoke City, are the three PL teams that make up the Midlands region this season. A few years back, Wolverhampton Wanderers and Birmingham City were also in the top-flight representing the West Midlands as five of the PL's 20 teams came from a 40 mile radius up and down the M6 motorway the links the region. Then, you have the East Midlands with massive teams like Nottingham Forest (two Champions League titles), Leicester City and Derby.
This region is bustling with top clubs whose fans are desperate for success.
But after a disappointing few years for the regions clubs, three remain in the top-flight.
"When I played, I had a great times in local derbies," West Brom legend Tony Brown (more from him coming up) said. "To go to the Wolves and the Villa, it's something a little bit special. You miss those local derbies and the fans are missing them. A few years ago we were all in it together, it was booming."
West Brom have been steady-eddies in recent years and have two top 10 finishes in the last two seasons. But last Saturday, following their fourth-straight defeat in the PL, the Baggies sacked their manager Steve Clarke and now they're in limbo.
Aston Villa are a club in transition. They have been for many years and managed to stave off relegation last season with a young squad and manager Paul Lambert restricted by stringent financial guidelines. It's likely that staying out of the bottom three this campaign will be seen as another 'success' for the 1982 European Cup winners.
Then there's Stoke City. Under new-management with Mark Hughes at the helm, they have a talented squad that's trying to play a new style of soccer and evolve from a long-ball side to one that strokes the ball around majestically at the Britannia Stadium. Out of the three Midlands sides, their plight is perhaps the most encouraging so far this season.
Last week I spent time in the Midlands to find out what the close-knit rivalries and some of England's most historic clubs are all about.
Villa, Stoke and West Brom are three of the 12 founding members of the English Football League when it began way back in 1888.
Today they're all back in the big-time together.
ASTON VILLA: THE SLEEPING GIANT
Bumper to bumper traffic for miles around Villa Park, England's second city almost comes to a standstill when a big team rolls into town. On my taxi ride from the leafy suburbs of Warwickshire, the country hills quickly disappeared and were replaced by dull tower blocks, factories and endless motorway bridges. The gray skies? That remained constant throughout my trip to the Midlands.
Premier League Regional Stories

The opponents for Villa on the day I was in town: Manchester United.
Current form might disprove it, but hand on heart, it doesn't get much bigger than United at home.
The biggest crowd of the season was bustling around the streets in the Aston area of Birmingham. Families walking to the game together strolled passed the grand Aston Manor on the left and the M6 audibly roared away on the right, piles of leaves littered the road leading up to Villa Park, which had been Villa's home since 1897. Then, in all its glory, one of the most famous stands in English soccer stood before me: the Holte End. It stood majestically in front of me with the club name emblazoned across it in the rich claret and blue colors, it tastefully exonerated a sense of pride and history in 'the Villa.'
(MORE: And why should I become an Aston Villa supporter?)
The greatest night for the Villans came in 1982 when they became only the fourth English team in history, after Manchester United, Nottingham Forest and Liverpool, to lift the greatest club trophy in world soccer, the European Cup. It may be hard to believe now, but the trophy Bayern Munich, Barcelona, Real Madrid and everyone else is fighting for, Villa won that on a splendid occasion back in '82 by beating Bayern 1-0 thanks to Peter Withe's second half goal.
The TV commentary describing their finest moment as Withe scored the winner is permanently emblazoned across the central balcony between the upper and lower tiers of the North Stand (pictured, right). That reminder is something Villa's fans hold on to. They dream of having a moment like that again. Villa are sleeping giants of English soccer who have over 40,000 fans cheering them on every week.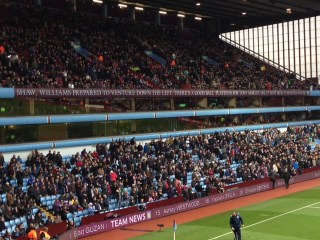 Villa Park, for many years, has been the site of great occasions for fans of clubs up and down the country. For decades, at least one of the FA Cup semifinals was played here as a neutral venue, situated the middle of England. In fact, before they rebuilt the new Wembley, many wanted England's national stadium to be built in Birmingham so people across England, not just London, could cheer on the Three Lions. Safe to say, the Midlands is without doubt the soccer heartland of the nation that invented the game.
Nowadays Villa fans have it to themselves. As my taxi crawled closer towards the stadium, past a massive Jaguar factory and more sprawling warehouses, fans in the famous claret and blue jerseys began to appear from every side alley and street along the way. Hope springs eternal. Villa's fans dream of a return to the glory days.
As for local commerce, the motor industry in the UK calls the Midlands, and mainly Birmingham, home. The likes of Jaguar, Land Rover, GM and many others have been based here for ages. But a collapse in the car business (think Detroit but not quite as bad) affected the Midlands severely as giants manufactures like GM jumped ship. A rather unique accent adorns the voices of those who live in and around Birmingham, click here for a more in-depth analysis of how they talk. Often, "Brummies" are handed plenty of flack in and around England and in the past they City they live in has been described as 'the most depressing place to live in the UK.'
Make of that what you will. The entire city center of Birmingham has been regenerated in recent years with huge new shopping complexes, entertainment venues and transport links improving all the time.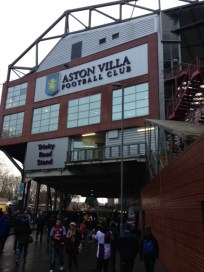 As England's second largest city, Birmingham has a population of 1.1 million. The West Midlands in total has 2.7 million residents. With over 20 percent of those being of Indian, Pakistani or Bangladeshi descent, there's a huge multi-cultural influence across the area as several cultures unite to support their teams. Vibrant, colorful and passionate people are encapsulated by the beautiful game in the Midlands. For American soccer fans, there are a few names which you'll know, as USMNT 'keeper Brad Guzan is one of Villa's star performers and the clubs owner is Randy Lerner, who owned the Cleveland Browns.
I watched the game against United, and as that air of confidence and belief grew around the stadium as chants of "Villa, Villa, Villa" reverberated around its old iron rafters before kick off. Three early efforts on goal from local lads Gabriel Agbonlahor and Marc Albrighton got the crowd in good voice. But then, in typical Villa fashion, United struck twice in three minutes through Danny Welbeck and the Holte End fell quiet.
Stunned into silence, the home crowd tried their best to get behind their side. But by halftime, one man sat behind me couldn't take any more. "You're useless!" "What are you doing?" "What do you call that?"
His outbursts of less than constructive criticism went on. But I have to say, he was in the minority.
Villa's fans are a patient bunch and they appreciate that their manager, Lambert, is building a young team who want to play for the badge and know what the club means to its fans. But, right now, they're not taking the PL by storm by any stretch of the imagination.
One banner hanging at the Holte End simply read "AVFC: The Obsession" and fluttered in the wind as it hung high about the goal to the right of the dugouts. That's the thing — no matter how bad or how good their team is, they're obsessed. Villa's fans, and those of other clubs in the Midlands, will always be that way.
That's why this region, which has been forced into an almost semi-comatose state in terms of soccer success for so long, is so valuable to England's national sport. These guys aren't fair weather fans, come rain or shine they're supporting their side and whether or not their team are delivering, they'll be there.
Soccer fans in the Midlands, they're obsessed.
WEST BROM: STEADY-EDDIES IN TURMOIL
The last week has been a turbulent time for fans of the Baggies. They're now managerless, suffered their fourth defeat in a row against Cardiff City and will be feeling a little down in the dumps around Christmas.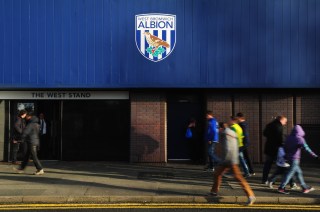 But during my stay in the Midlands, I had the great privilege to meet Tony "Bomber" Brown, the greatest player in West Brom's history. Brown, now 68, spent over 20 years playing for the Midlands side and amassed a club record 279 goals. He also holds the record for most appearances, 720, in the famous blue and white stripes.
Talking of the rivalries that exist in the Midlands, Brown believes the intensity levels have been cranked up considerably in recent times. That's not necessarily a good thing.
"There was a fierce rivalry. But I think it's even worse now," Brown said with concerned look on his face. "With the modern generation of supporters it's more intense with the Wolves and Albion rivalry. When I started in the '60s Villa was the big one, as time has gone on amongst the fans Wolves and Albion is now the big rivalry. At times it's gone over the top."
(MORE: Steve Clarke dismissed at West Bromich Albion)
Brown also revealed how fans of all the Midlands clubs used to support each other during home games back in the '60s and '70s, instead of traveling to watch their club play away from home. That's something you'd never see today.
"One week Albion fans would go and watch the Albion alongside Wolves fans and then it was the opposite the next week," Brown said. "There was no hatred as there is now, there was just good banter and good fun. And they just wanted to watch a game. But that's completely changed now, you'd never get that."
That good-natured bond also used to spread between the two sets of players.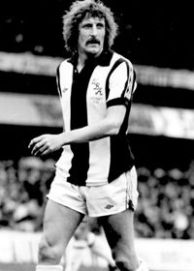 "After the games we had the players rooms and we'd go and drink together, the two teams," Brown said fondly. "All clubs had a players room and you'd go and mingle with the opposition players after you'd played against them. Everything that had gone on in the game was forgotten and you'd have a drink with them before you got on the bus. That doesn't happen anymore. Times have changed. For the better? I'm not sure."
West Bromwich Albion, despite their recent struggles bouncing between the top-flight and England's second-tier, were one of English soccer's brightest sides going back a few decades. And it's in the late '60s that one of the teams greatest periods arrived when they won an FA Cup in 1968 and a League Cup in 1966 as Brown and his teammates run riot. Sadly for the Baggies fans, there's been no major trophies since then. But the fans at the Hawthorns always make a racket and have pride in their roots.
As for the huge number of foreign players in the current PL era understanding the complex and pride at stake in local rivalries in England, Brown isn't sure they have the same feel for the derbies.
"There's so many foreign players in the game nowadays," Brown said. "The players today are a little bit aloof from the supporters, and the two don't come in to contact with each other much. Players don't get that feeling that supporters have for local derbies, the intensity and the rivalry. They are cocooned a lot, they're not encouraged to go to supporters meeting. Back in the day we used to go and have whole evenings with the supporters clubs across the region and go to have a darts and dominoes night with them. It's unthinkable now."
Brown, who has been placed on the Birmingham Walk of Stars with the likes of Ozzy Osbourne and Homeland's David Harewood, is still recognized and revered when he walks about the towns and cities in the area and has numerous accolades including the freedom of West Bromwich.
Perhaps it's for comments like this, why people still love him so much. I asked him about his reaction to derby defeats back in the day.
"I don't think the players feel the hurt as much, when they get beaten in a local derby today. Because I wouldn't go out for a week if I lost in a derby match. I wouldn't go out in public," Brown said shaking his head. "I'd be ashamed. I don't think that applies now."
What is so special about West Brom facing Villa – the two sides were sensational in a 2-2 draw earlier this season – or Wolves, Stoke or any other local side? For anyone who's been at those intense matches, it's quite hard to put your finger on.
"It's hard to explain… but you can feel the difference in a local derby game," Brown said. "The atmosphere is a little bit different compared to other games. There's that little bit something extra. It wasn't long ago that us, Birmingham, Villa and Wolves were all in it together for a couple of seasons. And that was absolutely brilliant. It was fantastic. The rivalry and the banter, I miss those games. Personally, I think there's nothing like local derbies. Supporters will say we want to be in the league above Villa and look down on them etc. But personally, the more local derbies the better. Even if that means relegation to the Championship, whatever."
Brown believes West Brom's biggest enemy this season has been a lack of goals. Creating chances hasn't been a issue for the Baggies, it's just tickling the twine that's been a concern and ultimately cost Steve Clarke his job.
As a 15-year-old, Brown upped sticks and moved to West Bromwich from Manchester and began his career as a Baggie that would eventually see him become the greatest player in their history.
But what was it that made the man known famous across England as "Bomber Brown" (for his marauding forward runs and goalscoring exploits) turn down Manchester City to sign for the Hawthorns club?
"Something, I don't know what it was because it's hard to explain, just being there at the Hawthorns, I just felt at home. I thought, 'I like this place, I feel comfortable here.' I ended up breaking almost every record at the club, so it was the best decision I ever made," Brown laughed. "That and meeting the wife, of course."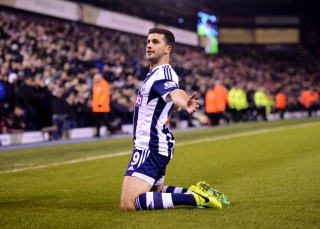 We spoke all about the rivalries with Villa, Wolves and Birmingham, but what about Stoke? They're only 35 minutes down the road.
"It's not really a local derby because it's a fair way," Brown said, which to an American sports fan hearing that, seems a little crazy given the proximity. "But in the past it was classed as a local derby. It was always a game the fans looked to and wanted to beat Stoke. The history is Stoke at rich, and even in the East Midlands with Leicester, Derby and Nottingham Forest, there's a needle there. This area is really passionate about their soccer."
When his days with the Baggies were coming towards an end, Brown moved to the USA and played for Boston and later Jacksonville, Tea Men in the old NASL during the early 1980s. He spoke fondly about his love for American soccer fans and the great time he and his family spent in the States. So, if you're an American and you want to support West Brom, here's the message Brown has for you.
"We're a family orientated club, not the biggest. But great tradition and have a good reputation in Britain that has always tried to play the game the right way, and entertain the fans. We've never had the resources of the bigger teams, but West Brom, we're always trying to punch above our weight."
STOKE CITY: PROUD HISTORY, BRIGHT FUTURE?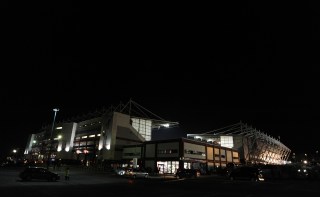 You get a true feel for how tribal the Midlands is as a soccer region as you drive up and down the M6 between the major cities and towns that line the way. This road is the backbone of Britain, it links the South with the Midlands, Midlands with the North and the North with Scotland.
It also seamlessly links the three PL clubs in question, taking me to my next destination: Stoke-on-Trent.
That's its full name, but commonly it's known plain and simple as Stoke. A certain reputation adorns the people and towns in and around the area known as 'The Potteries' for its heavy industrial past in the textiles business. Since the 17th century ceramic goods have been made in and around Stoke and the railways lines built in the 19th century helped them to be transported across the nation and bring a huge upsurge in business. Stoke and much of Northern England was put on the map during the industrial revolution as the heyday of the British Empire saw the region thrive, when exported goods were sent all over the world and over 100,000 people worked directly in the Potteries. Now just 6,000 are employed by the listed factory buildings the region is famous for, it's a little in the doldrums.
As traditional commerce had steadily declined, so did their soccer side and up until 2008, Stoke City had never been in the Premier League. Now they're mainstays. The second oldest soccer team in the world, founded in 1863 as Stoke Ramblers, were always noted for having Sir Stanley Matthews. He was their leading light as one of the most famous players in history played for Stoke and was a Stoke lad. The Britannia Stadium today sits on Sir Stanley Matthews Way.
Their forced transformation from a blood and thunder outfit to a side that caresses the ball seductively is ongoing. But a recent win over Chelsea, at the boisterously loud and proud Britannia on the outskirts of town, proves they're heading in the right direction. A trip to face Aston Villa is coming up on Saturday, as the two Midlands teams clash with both sitting in midtable but eager to get clear of the chasing pack below.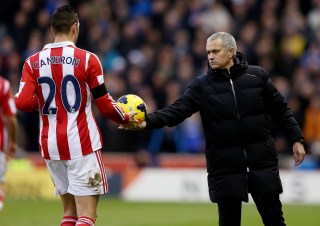 U.S. international and Stoke City defender Geoff Cameron recalls the recent win over Jose Mourinho's Chelsea that got the Potters season up and running.
"It was another game where the atmosphere was just absolutely crazy," Cameron said. "They [the fans] get you going and they pump you up. We went down 1-0 and we tied it before half time and you're like 'we're tied against Chelsea, this is pretty good.' Then boom you come out the second half firing and you feed off the crowd and go up 2-1 up, then boom Chelsea come back and it's 2-2. In the back of our minds we're thinking 'not again' because we didn't think want the same thing that happened against Manchester United [3-2 defeat after Stoke led 2-1] to happen again. The crowd just went crazy and picked us up a little bit and we went at it then obviously Ossie [Ossama Assaidi] came in and scored an amazing goal… When we scored the whole crowd went wild. It gave you the chills to be on the pitch. It was pretty special."
Stoke's crowd, since they were promoted to the PL almost seven years ago, has always been pretty special. The Britannia has become one of the most difficult places to play as an away side, with that trend continuing this season. Just over 27,000 cram into the ground and generate an intense atmosphere, as Cameron described, that gives the home team an advantage.
In the past, Stoke were always one of England's top teams. Along with their Midlands rivals. In the earlier 20th century, club legend Matthews led a side that dazzled for decades as the famous red and white stripes played great stuff when the English Football League was in its infancy.
(MORE: Stoke City's Geoff Cameron talks about Saturday's big upset over Chelsea)
That kind of success has eluded Stoke for decades but the fans remain, the supports is undying and the will to beat their Midlands rivals and wring every ounce of talent out of their potential drives them on.
Stoke are a hard-hitting, hard-working and hugely admirable outfit. In the past few years they may not have been pretty to watch but if you're looking for a side that will inspire and regain your belief that rolling your sleeves up and putting in a shift is still an important art in soccer, Stoke are for you. Plus if you're an American reading this USMNT players Brek Shea, Maurice Edu and Cameron all play for the Potters.
Sprinkle in some 'tiki-taka' influence from new manager Hughes, add in a deep squad of talented players and the Potters can shock the teams around them. Because despite their location close to the West Midlands and Birmingham (just 35 miles North up the M6) they're also located just as close to Manchester's two PL clubs and Everton and Liverpool aren't far away either.
That close rivalry with so many teams ignites passion in Cameron, as he tells of the difference between playing in Major League Soccer in the USA, with hardly any away supporters, to having up to 5,000 fans of your own creating an intense atmosphere in the stadium of one of Stoke's rivals.
"In England everything's so close so the rivalries are so tight-knit," Cameron explains. "In MLS it's growing and getting better but you don't get the same amount of numbers as you would because of the travel distance. There might be 20 or 30 fans who travel in MLS… not 4,000-5,000. It's a big difference. We have West Brom and Villa in the same area, then there's Stoke, Manchester United, Manchester City, Everton and Liverpool all right around here. It's crazy."
And Stoke's fanatical following happens away from home too.
A new initiative this season offers free bus travel for Potters fans who buy tickets to watch their team away. This has seen a huge surge in numbers of fans traveling across the UK to watch their side and Cameron reveals that as a player, it's hugely motivational to have that support on the road.
"When you go to Aston Villa, West Brom or even down to London, you get a good group of fans if you're the away side," Cameron said. "When you hear, 'they sold 3,000-4,000 away tickets to West Brom' you're like, that's pretty good! Or the same at Villa, it's good because you know the fans are behind you and supporting you. When you go out into the stadium, you can hear them."
This season, the three Premier League teams from the Midlands region are trying as hard as they can to be heard by the rest of the league. The passion of their fans, the rich history that encapsulates the clubs and an undying determination to slog it out with the big teams in London and the North West keeps them on the verge of breaking out and repeating past glories.
Soccer's heartland in England isn't going through it's most successful period. But give it a few years, these teams are putting the building blocks in place to carve their way back into English soccer's elite.
The overriding message from the industrial hub of England: "Work in progress."