After signing his new lucrative long-term deal, Luis Suarez has given us a little bit of insight as to why he dedicated his future to Liverpool Football Club.
The Uruguayan superstar, who leads the Premier League in goals with 17 in 11 games, extended his stay at Anfield following intense speculation over the last six months that his future would lie elsewhere.
Suarez, 26, is aiming to lead the Merseyside outfit back to success domestically and, most importantly, get back into the Champions League for the first-time since the 2008-09 season.
"The first dream for me is to play in the Champions League with Liverpool," Suarez said. "It's my hope and my dream. I think when we have very good players, we can try our best at the Premier League. I think if we stay at this level, we can fight with other teams at the top of the table."
With Suarez on board for the foreseeable future, you have to think finishing in the top four of the PL is a hugely reachable target for Brendan Rodgers' men. Having him around will attract better players, force stars like Phillipe Coutinho, Daniel Sturridge and others to stick around plus his incredible goal ratio will give the Reds a chance of success every single season.
But will the intense pressure heaped on Suarez's shoulders be too much for him to handle? I doubt it.
(MORE: Luis Suarez signs new long-term deal at Liverpool)
Suarez is one of the most driven individuals to ever play in the PL. The way he leaves every ounce of effort out on the pitch during every game means Liverpool's fans idolize him, plus the fact that he's a fantastic talent that can score goals of any kind from anywhere on the pitch adds to his legendary status. His appetite for success will drive his teammates on to strive to get better and when Suarez is on form, Liverpool have been almost unplayable at times this season.
And it is the year that provides the Reds with their best chance in many years to crack the top four once again.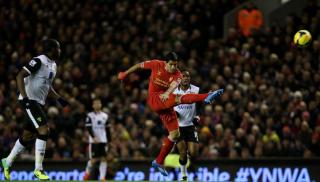 With so much uncertainty in and around the upper echelons of the PL standings, Suarez' huge goal haul has helped his side stay in touch with league leaders Arsenal and they have a chance to go top, albeit temporarily, with a win over Cardiff at Anfield on Saturday. Their pint-sized Uruguayan terror is relentless and is hungry to give something back to the fans, club and city that supported him when he went through an extremely tough spell over the summer.
Banned by the English FA for 10-games after biting Branislav Ivanovic at the end of the 2012-13 season, Suarez said he wanted to leave Liverpool. But the attitude of the fans persuaded him to stay, and that same love and affection now sees him extending his contract for many years to come.
"I like the city; I love the city and the supporters. They help me and I try my best on the pitch for them," Suarez said. "The summer was a difficult time, but they helped me to come back and play. And I think that when the supporters help you off the pitch, you try your best on the pitch and try to produce fantastic work on the field, so that they are happy."
Suarez and Liverpool's fans share the same dream: to make it back to the Champions League.
Liverpool have won that famous trophy five times and with Suarez on board firing on all cylinders, he dreams of adding more UCL and PL titles to one of England's most successful ever teams.