LONDON — This season the Premier League will be defined by fine margins.
Arsenal's stalemate with Chelsea at a rain-soaked Emirates Stadium on Monday night personified that tightness, as both London clubs failed to strike in an edgy affair. The Gunners are joint-top of the league at Christmas but failed to win for the third-straight league match, as Chelsea are now just two points behind them in fourth.
With just eight points separating first spot from eighth in the PL, there's so much to gain with every three point haul… but there's also too much to lose. That made for an edgy encounter with both sides reluctant to go for broke.
"We came here with the aim not to win the game" Chelsea's captain and man of the match John Terry said. "But its Arsenal's home game so it's down to them to bring it to us. I think with five minutes to go, you have to say, it's not a bad point away from home."
As Terry's comments prove, both Chelsea and Arsenal left it to each other to see who would make a positive move to try and win the game. That never came.
Two of the league's top attacking teams battled it out in a nervy, and often rambunctious, 0-0 draw which suited the away side better than Arsene Wenger's men who now haven't won in their last three league games. Late on Jose Mourinho brought on David Luiz for Fernando Torres to see out the game. Chants of "Boring, Boring Chelsea!" rang out from the home fans, who were frustrated by their own sides lack of ingenuity to break down a typically stubborn Mourinho side.
(MORE: Arsenal 0-0 Chelsea – Stalemate at the Emirates on night of heavy weather, refereeing controversy)
Cheslea's eccentric manager was happy with the point and he believes both sides were more eager to not lose the game, than go ahead and win it.
"I would say I'm not unhappy, we come to win, we want to win… but we don't want to lose," Mourinho said. "Very important not to lose. If we lose we are five points behind the leader, now we are only two points behind the leaders, so that's a different picture completely. We tried to win but we are not unhappy with a point."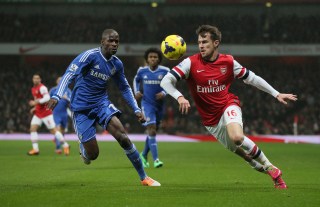 As for that "Boring, Boring Chelsea" chant, Mourinho had the last laugh as he's now 10 games unbeaten against Arsene Wenger, plus his team have not lost in tricky away games at Manchester United, Tottenham and now Arsenal.
"I play against them [Arsenal] 10 times and I've never lost," Mourinho laughed. "They should say, 'funny, funny, Jose' ten times and they don't win once. What do you want them to call me?"
In fairness, both sides were slightly, well, boring, as Wenger claimed his players were "nervous and a little edgy" following their defensive relapse in a 6-3 defeat to Manchester City last weekend. There were just six shots on target the entire game and neither 'keeper had to make a save of note.
Both teams struggled to create on a night when the wind howled and festive cheer was on short supply as meaty tackles flew in, no season greetings in this blood and thunder clash. Frank Lampard smashed the bar with a rasping effort in the 33rd minute for Chelsea, while Olivier Giroud's close-range effort was deflected over Petr Cech's crossbar with barely five minutes left in Arsenal's best effort of the game.
(MORE: Latest Premier League Standings)
The cagey affair threatened to boil over in the second half as a plethora of bookings saw both sides walking the tightrope. Arsenal weren't happy with a few challenges, especially John Obi Mikel's on Mikel Arteta in the first half and Wenger thought Theo Walcott should've had a penalty.
Mourinho? He laughed the bad challenges off and belittled Arsenal's qualms over the officiating.
"They like to cry, that's tradition," Mourinho said. "I prefer to say that, and I told this to the official, English people, Frank Lampard for example, would never provocate situations like that. Players from some countries, they have that in their blood. This is English football, foreign players are bringing lots of good things and are talented. But I prefer English blood in football and these situation. The English players say come on lets go, let's get on with it!"
As for the title race both Arsenal and Chelsea find themselves in the thick of it, Wenger and Mourinho are happy with the position they're in. The players are also relishing a tight and cagey second half of the season, as the festive period ushers in the halfway point with everything still to play for.
"It's wide open, great for the neutral but not so good for our own fans," Terry said. "It is exciting because the lower sides are really putting on a show and upped their game. They've seen us, Manchester City and Manchester United in the last couple of years run away with the league. That's not the case this year."