There was an aura of inevitability to yesterday's result, one you could sense after we saw each team's approach. As Chelsea's three-man midfield folded into a five-man line in front of the defense, we saw a typical, stubborn José Mourinho persisting with a pragmatism that has kept his wildly inconsistent team within reach of first place. And as Arsenal's style-defined plan failed to exhibit a new ways to break through the Blues' defense, visions of the Arsène Wenger teams that have failed to beat Mourinho in 10 tries came to mind. Both managers, both teams were playing their parts.
[MORE: Arsenal 0-0 Chelsea: Stalemate at the Emirates on night of heavy weather, refereeing controversy (video)]
But to complete the predictable drama, the directors needed help. They'd need complicity from the players as well as the head official. Had those factors been unwilling to play their pats, we may have had a goal at the Emirates on Monday.
Instead, we had a number of performances, both good and bad, we could have anticipated at kickoff.
Mesut Özil
The German international has been as advertised since his acquisition from Real Madrid, but within that reputationare qualms about his performance in big games. Though he was admired at the Santiago Bernabeu for his obvious skill, whispers asked why he didn't have a bigger impact in Clasicos or Real Madrid's three eliminations in Champions League semifinals.
The "big game" tag can often be a silly one in soccer. They used to apply it to Messi. And Ronaldo, And Ibrahimovic. Often, when all else fails, it's the go to "he's not that good" critique. As Özil's career progresses, he may show middling performances in big games were about sample size or opposition, not some inherent shortcoming. At least, that's how it usually works out.
On Monday, however Özil wasn't the player Arsenal needed. Having broken the bank for the first time in club history to bring him in this summer, the Gunners would be right to expect influential performances in the matches that can take them from Champions League qualifier to title-contender. Instead, according to Opta, Özil had one "key pass" (chance created) against Chelsea – the same as Kieran Gibbs. Frank Lampard, Eden Hazard, and Willian all created multiple chances for the Blues.
John Terry
The Chelsea captain took home the NBC broadcast's Man of the Match award, and with good reason. With the Blues playing deep and compact, Terry was at his best, alleviated of the prospect of individual battles while being left to help organize and clear anything cast toward the middle. The times he was asked to make stops (few and far between), he was able to do so without worrying about giving up space behind. Chelsea were already standing with their backs to the wall.
Perhaps that type of performance can be seen as an extension of Terry's limitations, but now 33 years old, the veteran defender can't be expected to replicate his former, award-winning self. That he's still a player that can start in the middle of a defense against Arsenal speaks to a resiliency few want to acknowledge.
While Chelsea's defending had been a point of uncertainty heading into Monday's game, the Blues kept a clean sheet on the road against one of the league's best attacks. And Terry played a huge part.
Arsène Wenger
There was a time when the line between tactics and style didn't exist in how people discussed the Premier League. In those days, Arsène Wenger was considered a tactician. Now, more often than not, he seems like a man who lacks ideas. In big games against teams who are able to adapt their selection and adjust to Arsenal's approach, the Gunners can often become bogged down.
That's not always the case. Last year in Munich. This year at Dortmund. At home in Champions League against Napoli. Arsenal are still capable of beating top teams, even if there's rarely a tactical masterstroke. The consistently of Wenger approach produces a well-drilled team capable of exploiting their opponent's errors. Even the biggest teams are capable of giving Arsenal an opening.
José Mourinho's teams, however, are less like to do so than most. We knew Chelsea were likely to play conservatively. We knew Arsenal would have to come up with something special. But Wenger, playing to type, rolled with what carried the Gunners to the top of the Premier League. As a result, they lost their hold on first.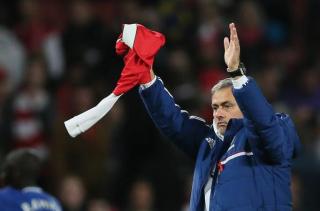 Jose Mourinho
Mourinho was as unimaginative as Wenger, but on Monday, his approach worked. Not only did he keep the Gunners from registering a shot on goal for most of the match, his team nearly took the league multiple times. Given the current state of his squad, it was the right plan, even if the lack of execution at one end forced the Blues to content themselves with one point.
The Chelsea boss resorted to his old media tricks post-match, deflecting criticism while providing a distraction. Many of the critiques centered on perceived rough play, but that was only one, small facet of the Blues' plan. At its core, Chelsea's set up assumed Arsenal wouldn't be able to break them down. And they were right.
[MORE: José Mourinho's 'like to cry' gibe strikes a patronizing, xenophobic note]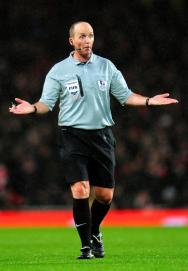 Mike Dean
Every referee has a style, and to his credit, Mike Dean is generally consistent in his approach. Yet when you have styles that deviate so far from normal enforcement of the rules, you end up with officials that can be exploited. On Monday, Chelsea's willingness to test the edge of the rules was rewarded, something for which José Mourinho may deserve credit.
Arsenal could have responded, but they don't have a team built to do so. They have Mathieu Flamini in the middle, but they don't have a core of midfielders that can plow through Chelsea's block. They don't have the type of forwards they can target as a means of bypassing the Blues' minefield. Again, this is an area where Mourinho might deserve credit for recognizing how the game was likely to play out.
But Cesar Azpilicueta deserved a yellow card for his first chop on Aaron Ramsey. John Obi Mikel deserved at least a caution for how he went in on Mikel Arteta. Those were places where Dean's stylistic preferences subverted the rules, giving Chelsea an edge the Gunners couldn't similarly exploit. Although Arsenal weren't without their own forgiven fouls, the early, let-them-play approach played into how Chelsea set up.
While you could argue that teams have to be able to adapt to such scenarios, you can also question why such scenarios are accepted as part of the game. Why aren't referee with drastically deviating tendencies seen as a bug as opposed to a feature?
Credit Chelsea for their adaptability, but if Mike Dean isn't refereeing Monday's match, the game would have played out differently. Would it have played out in Arsenal's favor? That's going too far. But the style of the officiating may not have meshed so well with Mourinho's plan.
[MORE: Referee Mike Dean's record in Arsenal matches will continue to be scrutinized]