THE GENUINE SIX-HORSE RACE BEGINS
It's official, this is the tightest title race in Premier League history.
After Arsenal and Chelsea's stalemate on Monday, only eight points separate first from eighth in the Premier League. That's the smallest margin of point differential between the top eight on Christmas Day in PL history. With six realistic title contenders jockeying themselves to jump ahead of the pack. One man named Jose is confident (shock) that his side have what it takes to stay in the hunt. Speaking to myself and other journalists after Chelsea's unenterprising yet astute 0-0 draw away at Arsenal, Mourinho is pleased with how things stand.
"In the last Boxing Day Chelsea was 11 points away, and out of the title race. This season we are there, we are only two points behind both leaders, we are there. We have reasons to keep going. The best way to finish in the top four and be in the title race, is to stay close. Let's enjoy the moment." – Jose Mourinho on Chelsea's title aspirations
It's fair to say we're all enjoying the wide-open title race in the 2013/14 campaign, as the second half of the season is almost upon and six teams now realistic contenders to lift the PL crown. Arsenal, Liverpool, Chelsea, Man City, Everton and Manchester United are all in the mix. The upcoming festive season is crucial as the likes of Liverpool play City and Chelsea, while United have some fairly easy games against Norwich and Hull coming up.
It's at this time, the most wonderful time of the year as the song goes, that the PL standings really shake out and the top five or six emerge. By the time a full slate of games are done and dusted on  January 1, that will be the case. The only time it's ever been this close was back on Xmas day 2002, when the top eight were split by just 11 points as United won the title ahead of Arsenal in second.
(MORE: Latest Premier League standings)
So often this season top teams have cancelled each other out with negative tactics. On rare occasions the likes of City have given it a go and been rewarded but I feel it's all about staying in touch with your competitors, beating the sides your supposed to beat and nicking draws and setting up to not lost against your direct competitors.
Come the end of the season, we could be in for one heck of a title-race as a mad dash for the finishing lines ensues, following countless apprehensive sideways and backwards moves throughout the course of the season from the elite six.
Hold on to your hats, the pace is about to become relentless.
Premier League Schedule – Week 17

SPURS' SHERWOOD A HIT, WILL IT REMAIN?
A hint of hope glimmers for Tottenham's fans after their 3-2 win over Southampton on Sunday.
Tim Sherwood's first Premier League game in charge of Spurs was an audition riddled with miniscule errors but ultimately the final act covered him in glory. A win's a win, as they say, and with Sherwood officially handed the reigns on Monday night on an 18-month deal, Spurs fans can expect plenty of attacking intent and lackluster defending to come.
With a classic 4-4-2 formation Sherwood's preferred weapon of choice, the former Blackburn Rovers and Tottenham captain knows what he wants and it's that direct approach which may unsettle many sides. In the day of the 4-3-3 or 4-5-1 lineups, the move to link up Roberto Soldado and the rejuvenated Emmanuel Adebyaor (frozen out by AVB, he's scored 3 goals in 2 game since Sherwood took charge) is a bold one.
WATCH EVERY BOXING DAY GAME LIVE ONLINE, VIA NBC SPORTS LIVE EXTRA
Sherwood, who coached at Spurs under Harry Redknapp and played for him at Portsmouth as they surged into the Premier League, resembles his mentor. His gift of the gab, brash confidence and attacking formations display that. Spurs could've done a lot worse than give him the job until the end of next season. The man who lifted the title as captain of Blackburn back in '95 wants a crack at blueprinting Tottenham's lofty title aspirations over the next few years. Like Redknapp, there's nothing revolutionary or over-complicated about Sherwood's philosophy. Perhaps that no-nonsense approach and old school mantra is what's needed at White Hart Lane, because rugged Southern Europeans with hordes of technical analysts, complicated formations and a continental style setup clearly hasn't been the flavor of the month in North London.
Tottenham chairman Daniel Levy, you've acted quickly, but have you acted correctly?
BATTLE OF THE YANKS… CAMERON LANDS THE KILLER BLOW
Compared to recent seasons, the number of Americans in action in the PL has diminished a little, so whenever two come head-to-head, we should embrace it and enjoy two men flying the stars and stripes overseas.
USMNT teammates Geoff Cameorn and Brad Guzan squared off against each other in a Midlands derby at the Britannia Stadium on Saturday, and one man stole the show.
Marauding up and down the right wing all afternoon from full back, Cameron was an effervescent example of American ingenuity and desire. In the first half an over-hit cross, from deep inside Vila territory, looped and swirled in the Staffordshire wind and was dipping into the top corner before Guzan showed off his best Superman effort to keep it out.
Cameron put his hands on his head in disbelief.
But in the second half the former Houston Dynamo central midfielder and center back, who is excelling out of position for the Potters, once again overlapped on the right and delivered a magnificent ball into the dreaded "corridor of uncertainty" that left his U.S. teammate Guzan floundering as Peter Crouch bundled home the game-winner.
Check-mate Cameron. His stock is rising as a spot in the USA's World Cup roster beckons. U.S. Soccer were happy about their two boys squaring off.
UNITED'S RETURN TO WING WIZARDRY?
Last week away at Villa Park, I noticed Manchester United were putting much more emphasis on getting the ball wide early to feed Adnan Januzaj and Antonio Valencia on the wings. I thought a fresh attacking approach could be fruitful, and shared that in Playback last week.
This week during the comfortable 3-1 win over West Ham, they did it again as Januzaj scored and Valencia helped set up the third by pulling the ball back expertly for the majestic Wayne Rooney to set up Ashely Young for the sealer.
But the stats show differently, as neither excelled when it came to whipping crosses in the box. As you can see from the heat maps for Januzaj (left) and Valencia (right) both marshaled their wings impressively and despite Januzaj drifting inside a little, they kept their width and created space for United's central players. That helped Wayne Rooney flourish in the number 10 role as the master and creator, as the PL's leading assist maker laid on two more helpers. However Januzaj failed with four of his crossed and Valencia only completed 29 percent of his 7 deliveries from wide. So old-fashioned wing-play wasn't exactly flourishing.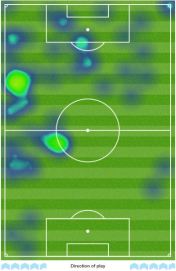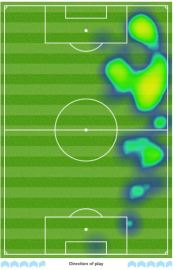 But take those numbers out of the equation, and the clever and intricate flicks, incisive passing and willing running threw me back to a bygone era of Ryan Giggs on one wing and Andrei Kanchelskis on another. Januzaj resembles Giggs with his floaty runs and calm persona, while Valencia's industry and final ball reminds of their former Russian attacker. It was a joy to watch with Rooney orchestrating play in a central role and the suddenly in-form Danny Welbeck playing on the shoulder of the last defender.
One note: all this attacking fluidity is happening without Robin van Persie, and a against a few whipping boys in Aston Villa and West Ham. Let's see if United's settled attacking quadrant can deliver against the big boys in the PL. Promising signs once again for David Moyes.
Notice I hadn't mentioned his name right until the end of this section, instead of leading off with more misery for him… that's a refreshing change. Just like the Red Devils wing-play.
FOOTBALL UNITES, AS TAN RETREATS
When many fear all hope is lost for the modern game, something always crops up to give you a feeling that humanity still fights for what's right.
That happened in Week 17, as fans, managers and players across the country united to let Cardiff City owner Vincent Tan now that he was bang out of order. Sat in the directors box on Saturday like a bond villain with his shades on and wringing his hands visibly in a pair of black leather gloves, Tan depicted his part in the debacle superbly.
After telling his hugely likeable manager Malky Mackay that "he must resign or be fired" via an email, uproar ensued across the Premier League. Fellow managers reacted angrily, Cardiff's fans protests with signs of "Tan Out" hanging up in the away end at Anfield on Saturday, and although the Bluebirds were undone by Luis Suarez's sublime first half display (who isn't these days?) the fight Mackay's players showed in the second half proved they believe in their manager.
Following the match the proud Scot remained defiant as he insisted he would not resign and walk away from his staff, the fans and players. The rest of the soccer world collectively nodded their head in appreciation for the impeccable characters he's shown throughout this testing time.
Mackay clearly isn't Tan's man but right now, he's the man of the people.
The Playback comes out every week and takes a different look at all the action from the Premier League weekend.