Around the festive season, there are plenty of special days to look forward to.
But here at PST Towers, we have been looking forward to one particularly 'special' tournament for quite some time, as the 2014 World Cup kicks off in Brazil less than six months from now.
So, with the draw happening earlier this month and the 32 qualified nations making their final preparations ahead of wondrous spectacle in South America, myself, Steve Davis and Richard Farley had a lengthy chinwag to try and dissect the World Cup.
(MORE: 2014 World Cup Draw – Full schedule for all group games)
We may not agree on everything, but we had a lot of fun doing it.
Sit back and soak in the superior knowledge on show in our ProSoccerTalk panel, ahhh, drink it in.
Which nation made out the best? 
SD: Take your pick from between Switzerland and France. I mean, the French only squeezed into the field on the last day … and for that they get Ecuador, Honduras and Switzerland, the team that nobody thought should be a seeded side. And for Switzerland, even as a seed, things could have easily turned out worse. (Oh, for the first-placed group finisher, a second-round match against Iran, Nigeria or Bosnia and Herzegovina looks pretty tempting, too.)
RF: Argentina and Brazil both made out unreasonably well, and if it wasn't for Uruguay drawing Italy and England, I'd be buying into some of the conspiracies. You also have to love France's luck, being cast into a group (E) where they'll be slight favorites despite not being the seeded team. The Albiceleste, however, will be the team with the fewest worries through the tournament's first two weeks.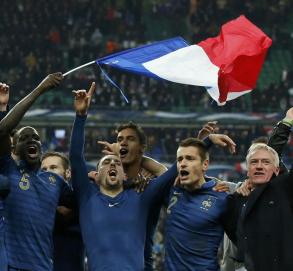 JPW: I have to go with Steve, the French… how did they manage this one? After sneaking in the back door, they have to be one of the favorites to make it to the quarterfinals at least. Didier Dechamps must be rubbing his hands gleefully. Also, the hosts got off easy, as usual, and the likes of the Ivory Coast were handed a pretty reasonable draw with only Greece, Japan and Colombia to navigate past.
So then, who got hosed? 
RF: The Netherlands. I'm not as big on the Dutch as many, but they're certainly one of the top 16 teams in the world. Given this draw, however, they'll likely be on the outside looking in come the tournament's third week. They're not as good as Spain, they're not as good as Chile, and although they're capable of upsetting either, they're also capable of replicating their disappointment from Euro 2012. With Australia in this group, it won't get that bad, but given a probable Round of 16 match with Brazil (if they do survive), the Dutch got royally hosed by the draw.
JPW: You guys will laugh at me, but I have to say England got dealt a pretty bad hand. Okay, the Three Lions are perennial underachievers at tournaments and fans expecting them to waltz to the semifinal every time are slightly deluded, but Italy and Uruguay? Come on. Luis Suarez is going to tear Roy Hodgson's defense apart, as plenty of fans believe getting our of Group D will be an achievement. Plus the U.S. got pretty screwed with two of the world's top five in Germany and Portugal, then old foes Ghana just for the heck of it. Wow.
SD: The United States! The "easy" game of the group comes against their historical troublemaker, Ghana. (The key for the United States: beating Ghana in that first game. It's all about that opener. Anything less than three points there and, well, they'll be climbing uphill on a serious incline.) I'm not sure the United States deserved a seed necessarily … but Jurgen Klinsmann's team certainly didn't "draw" any good luck when the balls came out of the pots, either.
How far will the U.S. go? 
SD: Given Germany's strength, Klinsmann's kids are competing for second place in the group. Sorry, but that's the way it is. And that most likely means a second-round date with Belgium, a team that I have been trumpeting for two years. (Remember how Belgium shook the United States like a rag doll last spring?) With the draw, it's difficult to see a path beyond the second round for the United States.
RF: Portugal is another team I'm perpetually down on, so I'm more optimistic about this draw than most. My pick's going to constantly change over the next six months, but as of right now, I think it could come down to tiebreakers. The progress Klinsmann's made will show through in the tournament opener against Ghana, the U.S. will draw with Portugal, and a Germany team with six points in two rounds could allow the U.S. a fifth point. Then again, I wouldn't' be surprised to see the U.S. take care of business in Manaus against Portugal and be on six before facing the Germans.
JPW: Steve's realism and Richard's positivity is both sobering and encouraging. The USMNT have to play to their strengths in Brazil, and I think the Germans and Portuguese will genuinely find it tough to break the U.S. down. The only worry I have is scoring goals, which was a problem at times even in CONCACAF qualifying. If Jozy Altidore's terrible season at Sunderland continues, who will Klinsi turn to? I hate to say it, but a group stage exit for the Yanks beckons.
What group-stage match are you most excited to see? 
SD: Stylistically, I can't wait to watch the Group B matches (Spain, Netherlands, Chile and Australia). Two of the most technical teams in the field, a Chilean side that has some talent and could cause some trouble and an Australian side that will fight, play direct and look to muck up the matches.  To me, it's a group that will feature a mix of attractive contests and contests of completely contrasting approaches.
JPW: I'm really looking forward to the game between Germany and Portugal in the Group G opener. These two sides really fancy themselves to go all the way and win the World Cup, so they'll be raring to send out a message to the rest of the field. Cristiano Ronaldo fired up to deliver, plus Germany's whole host of young attacker, this game should be end-ton-end, fiery and deliver plenty of goals. These two European giants will be frothing at the mouth. My type of match up.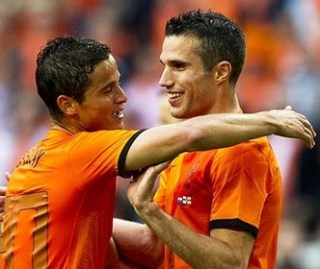 RF: I expect both the Netherlands and Chile to be on three points when they meet on June 23 with a knockout round spot on the line. Perhaps one will have snagged a point from Spain; regardless, I think that match will have quarterfinal quality, knockout round stakes, and see one of the tournament's better teams out before the Round of 16.
Given neither team has much in defense, it could be one of the most entertaining matches of the tournament.
What 16 teams advance? 
RF: Picking now? Brazil, Mexico, Spain, Chile, Colombia, Japan, Uruguay, Italy, France, Ecuador, Argentina, Bosnia and Herzegovina, Germany, United States, Belgium, Russia
Come May? I could see five or six of those picks changing.
SD: Brazil, Croatia, Spain, Netherlands, Greece, Ivory Coast, Uruguay, Italy, France, Ecuador, Argentina, Nigeria, Germany, United States, Belgium and Russia
JPW: Brazil, Mexico, Spain, Netherlands, Ivory Coast, Colombia, England, Uruguay, France, Switzerland, Argentina, Iran, Germany, Portugal, Belgium, Russisa.
Finally, name your favorite?
RF: Brazil.
SD: I think the pressure, the enormous weight of it all, will simply be too much for Brazil, who will fall out in the quarters or semis (IF, that is, they get past a thorny second round date against Netherlands or Spain.) So, I'm taking Argentina and Leo Messi to rise and take the trophy on their bitter rivals' soil! Argentina is fabulously talented, has the best player in the world and, unlike in 2010, isn't coached by a cartoon figure.
JPW: This is such a hard decision, but I'm going with the reigning champs Spain. Okay, that haven;t exactly been lighting it up in the qualifying rounds or the Confederations Cup last summer, but don't underestimate their talent. I fancy them to make history, and become the first European team to win the World Cup on the South American continent.