Amongst bringing families and friend together to watch soccer over the festive period, Boxing Day also springs up plenty of surprises which adds to the magic.
The aura surrounding games the day after Christmas has been created over many years of fixtures, with memorable games and moments taking place.
(MORE: Boxing Day – One of English soccer's greatest traditions)
Certain trends and transcended generations, but what can we expect from Boxing Day 2013? More of the same really.
But to get down to specifics, here's three things you can watch out for on Thursday when the Boxing Day bonanza begins. To watch every single Boxing Day game live online, click here to view them via NBC Sports Live Extra.
1. Goals, and plenty of them!
When some players have a little too much Christmas pudding, or whiskey, the results are all too obvious the day after on Boxing Day. Usually, that will see some pretty lopsided scorelines as plenty of mistakes are punished with ruthless strikers hungry for a Christmas goalscoring bonus. Back on Boxing Day in 1963, a record 66 goals were scored in 10 games in England's top-flight. Fulham beat Ipswich 10-1 at Craven Cottage, West Brom and Spurs (who meet this Boxing Day) drew 4-4, while Liverpool beat Stoke 6-1 and Manchester United lost to Burnley 6-1. I'm not promising you as many goals as that, but certainly this special day in the English soccer calendar and often brings out the worst in defenders, and the best in some attackers. If you fancy a flutter at the bookies, go with the over in total goals scored.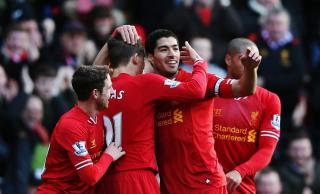 2. Timely red cards
It's that funny time of year, when crazy late tackles and silly second yellows seem to spring up more often tan usual… I wonder why? Well, players missing out on time with their families over the festive period, suddenly realize they could be sitting at home chewing on chocolate with a cold beer in their hand, rather than slogging it out in the wind and rain on the pitch. Not for one second am I calling into question any professionals sporting integrity. But, usually kick outs or abusive language for a second yellow or just plain awful tackles crop up during the Boxing Day matches, as suspensions will see players putting their feet up until the New Year. I think likes of Kevin Nolan and Wes Brown, both sent off in the lead up to Christmas for West Ham and Sunderland respectively, are old hands and planned their dismissal accordingly.
3. Beware of the upsets
Every year there's always one big side that falls on Boxing Day, prompting commentators and fans to don the "It's a Christmas miracle" line. Who will it be this year? A few potential banana skins have been lined up for Manchester United away at Hull, Arsenal traveling to West Ham and Everton hosting Sunderland. Last season Stoke beat Liverpool 3-1 and Sunderland dispatched Man City 1-0… There will be some nervous managers out there on Thursday.
FULL TV SCHEDULE
BOXING DAY, THURSDAY DECEMBER 26
7:45am ET: Hull City vs. Manchester United – NBCSN
10am ET: West Ham vs. Arsenal – NBCSN
10am ET: Cardiff City vs. Southampton – Premier League Extra Time
10am ET: Aston Villa vs. Crystal Palace – Premier League Extra Time
10am ET: Everton vs. Sunderland – Premier League Extra Time
10am ET: Tottenham vs. West Brom – Premier League Extra Time
10am ET: Newcastle vs. Stoke City – Premier League Extra Time
10am ET: Norwich City vs. Fulham – Premier League Extra Time
10am ET: Chelsea vs. Swansea City – Premier League Extra Time
12:30pm ET: Manchester City vs. Liverpool – NBCSN