Gaston Ramirez had brought Southampton level from nothing, but Everton's response was quick and pure as Romelu Lukaku ensured all three points for the home side at Goodison Park.
After a Seamus Coleman thunderbolt gave Everton an early advantage, it took the visitors 62 minutes to find an equalizer but they were only level for three precious minutes.
On the opening whistleEverton attacked early down the right-hand side through Coleman, but were simply feeling out Southampton's defense.
However, those tactics would pay off inside nine minutes when Coleman worked space for himself around Luke Shaw and stunned many around Goodison Park by shooting from a tight angle rather than sending in a cross.
The result was a thunderous strike and a 1-0 lead for Everton as the swashbuckling defender picked up his fifth goal of the season and third in his last five matches.
Southampton were unwavered by the early goal, settling in quickly to the match following their early deficit.  Not surprisingly, the combination of Adam Lallana and Jay Rodriguez in support of Rickie Lambert was bright.
Everton had a chance for another in the 38th minute when Romelu Lukaku worked well down the right-hand edge of the box, but with Bryan Oviedo all alone in front of goal, Lukaku lost out to Shaw.
Lallana has a beautiful chance just minutes later, with Rodriguez feeding him and a few brilliant touches from Lallana to get past two blue shirts, but the shot was lashed wide with the goal gaping.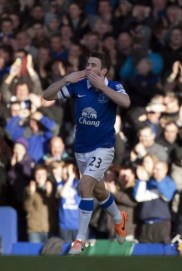 In the second half, it remained an exciting affair, with Everton missing a golden opportunity to go two-up 10 minutes after the break.
Bryan Oviedo worked down the left hand side and sent in a blasted low cross, and with Lukaku and Ross Barkley both free in front of goal, Barkley latched but swung his shot inches wide, having beaten Davis.
Southampton were bright in possession, but with the visitors unable to unlock the Everton defense, new substitute Gaston Ramirez decided to take matters into his own hands having just come onto the pitch.
The midfielder checked back on the ball past two defenders, and his knuckled shot from distance wobbled past Joel Robles and into the net for an equalizer from nowhere.
But it wouldn't last long for Southampton.  With James McCarthy streaking down the middle of the field, Steven Pienaar found him easily, and a brilliant touch with the outside of McCarthy's foot teed up Lukaku who finished powerfully and professionally.
It's the Chelsea loanee's ninth goal of the season for Everton, and snapped a five-match goalless streak for the big Belgian.  He nearly had another just minutes later as he weaved through three defenders before blasting just over.
Again Southampton were not wavered by the new deficit, pressing Everton's box for another leveling score.
Their best chance came on a penalty shout thanks to a handball by Everton's Antolin Alcaraz, but referee Mark Clattenburg waved it off due to the close proximity of Alcaraz to Adam Lallana's shot. The Saints winger got a yellow for his protests.
The win at Goodison will do them well to repair any damage done by their Boxing Day loss to Sunderland, sending them above Liverpool to fourth in the table.
GOALS:
Everton – Coleman 9′; Lukaku 74′
Southampton – Ramirez 71′
LINEUPS:
Everton – Robles; Baines, Alcaraz, Distin, Coleman; McCarthy, Barkley, Oviedo (Pienaar 60′), Osman (Mirallas 72′), Naismith; Lukaku.
Southampton – K. Davis, Chambers (Clyne 88′), Fonte, Lovren, Shaw, Cork (Ramirez 66′), S. Davis, Ward-Prowse (Gallagher 84′), Lallana, Rodriguez, Lambert.