Nicolas Anelka is refusing to apologize, saying Saturday's quenelle tribute was not anti-Semitic, never mind the person to whom he was paying tribute, French comedian Dieudonné, is seen as a right-wing, anti-Zionist figure. In raising his left hand to a down-pointing right arm, Anelka was appropriating the imagery of a perceived anti-Semite, even if the West Brom striker didn't intend his actions to be hateful.
[MORE: Nicolas Anelka accused of 'anti-Semitic' gesture during goal celebration (video)]
Between that, his recalcitrant response, and the poor judgment showed in bringing these actions to the middle of Upton Park on Saturday, there are plenty of reasons for The FA to be concerned with Anelka's actions. Given the two-game suspension Jack Wilshere was handed for raising his middle finger to fans at the Etihad, it's no surprise Anelka's facing an even longer ban, with England's governing body potentially handing the West Brom striker a five-match sanction under anti-discrimination rules introduced in May.
As The Guardian reports, aggravating circumstances could extend that ban, though perhaps none of this would be necessary if Anelka wasn't so stubborn in his defense of the actions. Had the 34-year-old simply apologized for his gestures and claimed ignorance of the effects, it'd be easier to look on Saturday's actions with sympathy. After all, we've all done things with the best intentions only to have others highlight out our stupidity.
Instead, Anelka at French sports minster Valérie Fourneyron for calling the gesture disgusting. He's also taken to Twitter to ask people to look beyond media coverage of his salute, implicitly dismissing the idea that he should have been aware of his actions' negative consequences.
As collected by The Guardian:
In a series of tweets, Anelka has defended his actions, saying the quenelle celebration was intended to be anti-establishment. He tweeted: "I do not know what the word religion has to do with this story. This quenelle is a dedication to my friend [the comedian] Dieudonné. With regard to the ministers who have given their own interpretations of my quenelle … they are the ones that create confusion and controversy without knowing what this gesture really means. I ask people not to be duped by the media … And of course, I am neither a racist nor an anti-Semite."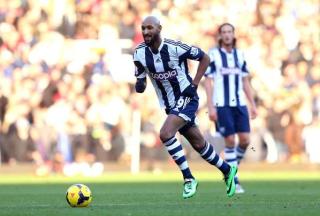 The more this plays out, the more it looks like stupidity of some sort on Anelka's part. Either he was innocently stupid, ignorant in thinking everybody would see his salute for his best intentions, or he's being maliciously stupid in evoking a gesture that seems impossible to untangle from the politics of Dieudonné, its anti-Zionist creator. Making the bold (and probably erroneous) assumption you can every untangle imagery from its implications, Anelka's asking the world to see Saturday through from his point of view, perhaps never considering his viewpoint has created this confusion.
In a previous post, we noted athletes like Tony Parker, Samir Nasri, Mamadou Sakho and Boris Diaw have also been photographed making a quenelle, but Parker doesn't do so at the center circle of the AT&T Center. Nasri doesn't celebrate Manchester City's goals with the controversial salute, and Sakho's pictures with Dieudonné have been in private. While it's worth questioning the judgement each man's shown, that's all behavior from their personal lives.
Anelka's brought this into the professional realm. On the occasion of his first goals with West Brom, he's evoked a reverse Nazi salute, a disarmingly controversial way to mark his contributions. Given he seems oblivious to his potential offense, Anelka's on course to test The FA's new rules. Expect him to miss five games, minimum.