The past season has certainly been one of the most memorable years in Major League Soccer history, with drama on and off the field, spectacular races for the Conference titles, top individual performances and a magnificent MLS Cup to round it all off.
Over the next few days at PST we're putting a nice bow on an incredible 2013 MLS season, to mark the end of a landmark year for soccer in North America.
On and off the pitch there were so many talking points across MLS, but let's focus on the things that actually happened on the field as we take a gander at our top five storylines to come out of 2013.
Here we go…
1. Sporting KC win MLS Cup on home soil
Where better to start than the moment that capped the entire season off? This game had it all, subzero temperatures in front of a packed out house at Sporting Park who cheered on their side to victory… eventually. After the game had been locked at 1-1 and extra-time couldn't separate Real Salt Lake or SKC, the dreaded penalty shootout (for just the third time in MLS Cup history) would decide the champion.
Cue Jimmy Nielsen's mystic piece of paper, a mixture of superbly taken and utterly awful penalties and both sides having the chance to win the Cup… then blowing it, before the tenth round of PKs proved decisive. Lovell Palmer smashed the ball against the crossbar and over to hand SKC the win, after Aurelien Collin had calmly dispatched his spot kick, and Sporting Kansas City could celebrate their second MLS Cup in franchise history and first since their re-branding.
2. Landon Donovan returns, ties MLS scoring record

As Steve Davis mentioned in the 'top MLS moments of 2013' Landon Donovan's return saw a wonderfully rejuvenated figure burst back onto the scene and tie Jeff Cunningham's all-time MLS scoring record.
Following his self-imposed sabbatical during the 2013 offseason, when many believed the then 30-year-old forward would walk away from soccer entirely, Donovan looked fit and ready to make up for lost time and soon found his feet in MLS despite some rusty performances to start with. Donovan missed the first three games of the season before coming off the bench away at Toronto FC to much fanfare. The U.S. attacker scored 10 goals and added nine assists in 21 starts in MLS for LA, and his big moment came when he scored twice against Chivas USA in October as he now has 155 MLS goals to his name. Remarkable, and it won't take long for Donovan to break that record in 2014. Also, it's worth noting that a rejuvenated Donovan won his place back in Jurgen Klinsmann's USMNT squad as he won player of tournament at the Gold Cup and grabbed a goal and an assist in the USA's 2-0 win over Mexico that sealed World Cup qualification to Brazil 2014.
Donovan is back with a bang alright.
3. Caleb Porter's rookie season a huge success in Portland

After leaving Akron University and making the step up to the professional game, Portland Timbers head coach Caleb Porter made the transition look easy. He had everything he needed to succeed in PDX (tremendous support from the Timbers Army an owner who was willing to spend and talented players) but he just had to mesh it all together. Porter did that wonderfully well. Dubbed "Porterball" for his insistence to play 4-3-3 and using expensive imports with former collegiate stars, an exciting brand of attacking soccer blossomed in the Rose City as Portland won the Western Conference title.
Argentine playmaker Diego Valeri pulled the strings in midfield, while Will Johnson marshaled his side superbly as they beat Cascadia rivals Seattle in the playoffs, but came up short against RSL in the Conference Final. You get the feeling this is just the start for Porter's young team in MLS, what a terrific season for the 2013 MLS Coach of the Year and his squad.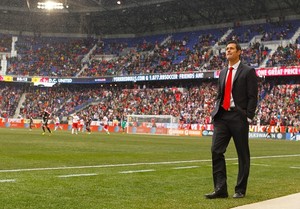 4. New York Red Bulls finally win silverware
For many years the Big Apple's obsession with soccer has seen their side flounder at the final moment. During MLS Cup 2008 New York didn't show up and were beaten by Columbus, and that's just one example of a long list of failures over the years. But this season, with former Red Bull and New York native Mike Petke in charge, things would be different as after a rocky start New York rallied to win the franchises first-ever piece of silverware as they clinched the Supporters' Shield trophy.
Thierry Henry and Tim Cahill were sublime as the DPs led the way, but the gritty determination of Petke's side reflected the New York natives mentality. Eventually the Red Bulls beat SKC to the Shield by just one point with a win over Chicago in the final game of the season, but once more failure in the postseason left a nasty taste in the mouth. But who cares, the trophy cabinet at Red Bull Arena is no longer bare. An emotional Petke had tears in his eyes as the loyal RBNY fans finally had something tangible to celebrate on home soil.
5. Clint Dempsey returns to MLS, signs for Seattle

Among those landmarks moments in MLS history, Clint Dempsey's return to the league that made him goes down as one of the best. As #DempseyWatch cranked up on social media after he was spotted at airports then rumors of him heading to the West Coast circulated, MLS was at the center of its biggest ever transfer saga. Dempsey, of course, joined the Seattle Sounders from Tottenham Hotspur as the USMNT captain arrived back in MLS at the age of 30, still in his prime and hoping to bring a first-ever MLS cup to the Emerald City. Of course, we all know it didn't work out like that as Dempsey was hampered by injuries and managed just one goal from six starts and nine total appearances.
However, having Deuce back on the U.S. domestic soccer scene sent a message out to the rest of global soccer: MLS can compete with the big boys.