The past season has certainly been one of the most memorable years in Major League Soccer history, with drama on and off the field, spectacular races for the conference titles, top individual performances and a magnificent MLS Cup to round it all off.
Over the next few days at PST we're putting a nice bow on an incredible 2013 MLS season, marking the end of a landmark year for soccer in North America.
Even Aurelien Collin enjoyed a hearty laugh about his career-long lack of prowess from the penalty spot. His manager, sitting just to Collin's left at the post-game press conference on Dec. 7, safe from the bone-chilling temperatures outside, confessed he had never seen the French defender nail a spot shot so sweetly. Not in practice and certainly not in a huge match.
But Collin did place his PK perfectly, turning up the match-winning shot and helping to cap Sporting Kansas City's win in MLS Cup 2013, a tiebreaker victory over the stubborn visitors, Real Salt Lake.
Now that was a moment, joy for Sporting KC and an instant of suffering for Real Salt Lake. It was most certainly one of the top moments of 2013 in Major League Soccer.
Of course, there's a champion crowned every year. Perhaps not so dramatically as in 2013, and never ever before in such bitterly cold conditions. (Assisting the memory-making factor: SKC's title was claimed before home fans, as this was Major League Soccer's second title decided in the format that sees the top seed play host.)
A couple of the huge moments MLS 2013 happened two time zones to the west of rightly heralded Sporting Park.
One wasn't just a moment to remember for soccer, but rather for all U.S. sports. When Robbie Rogers came on the field for the LA Galaxy on May 27 he became the first openly gay male athlete to play a major team sport in the United States. The support had been overwhelming for Rogers, who came out publicly (and retired from professional soccer, although he obviously reconsidered) in February.
The Seattle Sounders were involved in other big moments of MLS in 2013, the biggest of which involved Clint Dempsey. Take your pick from among several choices on this one.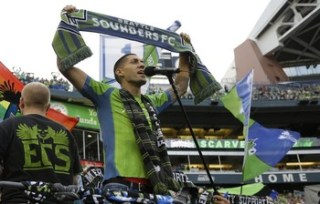 Was it the moment some hawkeye fan spotted Dempsey in a U.S. airport in August, when he should have been on the training ground for Tottenham?
Was it Aug. 4 when a raspy-voiced Dempsey was introduced to a roaring crowd as CenturyLink Field? Or Aug. 10 when Dempsey came on in the first half a contest in Toronto, making his "second MLS debut?" Or even Aug. 26 when the U.S. captain made his home debut amid fantastic theater in a packed-house Cascadia Cup derby versus Portland?
Speaking of debuts: Major League Soccer and U.S. Soccer might be in a different place today had Landon Donovan decided to move into the next part of his life. Instead, a refreshed and reenergized Donovan returned to the field on March 30 after that three-plus month break. About six months later, Donovan became the league's co- all-time leading scorer – as if there was ever any doubt that was going to happen once Donovan decided his playing days were not quite used up.
One big moment off the field deserves mention, too: On May 21, Major League Soccer's dogged, relentlessly determined drive to put a second team in New York finally paid off. That day, the league announced New York City FC as the 20th franchise, set to begin in 2015.