The past season has certainly been one of the most memorable years in Major League Soccer history, with drama on and off the field, spectacular races for the Conference titles, top individual performances and a magnificent MLS Cup to round it all off. Over the next few days at PST we're putting a nice bow on an incredible 2013 MLS season, to mark the end of a landmark year for soccer in North America.
It seems like a no-brainer to pick a team of the year. You choose the champion! It's not complicated, as that way-too-cute TV commercial reminds us, right?
Well, yes and no.
Portland would make a great choice in 2013, not just for the head-spinning turnabout along the win-loss ledger (which helped earn manager Caleb Porter a Coach of the Year honor) but for doing so in such glamorous style. You've seen those guys play, right? Ball on the ground, 4-3-3, dynamic attackers along the wings, etc., etc.?
There's a team in Colorado that passed the regular season test despite turning DSG Park into something closer to an infirmary than a soccer stadium. Some teams talk about injuries while wandering too close to the "excuse zone." But Colorado was truly devastated early this year not just by injury, but by injury to the most critical, veteran figures. And yet manager Oscar Pareja refused to talk about injuries, prepping his bunch of majority first-year pros and eventually making a great team of them.
Real Salt Lake lost three prized veteran and still made it to MLS Cup, taking Sporting Kansas City all the way to tiebreaker penalty kicks; surely that deserves some consideration, eh?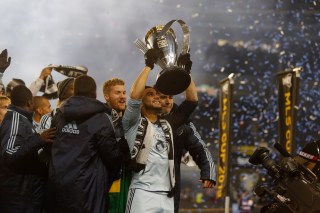 But … well, it's not exactly a no-brainer, but we're going with Sporting Kansas City.
Peter Vermes had a good team going into 2013, and yet still adjudged that something needed to change. I wrote about a month ago about how Vermes astutely tweaked the system, creating a team that could adapt and improvise a little more, one not so stubbornly married to one style.
Vermes deserves a lot of credit for doing so. Because staying put is always the easier choice; pushing ourselves, or in this case an entire group, out of a comfort zone is tougher. Things can go wrong, after all. But Sporting KC did so magnificently, and everyone around Sporting Park is reaping the benefit now.
And this also needs to be said: As Sporting KC claimed MLS Cup on that ridiculously cold December day in the heartland, the stands were jam-packed. Of course they were! It was the club's 36th consecutive sellout. How about that for a team that was – let's be honest here – an MLS punch line just three years ago.
Clearly, there's a lot going right around this club, our club of the year, and not just on the field.
.