For Manchester United fans, David Moyes' post-match sentiments are going to sound familiar, with the Red Devils' boss going so far to say his team "never deserved to be behind" while lauding their play in Wednesday's 2-1 loss to Tottenham.
If the New Year's Day game was an isolated example of decent play coming up short, the explanation might carry more weight, but for a team that ran away with last year's title, decent isn't enough. It's the type of standard that allows you to accept dropping points when you're otherwise controlling games at home.
[MORE: Manchester United 1-2 Tottenham Hotspur: Eriksen inspires more Old Trafford blues]
For Moyes, however, the "small mistakes" that led to United's fourth home loss of the season shouldn't completely overshadow the good that came from his players' effort. From the club website:
"The players played very well," the manager said. "Their effort was terrific to try and get back into the game after being 2-0 down …

"We shouldn't have been in the position of being 2-0 down. We'd already made a change to see if we could go for it a little more and get a goal back but their second goal was on the counter-attack.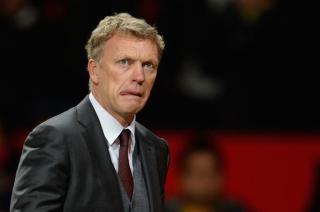 Although Moyes says his team should have never been in that position, they got there because they didn't generate enough chances. When Christian Eriksen put Spurs up two in the 66th minute, Spurs had more shots on target (3-2) despite United holding near 60 percent possession. Total shots were in United's favor, but unable to generate better opportunities, the Red Devils had let the scoreboard lean decisively toward Spurs.
That's why it's difficult to reconcile the type of 'one of those days' analysis Moyes seems to be spinning. From one point of view, United did play well, especially as they were chasing the game, but that's a view that tends to overstate the value of possession while underestimating the influence of goals (particularly the first one). United may have controlled the ball, but they trailed for over 56 minutes in a game they were expected to win.
In that sense, Moyes' overall evaluation seems inconsistent.
"We got done on the counter-attack for a couple of goals and made a couple of mistakes," Moyes told the club's website, "but I thought the team played very well today.
"All you can do is play well and then hopefully you take your opportunities when they come and you don't make small mistakes."
Perhaps, but getting "done" on the counter-attack is not consistent with playing well. Failing to generate enough good chances is also inconsistent with playing well, as is dropping to 4-4-2 at home on the season. Perhaps this is parsing Moyes's words too much, but if his approach forced more on generating chances rather that "[taking] your opportunities when they come," United wouldn't be in seventh place.
It's a microcosm of Moyes – the heart of the tension underlying his move to Manchester United. What would have been seen as "playing well" for a team of Everton's resources doesn't work at Old Trafford, where the talent, recent success, and expectations of his new club demand a higher standard.
Moyes surely understands this, but it's unclear when that understanding will translate into United's approach. In games like Wednesday's, playing well just isn't enough.