1. Spurs continue Manchester United's up-and-down season
From our Sunday Quick Six, on David Moyes pushing United to within three points of the top four:
The last time we speculated Manchester United's transition phase was over, the team hit another patch that put David Moyes' job status back in the headlines … Moyes now appears to have some things figured out.
Three days later, everything we knew is wrong, with today's 2-1 loss to visiting Tottenham leaving United five points back of fourth place Liverpool. Perhaps more importantly, the Red Devils let a decent but highly flawed Spurs team take three points from Old Trafford, handing United their fourth home loss of the season.
[MORE: Manchester United 1-2 Tottenham Hotspur: Eriksen inspires more Old Trafford blues]
The way it happened should rekindle misgivings about Moyes' fit in Stretford. An inherently conservative tactician, Moyes instilled an approach that saw his team control possession (61-39) without generating enough chances. Before a late match barrage gave them a 6-3 edge in shots on target, the Red Devils had given up more chances than they'd generated, allowing a 34th minute header from Emmanuel Adebayor and Christian Eriksen's 66th minute winner to take full points for Spurs.
No doubt, Spurs deserve credit for Wednesday's result, with Tim Sherwood bringing his team within two points of a Champions League spot. A season that looked destined to disappoint under André Villas-Boas has been revitalized by his replacement. Like Pulis with Crystal Palace, Sherwood has seen early success with a 'back to basics' approach, one that's rekindled the team's preseason hopes.
Still, the headline to take out of Wednesday's result is the two steps forward, two steps back quagmire that is United's season. Is this team making any progress under Moyes? On Saturday, the answer seemed yes, but in hindsight, perhaps we were buying into the final results while overlooking the less convincing details..
Today, the answer is no, part of the reason the defending champions are 11 points off the lead at the 20-game mark.
2. Arsenal break through, Solskjær steals the news
On a day where Cardiff City needed that extra idea that could steal three points at the Emirates, the man set to provide that leadership going forward made a surprise cameo in the stands, with Ole Gunnar Solskjær's appearance alongside Bluebirds owner Vincent Tan dispelling the notion he was no longer a candidate for Malky Mackay's old job. What the soon-to-be boss saw was a heartfelt but mostly impotent effort, with late goals by Nicklas Bendtner and Theo Walcott delivering a 2-0 win to Arsenal.
[MORE: Arsenal 2-0 Cardiff City: Dominant Gunners break through late (video)]
Everywhere but the scoresheet, it was a one-sided affair. Arsenal kept 68 percent of the ball and outshot their guests 28-8, but stalwart defending helped limit the Gunners to six shots on target. For 88 minutes, that effort looked good enough to give Cardiff an unlikely point. Ultimately, however, Arsenal left with a deserved result.
[MORE: Ole Gunnar Solskjaer seen with Vincent Tan at the Emirates Stadium, appointment imminent]
With it, Arsène Wenger's side stay top of the league, and without Olivier Giroud, Mesut Özil and Aaron Ramsey, the result serves as a testament to Arsenal's depth as well as their consistency. Still, the big news at the Emirates didn't transpire on the pitch but off, with Solskjær's surprise appearance quelling the notion Cardiff had lost out on their prime candidate for Mackay's job.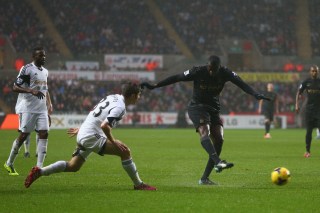 3. HIGH-FLYING CITY RESURFACES IN WALES
On Sunday we tried to hype up the job Tony Pulis did in Crystal Palace's near-upset at the Etihad Stadium. The most remarkable part: His Eagles held a Manchester City side on pace to set a league record for goals to only one score, something no other team had done in five matches. Granted, Manuel Pellegrini had made wholesale changes to compensate for the quick Boxing Day turnaround, but against a team with the resources of Manchester City, Crystal Palace still pulled off a minor feat.
Swansea City, however, had to face Álvaro Negredo, Yaya Touré and Samir Nasri. Their only reprieves were the absences of the injured Sergio Agüero and the rested David Silva, small consolations when the Swans found themselves down 3-1 by the 66th minute. Scoring his first of two just before halftime, Wilfried Bony gave Swansea temporary hope, but an early goal by Fernandinho followed by second half scores from Touré and Aleksandar Kolarov sent the hosts to a 3-2 loss.
[MORE: Swansea 2-3 Manchester City: Goals galore keeps City rolling]
Having given up two goals, City will hear more criticism of their defense, even though the team has allowed fewer goals than Tottenham, Manchester United, or Newcastle. And after winning another game on the road, Pellegrini's side has dispelled the notion they morph into a different team away from the Etihad.
The one thing that's indisputable: City can score goals. With 57 through 20 rounds, the Citizens are on pace to finish the season with 108 goals, a mark that would edge their names into the Premier League record books.
4. Chelsea performance provides more perspective on Southampton
Mauricio Pochettino is a very impressive man, part of the reason why everybody thought there may be something more to Southampton's early season success than merely a hot team, a small sample size, and a set of early results transcending their more modest underlying factors. With our David Moyes' narratives also proving unreliable, you'd think we'd learn some lessons about drawing early conclusions. Check back this time next year to see if any of us have softened our tones.
In the interim, Chelsea's convincing 3-0 win at St. Mary's is another reminder of the state of affairs at Southampton, where a decent team that's made some smart moves since rejoining the Premier League has established itself as safely mid-table side. They're not as good as their early season top-four form implied, nor are they as bad as a three-goal loss at home to an inconsistent (if talent) team hints. Sitting ninth on the Premier League, Pochettino's team is right where it should be: behind the European aspirants; ahead of the teams with more obvious flaws.
[MORE: Southampton 0-3 Chelsea: Blues cruise to victory after classy display]
You could say the same about Chelsea, who are only two points off the lead after their fourth win in five. At the beginning of the campaign, most saw José Mouirnho's team as Manchester City's one true threat, and although Arsenal is emerging as a surprise contender for this year's crown, Chelsea is only one point off City as we enter the season's second half.
After their three-goal win at Southampton, however, it's worth considering if they're ready for more, yet this may also be a place where we can learn refraining from undo conclusions. One on hand, Chelsea just posted one of their most convincing performances of the year, with a strong showing from Fernando Torres providing another hint the Blues can still salvage something from their overpriced Spaniard. On the other hand, it wasn't so long ago Chelsea was losing at places like Basel and Stoke and reverting into Mourinho's favorite parry-and-pop policy to get a result at the Emirates.
So maybe we should just hold off. Manchester United visits Stamford Bridge in two-and-a-half weeks. Let's see how the Blues perform against a good team when they'll be expected to take full points. It's a game they should win. Let's give them a chance to impress us.
5. Cottagers rebound, climb out of drop
Fulham were playing one of the worst teams in the Premier League. They were at home, had their best attacker (Dimitar Berbatov) back, and saw their opponents lose a man just before half time. Come May, when we look back on the Premier League season, this may be the easiest game on the Cottager schedule, and in that sense, Wednesday's 2-1 win over West Ham United was little more than holding serve.
[MORE: Fulham 2-1 West Ham: Kevin Nolan red card allows Fulham to ease by]
But given what happened this weekend, holding serve is enough. It was progress, even. Coming off a 6-0 loss at the KC Stadium, Fulham needed to prove the Hull result didn't portend a collapse. They needed to prove it to themselves, to their fans, and perhaps to Shahid Khan, whose team just hired Alan Curbishley as technical director. If René Meulensteen couldn't rebound from Saturday's debacle, a successor was already on the payroll.
Instead, Fulham have climbed of the drop, passing Crystal Palace and Cardiff City to sit 16th. While it's still difficult to see the Whites as a team that's going to transcend a relegation battle, Cottagers fans don't have to see last weekend's drubbing as more than one bad result.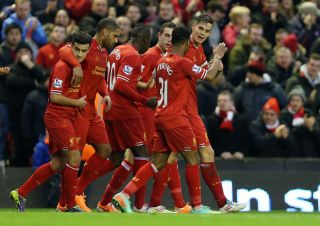 6. Liverpool, Everton swap leaves Reds in top four
Jan. 28's Merseyside Derby at Anfield may turn out to be club's most important game of the season, and not merely because of the rivalry between Liverpool and Everton. Sitting fourth and fifth in the Premier League, the blue and red halves of Liverpool may end up fighting it out for England's last Champions League spot, and while the four-plus months after their late January meeting will provide a series of challenges that could undermine their final derby's result, the 28th will be the final time either side can take points off the other. Whoever's behind after that game will be at the other's mercy.
After Wednesday's results, Liverpool's back on top, vaulting over the Toffees by virtue of their 2-0 win over Hull. Though the scoreline looks superficially mundane, Reds' manager Brendan Rodgers called it his team's best win of the season, Daniel Agger and Luis Suárez getting on the scoresheet as the Reds held Steve Bruce's team without a shot on target. Coming off back-to-back loses to City and Chelsea, this was exactly the type of response Rodgers needed to see.
[MORE: Liverpool 2-0 Hull City: Agger and Suarez tame the Tigers]
Everton, on the other hand, dropped points for the second time in three games, a late penalty converted by Leighton Baines at Stoke City the only thing keeping Roberto Martínez's team from their third loss of the season. Eventually cancelling out Oussama Assaidi's early second half opener, Everton gave an effort Martínez lauded post-match, even if the 1-1 final also left the Toffees' boss regretting missed opportunities.
[MORE: Stoke City 1-1 Everton: Late Baines PK rescues point for Toffees]
Half-way to the finish line, Everton can start shedding their upstarts' mystique and begin thinking about European soccer. To do so, though, they need to avoid the type of pitfalls that held them back early in the campaign – pitfalls that led to the series of draws that leave them fifth after 20 rounds. Wednesday gave doubters another reason to think Everton will come up short.
Liverpool, on the other hand, showed they're ready for a top four push, with Jan. 28's derby at Anfield potentially key in their quest to return to Champions League.