They always say players are more expensive in January.
Well, whoever "they" are just aren't looking in the right places.
With the January transfer window open for business and begging clubs to give her a whirl, we take a look at some players who could be of assistance to clubs with a smaller budget.
Two things to remember. First, cheap moves and loans are infinitely more difficult to predict than big-money transfers.
Due to the much larger pool of clubs which could be in play for a cheap transfer, loan, or free, the ability to predict where players on this list will end up – or even if they will move at all – is a longshot at best.
Second, there are loan limits, and the rules are often foggy.
Without further ado, let's plunge into the January transfer window edition Diners, Drive-Ins, and Dives with…
LOANS, FREE TRANSFERS, AND BARGAINS
(alright, nobody's leaving on a free in January, but I had to try)
1. Younes Kaboul, CB – Tottenham Hotspur (Premier League)
Frozen out by former manager Andre Villas-Boas, Tottenham's 27-year-old center-back has played just three Premier League matches so far, and it doesn't look much better from here on out.
Kaboul has struggled severely with injuries the past year and a half, currently on his way back from a hip problem.  But with Jan Vertonghen, Vlad Chiriches, and Michael Dawson all ahead of the Frenchman, his prospects for playing time don't look in the near future.
If new manager Tim Sherwood doesn't completely want to part with defender depth given their injuries at that position, he could be available on loan.  If Sherwood decides he's dead weight, he could leave on a cut-rate deal, with his contract expiring this summer.  AC Milan are rumored to be involved, but defending is needed around the Premier League's bottom half as well.
2. Filip Djordjevic, ST – FC Nantes (Ligue 1)
The 26-year-old Serbian is hitting the prime of his career, and it seems now is a better time than any for Nantes to sell and sell high.
Djordjevic cooked up 20 goals in Ligue 2 last season, earning Nantes their first trip back to Ligue 1 since 2008.  But he didn't stop there.
This season, the poacher has continued his stellar form, striking for eight goals in 19 league appearances, helping the newly-promoted side to their current position of seventh in the Ligue 1 table.
Premier League rumors have surfaced involving both Hull City and Crystal Palace, and at a cut-price cost of approximately £2-3 million ($3.3-4.9 million) he could be the crown jewel of any low-budget wish list if he can translate his French league success to England.
Oh, and did I mention his contract expires this summer? Bid away.
3. Aron Johannsson, FW – AZ Alkmaar (Eredivisie)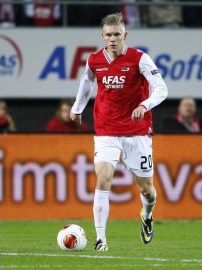 Bring out your USMNT links! A bargain bucket wouldn't be complete without this scorching-hot youngster, who at 23 is blasting his way past Jozy Altidore in the Alkmaar record books.
With Celtic the clear frontrunners, a £2.4 million ($3.9 million) price tag for 18 Eredivisie goals (32 altogether) would certainly turn heads.
(MORE: Aron Johannsson's move to Glasgow edging closer?)
However (there's always a catch!), Eredivisie stars have a history of not translating successfully to more physical leagues such as the Premier League.  Look no further Costa Rican Bryan Ruiz.  The £11 million ($18 million) feather in Martin Jol's cap proved to be one of the biggest flops in recent memory and a big reason Jol ended up without a job at Craven Cottage.
And then there's always Altidore himself, who is yet again struggling to find the back of the Premier League nets, albeit not all of that is his doing. *shakes fist at Sunderland midfield*
4. Joleon Lescott, CB – Manchester City (Premier League)
The Premier League hasn't seen much of the sport's biggest forehead this season, with Lescott making just seven starts under Manuel Pellegrini.  Lescott has been hard done recently by the emergence of Matija Nastasic and the arrival of Martin Demichelis.
Much like Kaboul, being the club's fourth-string option at a position that often sees iron men hold down the fort isn't a preferable situation.  At 31 years old, Lescott also has an expiring contract, but is more likely to head out on loan whereas it would seem Kaboul is set for a transfer.  Some rumors also have Lescott taking a pay-cut to push through a move to Swansea.
5. Viktor Fischer, LW – Ajax (Eredivisie)
Am I mad? Putting one of the most talented and talked-about teenagers in the world into the Bargain Bucket? What's gotten into my head?
Well, here's my thinking. Fischer (pictured, top) has been close to a household name for the better part of two years now.  At just 18 years old, the young Dane bagged 10 Eredivisie goals in 23 appearances last season for a Champions League side.  That got people's attention.
Now, at 19, Fischer is having what we in the media like to call a sophomore slump (3 goals and 4 assists in 18 appearances).  With an asking price of around £7 million ($11.5 million) likely to scare away many, I'm not so convinced Ajax wouldn't like to send him out on loan for the rest of the season. Especially considering his dip in form this year surely cooling rumored summer interest from the likes of Chelsea, Manchester United, and Roma.
A short-term loan deal would serve multiple purposes for both parties.  With Ajax in the lead of a very hotly contested Eredivisie title race, they can't exactly afford to weather many more below-par matches from their best young talent. Sending him out on loan would not only possibly give him a fresh start to boost his confidence, but also give other clubs a good look at what he can do in another league.
Think of it as a sales pitch. If Fischer performs well at, say, a Cardiff City or Swansea City, then many other Premier League clubs with deeper pockets would unquestionably come calling, and his price would skyrocket.
6. Cristian Tello, LW – Barcelona (La Liga)
With just two starts (10 appearances) in Spain's La Liga, it's no surprise Barcelona's 22-year-old starlet is looking for minutes elsewhere before making a run at breaking into Gerardo Martino's first team.
Reports are abound that Liverpool has jumped on the opportunity to give Tello more playing time, but that doesn't mean it's the Reds or bust. It would be shocking to see Barcelona allow him to leave on anything other than a loan, but with Liverpool reportedly trying to convince them to give him up permanently, someone else could swoop in.
7. Kevin De Bruyne, AM – Chelsea (Premier League)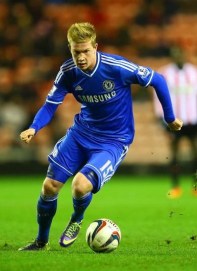 Jose Mourinho wants £25 million for the young Belgian. Any clubs have that laying around somewhere for a 22-year-old who has made three league appearances this year? Bueller?
Didn't think so.
Cue the loan sharks.  And with both De Bruyne himself and Belgium manager Marc Wilmots pleading for more time on the pitch, a loan is certainly in order.
8. Fabio Coentrao, LB – Real Madrid (La Liga)
With Ashley Cole struggling to stay fit and Branislav Ivanovic recently ruled out for a significant amount of time, Jose Mourinho is rumored to be in the market for a left-back.
Enter Fabio Coentrao and his paltry four La Liga appearances this season with Real Madrid.  Carlo Ancelotti would no doubt prefer to keep the 25-year-old's future under his control, so a loan could be in order for the Portugese international.
Chelsea isn't the only club in need of a left-back of Fabio's quality though.  Tottenham Hotspur are in desperate need after a long-term injury to Danny Rose left them exposed at the position, and Everton's left-back situation could be thrust into clout if Leighton Baines leaves for Manchester United.
9. Urby Emanuelson, LW/LB – AC Milan (Serie A)
Expiring contract alert! With AC Milan sure to make plenty of changes this January to make a desperate attempt at improving their horrific Serie A positioning, Emanuelson may be one of those.
The 27-year-old is out of a contract this summer, and having already been somewhat successful in the Premier League at Fulham on loan last year, he has been open about looking for another shot at the English top-flight.
With his Serie A form dipped this season (alongside many of his teammates) and his contract situation the way it is, the £6 million ($9.8 million) Dutchman could be available for significantly less.
10. Thomas Ince, ST – Blackpool (Championship)

The longer he stays at Blackpool, the more his price seems to increase, leaving him already barely at bargain status.  Unfortunately for his club, they can't hold onto him forever.  His contract expires at the end of this season, and that may cause the 21-year-old to finally make his way to the Premier League after years of rumors.
At 21, Ince's numbers didn't turn as many heads as they did last year, but they're still enough to intrigue those in the top flight.  He's got seven goals and six assists from play out on the left wing.  With Blackpool last year, he played in 44 of their 46 league matches (started 42 of them) and bagged 18 goals and 14 assists.
The Championship club, coached by his father Paul Ince, will want to fetch a price in the range of £6-7 million for him or maybe more, but so far all that tag has done is cause Premier League clubs to balk, and the last thing they'll want is to let him walk come summer. Due to that, he could be available for cheap if Blackpool believe he'll walk at season's end.