Everyone knew it would be an adventure this year when Manchester United trekked on without Sir Alex Ferguson at the helm.
After all, he's all they'd known since 1986, their guiding light during the ups and the downs – of which there were many, many more ups than downs.
But nobody knew it would be this bad.
The league has been tough enough this season, losing to Tottenham, Everton, Newcastle, and West Bromwich Albion at Old Trafford.  Last year they lost a total of three matches at home all year.
But now, with Manchester United currently languishing in seventh place in the league – completely new for them, having finished in a Champions League position in every season since the Premier League's inception – they're out of the FA Cup in just the third round in painful fashion.
Fabio received a straight red card for this potentially knee-capping studs-up tackle on Jose Canas – just four minutes after Moyes plucked him off the substitute's bench – and the inevitable hammer dropped in the 90th minute when Wilfried Bony headed Swansea through to the fourth round.
Many have criticized Moyes' ability to manage the game on the field for United, picking apart his reactionary rather than proactive tactics.  However, today, with his substitute receiving the straight red, critics now have ammunition pointing directly at the manager.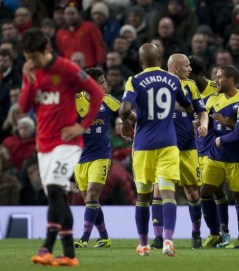 It was a puzzling substitution in the first place.  Looking to add an attacking flair with the game mired at 1-1, Da Silva replaced Rio Ferdinand, moving Jonny Evans into the center of defense and using the new addition as a wing-back.
Problem is, he had plenty of better options.  Moyes had already made a positive change, removing the wasteful Valencia in favor of young starlet Adnan Januzaj.  But with Wilfried Zaha still on the bench, Moyes chose instead for Fabio.
It made some sense, as natural center-back Jonny Evans offers little in the attack and Moyes wanted to avoid a reverse fixture.  But the removal of Ferdinand blew up his own defensive shape, and with Fabio sent off the back f̶o̶u̶r̶ three was in shambles.
Ok, so Ferdinand was injured, you tell me. It forced Moyes hand. No matter, he finished the game with a substitution in hand. He didn't even make the obvious change after Fabio's red…oh wait, Fabio was the only defender on United's bench. There's a whole separate issue.  Sure, Vidic and Evans are injured. But then why is he starting three CB's if there's no cover? The squad is a mess.
It's just the second time in the last 30 years that United have found themselves unable to progress through the third round, the only other blip being Leeds in 2010.
So where do they go from here? They can still certainly get themselves back into the Champions League positions – something vital if they intend on scattering the vultures extending Wayne Rooney's contract beyond next season.
However, it's apparent the current squad isn't going to get it done.  What changes need to be made in January? As much as many fans wish they could, a complete squad overhaul isn't something that the January transfer window typically lends itself to.
So can David Moyes, known for making cakes out of crumbs at Everton, work his January magic at Old Trafford? It certainly hasn't worked on the pitch so far for the 50-year-old Scot, so he has to get it done off the pitch.
It's hard to imagine the board would make a managerial change at such a crucial time in the season, so the job is likely Moyes' to see through.
But with so much riding on the next few months, there are some crucial decisions that have to be made soon – decisions that will have enormous consequences, positive or negative.