With Barcelona's trip to Atlético Madrid less than a week away, eyes normally fixated on La Liga would be forgiven for looking into the distance, fixating on a battle that could define the Primera División campaign. After this weekend's results, both Barça and Atleti have 49 points though 18 games. In a league where the leaders are one pace for 103 points, a victory head-to-head match could prove decisive.
This weekend, however, was about the buildup, one that saw Barcelona cruise past visiting Elche while Atlético snared three points from an increasing feisty Málaga. In the process, however, the weekend's headlines were stolen by another stand out performance from Barça's supporting cast and a fight slightly farther down the table.
With Messi out, Sánchez shines in Barça route
Lionel Messi was supposed to be back this weekend, but Barcelona decided not to push it. With a mid-week Copa del Rey match against Granada, Messi will have one more chance to get minutes ahead of next Saturday's visit to the Vicente Calderón. This week, however, Barça would need somebody else to step up, with the returns of Xavi Hernández and Víctor Valdés balancing the continued absence of the team's biggest star.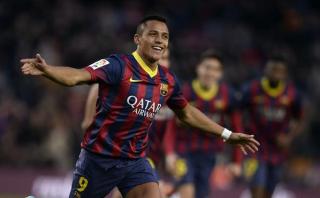 But just as they did when Pedro Rodríguez went off on Dec. 22, Barcelona got a hat trick from part of its talented if overshadowed supporting cast. Scoring his ninth, 10th, and 11th goals of the season (tying him with Pedro for the team lead), Alexis Sánchez led Barcelona to a 4-0 win over visiting Elche, keeping the Blaugrana first ahead of next week's showdown in Madrid.
For Sánchez, the performance continues the resurgence he's experienced under head coach Gerardo Martino, one that's seen the former Udinese man start to match assumptions that came with his $37 million transfer three years ago. In his first two years, however, Sánchez had only scored 19 league goals, and while that was only one less than the 20 he'd scored in three seasons in Italy, the now-25-year-old was expected to put up bigger numbers in Barcelona's attack.
As Barça started to morph during its final season under Pep Guardiola, Sánchez's role in the team became less certain, with a team build around Lionel Messi not having a clear role for the natural winger. At first, he was used as an along-the-line striker, but slowly Barcelona's ditched that position, allowing Messi to float as a false nine. While on the surface that augers well for somebody whose best role is wide-to-in, Sánchez entered his third year in Catalonia having failed to live up to the hype that carried him to Spain.
Two years later, however, Martino has a more clearly defined step up. When everybody's healthy, Messi (through the middle) and Neymar (on the left) are givens. The spot on the right, however, is open to competition.
In theory, that means Sánchez and Pedro are competing for a spot. In practice, both players have seen enough time. In 23 combined starts, the duo has scored 22 times. Even by Messi and Neymar's standards (14 goals in 22 games), that's stellar production.
Griezmann, Sociedad surge lands La Real on the cusp of fourth
That they finished fourth in May means we should only be so surprised that Real Sociedad find themselves in contention another Champions League spot, but after the struggles Jagoba Arrasate's team experienced at the start of the season, 2012-13 was increasingly looking like a fairy tale. Winning only once in their first eight league games this season, La Real  were struggling to replicate the success experienced under Philippe Montanier, the French head coach who left for Rennes this summer. Add in an early injury to striker Imanol Agirretxe and some general regression and Real Sociedad looked unlikely to get back to fourth.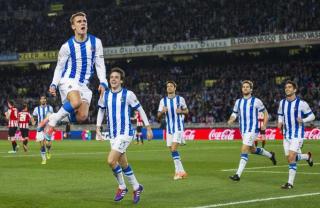 After today's 2-0 win against visiting Athletic Bilbao, however, Arrasate's team has won five in a row, their only league loss since Oct. 5 coming at the Santiago Bernabeu. Thanks to goals from Antoine Griezmann and Rubén Pardo, Sociedad took full points from the team currently sitting fourth, pulling them within one point of Athletic in the process.
But as remarkable as La Real's surge has been, Griezmann's form has been equally stellar. Coming off a season in which the now-22-year-old scored 10 times in league (reaching double-digit goals for the first time), the French-born winger has already netted 12 times this season, the highest non-Diego Costa, non-Cristiano Ronaldo total in Spain. With five goals in six games, the France U-level winger is pushing for a place in Didier Deschamps' squad for Brazil, even though (thanks in part to a suspension) he's yet to make a senior-level appearance for Les Bleus.
Carlos Vela's emergence in San Sebastián has garnered most of the headlines (particularly in this part of the world), but two years younger than his Mexican teammate, Griezmann is the bigger emerging star. Regardless, with their French attacker having found another level, Sociedad are ready to reclaim their Champions League spot, leaving their slow star in fall's fading distance.
Elsewhere
Málaga 0, Atlético Madrid 1 – Koké's 70th minute goal took full points for Diego Simeone's team, who ended their hosts' three-match unbeaten run. Atlético's +36 goal difference, however, keeps them second behind Barcelona.
Valladolid 0, Real Betis 0 – Valladolid move even with 17th place Celta Vigo while failing to claim full points from the league's last place squad.
Valencia 2, Levante 0 – Head coach Juan Antonio Pizzi's first game with Los Che saw fellow Argentine Pablo Piatti score the opener just before halftime, with Sofiane Feghouli's second of the season sealing victory for Valencia.

Almeria 3, Granada 0 – The home side moves three points clear of relegation with goals from Sebastián Dubarbier, Verza, and Aleix Vidal. Granada suffers its fourth loss in five.
Sevilla 3, Getafe 0 – Ivan Rakitic notched his eighth goal of the season as Unai Emery's side post moves into sixth place, the team unbeaten in league since Nov. 2.
Osasuna 1, Espanyol 0 – Álvaro Cejundo's 33rd minute goal holds up as the hosts run their unbeaten streak to three.
Others
Barcelona 4, Elche 0
Real Sociedad 2, Athletic Bilbao 0
Monday
Real Madrid vs. Celta Vigo
Rayo Vallecano vs. Villarreal
Standings
| | | | | | | | | | | |
| --- | --- | --- | --- | --- | --- | --- | --- | --- | --- | --- |
| Team | GP | W | D | L | GF | GA | GD | Home | Away | PTS |
| Barcelona | 18 | 16 | 1 | 1 | 53 | 12 | 41 | 9-0-0 | 7-1-1 | 49 |
| Atlético Madrid | 18 | 16 | 1 | 1 | 47 | 11 | 36 | 9-0-0 | 7-1-1 | 49 |
| Real Madrid | 17 | 13 | 2 | 2 | 49 | 21 | 28 | 7-0-1 | 6-2-1 | 41 |
| Athletic | 18 | 10 | 3 | 5 | 26 | 23 | 3 | 7-2-0 | 3-1-5 | 33 |
| Real Sociedad | 18 | 9 | 5 | 4 | 35 | 23 | 12 | 6-2-1 | 3-3-3 | 32 |
| Sevilla | 18 | 8 | 5 | 5 | 35 | 29 | 6 | 5-2-2 | 3-3-3 | 29 |
| Villarreal | 17 | 8 | 4 | 5 | 27 | 18 | 9 | 4-3-2 | 4-1-3 | 28 |
| Valencia | 18 | 7 | 2 | 9 | 25 | 29 | -4 | 5-1-4 | 2-1-5 | 23 |
| Getafe | 18 | 7 | 2 | 9 | 20 | 30 | -10 | 4-2-3 | 3-0-6 | 23 |
| Espanyol | 18 | 6 | 4 | 8 | 22 | 24 | -2 | 4-2-3 | 2-2-5 | 22 |
| Málaga | 18 | 5 | 5 | 8 | 19 | 23 | -4 | 4-0-5 | 1-5-3 | 20 |
| Levante | 18 | 5 | 5 | 8 | 17 | 27 | -10 | 2-3-3 | 3-2-5 | 20 |
| Granada | 18 | 6 | 2 | 10 | 15 | 25 | -10 | 2-0-7 | 4-2-3 | 20 |
| Almería | 18 | 5 | 4 | 9 | 20 | 32 | -12 | 2-3-4 | 3-1-5 | 19 |
| Osasuna | 18 | 5 | 3 | 10 | 15 | 28 | -13 | 3-2-4 | 2-1-6 | 18 |
| Elche | 18 | 4 | 5 | 9 | 16 | 27 | -11 | 2-2-5 | 2-3-4 | 17 |
| Celta Vigo | 17 | 4 | 4 | 9 | 21 | 27 | -6 | 1-4-4 | 3-0-5 | 16 |
| Valladolid | 18 | 3 | 7 | 8 | 21 | 29 | -8 | 2-4-3 | 1-3-5 | 16 |
| Rayo Vallecano | 17 | 4 | 1 | 12 | 16 | 40 | -24 | 2-0-6 | 2-1-6 | 13 |
| Betis | 18 | 2 | 5 | 11 | 15 | 36 | -21 | 2-3-4 | 0-2-7 | 11 |