Every day this week we at ProSoccerTalk are assessing how Premier League clubs have fared through the first half of the 2013-14 campaign.
Yesterday Joe Prince-Wright issued midseason reports on Arsenal, Aston Villa, Cardiff City, Chelsea and Crystal Palace. Today it's time to relay our verdict on Everton, Fulham, Hull City, Liverpool and Manchester City.
Let's get stuck in. 
EVERTON
– Best moment: While Evertonians were delighted to end the 21-year curse of not having won at Old Trafford with a 1-0 win over Manchester United (and former manager David Moyes), the best moment was Gerard Deulofeu's stunning 84th minute strike to draw 1-1 away at Arsenal. Arguably the best pure footballing display of the season, Everton's resilience was proven when just four minutes after Mesut Ozil handed Arsenal the lead, the Spanish starlet shimmied Kieran Gibbs before unleashing a fierce knuckler over the head of  Wojciech Szczesny.
– Worst moment: Tim Howard's unnecessary sprawl-out on Ki Sung-Yeung that resulted in the American goalkeeper being sent off and Sunderland scoring the decisive penalty in a 0-1 win at Goodison Park. That loss ended a home unbeaten streak that stretched back 361 days to the 1-2 loss against Chelsea.
– Top player: Seamus Coleman. Since being signed from Sligo Rovers for the paltry fee of £60,000 in January 2009, Coleman has gone from average, to decent, to quality, to sensational. This season the buccaneering right-back has five goals in 20 league appearances, making him the most dangerous full-back in the Premier League.
– Manager: Diffcult to argue against Roberto Martinez being manager of the year. Everton's style has gone from conservative/lacking imagination to attacking/full of art. Tough to figure who's happier – the players or the fans.
– Grade: A
If Everton are to capture a spot in the Top 4 they'll need to improve their depth by adding a player or two in the January transfer window (and not selling anyone) avoiding slip-ups against clubs they should defeat (e.g. Sunderland).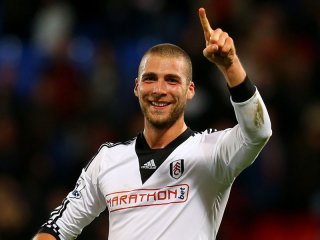 FULHAM
– Best moment: Seven days after sacking the brazen Martin Jol, Fulham put on a fantastic display by dismantling Aston Villa 2-0 at the Cottage.
– Worst moment: The 0-6 defeat at Hull City was disgusting. After a dull, goalless first half Hull administered a merciless beating that saw Fulham collapse as David Stockdale conceded six goals in 35 minutes.
– Top player: Pajtim Kasami. In what has been a season with very few highs, Kasami provided the goal-of-the-season candidate with his incredible chest volley against Crystal Palace and is the Cottagers most dangerous player going forward.
– Manager: Rene Meulensteen. Since coming on board on December 1st, Meulensteen has managed to achieve some continuity at the club although the 0-6 defeat at Hull City was a moment to forget.
– Grade: D
Too much wasted talent in this side, they should be nowhere near the relegation zone. Leadership needs to step forward in the wake of Brede Hangeland's injuries.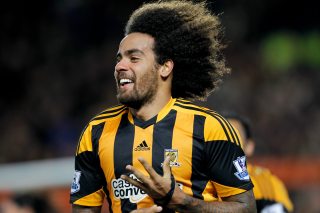 HULL CITY
– Best moment: Just weeks after their horrible defeat to Crystal Palace, Hull City put on an inspiring performance at the KC, defeating Liverpool 3-1 behind goals from Jake Livermore and David Meyler.
– Worst moment: The 0-1 home loss to Crystal Palace was shameful.
– Top player: Tom Huddlestone. After years of failing to fit in at Tottenham, Huddlestone took a leap of faith by accepting a transfer to Hull City where he has led the Tigers to an impressive place in the top half of the table. Always excellent on the ball and a threat from distance, Huddlestone has emerged as the club's leader and has an outside chance at playing himself into the England fold.
– Manager: Steve Bruce. His best managerial work to date, Bruce is a pleasure to listen to and watch on the sideline. A real player's manager, Bruce loves his squad and his passion for the club is unrivaled.
– Grade: A-
No one expected this output from Hull City. They play the game the right way and, as Liverpool found out, will punish anyone who's looking for a walk in the park. Would be a huge boost if they could find the money for a striker in January.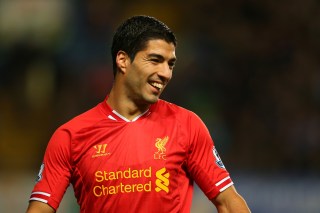 LIVERPOOL
– Best moment: The 5-0 drubbing they handed Tottenham on December 15th, putting an end Andre-Villas Boas' managerial reign at Spurs. The Reds were sublime on the day and the score didn't flatter – what was five could have been six or seven.
– Worst moment: The 1-3 loss to Hull City.
– Top player: Luis Suarez. I've said it before, I'll say it again: Suarez is the Michael Jordan of the Premier League. When the season is over and he's annihilated the scoring record by 10 goals only then will people truly understand the Uruguayan's impact in the league and world football as a whole.
– Manager: Brendan Rodgers. Two years into his time at Anfield and the consensus is that Rodgers has a great footballing mind, the club is headed in the right direction and all the players have bought into his system.
– Grade: B+
The goal of finishing in the Top 4 will come only if Liverpool learn to avoid lapses like the one at Hull City while also knocking off at least one of top clubs in the league.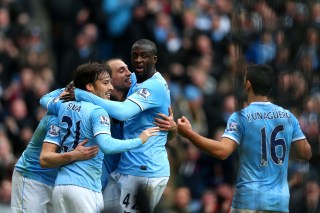 MANCHESTER CITY
– Best moment: The 6-3 win over leaders Arsenal was emphatic, with Fernandinho and the strike-force of Sergio Aguero and Alvaro Negredo reeking havoc on the previously tough Gunners' defense.
– Worst moment: Doesn't get much lower than losing 0-1 to bottom-of-the-barrel Sunderland, who handed City the fourth defeat in six league outings away from the Etihad Stadium.
– Top player: Yaya Toure. An absolute behemoth of a man with silky skills, creative ability and an unbelievable knack for scoring, Toure is a threat like none other. Ten goals and three assists in 19 league matches as a holding midfielder? That's nuts.
– Manager: Manuel Pellegrini. After some initial rumbles, Pellegrini has his club playing exactly the way he wants with title hopes domestically and in Europe both serious possibilities.
– Grade: A-
The league favorites have settled into a nice shape but there are still questions in defense and in net – Vincent Kompany and Joe Hart are the keys to this club's success in the second half of the season.