In a match short on chances, two narratives were served tonight at the Stadium of Light. Sunderland's 2-1 win over Manchester United in the first leg of the teams' League Cup semifinal played out all the clichés about the first leg of a two-legged tie. It was cagey, guarded, and left neither team willing to risk their second leg chances in search of first leg success.
But the loss also illustrated all the negatives surrounding David Moyes' plight with the Red Devils. Conservative and unwilling to risk players forward to create chances against a less-talented opponent, Moyes allowed the first leg to be decided by set pieces and penalty kicks. With his team receding into defense at the opening kickoff, Moyes allowed Sunderland to dictate as much of the match as United, part of the reason why a Ryan Giggs own goal and a Fabio Borini penalty conversion leave Guy Poyet's side ahead after 90 minutes.
Against a team that would have trouble placing any of their starters in United's Tuesday XI, the Red Devils entered the match's final half hour even in possession and shots on goal. Those numbers would be irrelevant had United generated the better chances, yet the favorites had barely generated any chances at all. Nemanja Vidic's second half goal off a corner kick meant the Red Devils failed to score from open play. Though they finished the match with advantages in shots on goal (4-3) and possession (56-44), United were every bit Sunderland's equal, highlighting the form that's seen United drop three games in a row.
A dull beginning saw United recede into their banks of four while Adnan Januzaj occupied the space beneath Danny Welbeck, a set up that saw them share the ball with Sunderland. With neither team able to unlock the other, the game's first 44 minutes the produced only one shot on goal, with Welbeck's test of Vito Mannone highlighting what was playing out as a predictable first leg.
Just short of halftime, however, Sunderland were given a chance after Jonny Evans was whistled for a foul on an aerial challenge just inside the United half. The resulting restart saw a far post cross headed back across the six-yard box for Phil Bardsley, with Ryan Giggs' interception ending up in the back for David de Gea's goal. Come halftime, the Black Cats had seen their only chance result in an own goal, sending the home side into the dressing rooms with a 1-0 lead.
That lead last only seven minutes into the second, with United using their own set piece magic to equalize in the 52nd. With a corner kick from the left, Tom Cleverley found Nemanja Vidic in the middle of the area at the edge of the six-yard box. The Serbian elevated to head his short down and past Mannone, pulling United even at 1-1.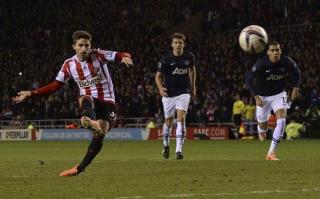 Hints United would take over the match's second half ended in the 62nd minute when Adam Johnson, recently brought on for Emanuele Giaccherini, drew a penalty in the right of the penalty area. Beating Cleverley one-on-one, the Sunderland winger raced passed the United midfielder from 30 yards out before going down in the box, a contentious call that gave Fabio Borini a chance to restore the Black Cats' lead. Despite replays hinting Johnson did his best to draw the assistant referee's attention, Sunderland restored their one-goal lead, with Borini finishing high into de Gea's net to make it 2-1.
Over the match's final half hour, United were the better side, though they were enjoying the type of control pursuing teams are granted when opponents begin focusing on defense. With that focus, Sunderland were able to keep Mannone from being significantly tested, and with Chris Smalling and Darren Fletcher the first names off Moyes's bench (Smalling for the injured Jonny Evans), Moyes appeared content to take a one-goal deficit back to Old Trafford.
Perhaps then Manchester United will have Robin van Persie. Maybe Wayne Rooney will be back. Both players, injured, were absent from Moyes's XI on Tuesday. Down only one-goal ahead of Jan. 22's second leg, United has every reason to believe they'll still be at Wembley on March 2. The last two times United reached the League Cup final, they lost the semifinal's first leg.
That, however, should be little consolation for a team who, seven months after finishing 11 clear at the top of the Premier League, are playing no better than a team fighting for its top-tier survival. After a performance that justified every worry about Moyes's fit at United, the Red Devils have lost three-in-a-row for the first time in 13 years.