That Marcos Lopes got to play tells you all you need to know about today's match in Manchester.
Lopes is an 18-year-old Manchester City academy product. He debuted last year in the FA Cup and added appearance in this year's League Cup – the entirety of his professional playing career before he was brought on for David Silva in today. Yet up big late against West Ham, Manchester City had the exact scenario they must have envisioned when dressing the young Brazilian-born Portuguese, Lopes able to get 17 minutes in City's 6-0 League Cup rout of the visiting Hammers.
It was City's largest win ever over the Hammers, with Manuel Pellegrini's team outshooting their guests 32-3 over the course of the tie's first 90 minutes. West Ham managed one shot on goal while the Citizens tested Adrían 11 times, numbers which match the one-sided play evident at the Etihad.
And as embarrassing as Wednesday's outcome was for Sam Allardyce's team, they now face the ignominy of playing 90 more minutes before the tie is officially over. Two weeks from now, the teams' will resume their semifinal at Upton Park, a perfunctory match that will do little to prevent City from appearing at Wembley in March 2's final.
The teams' difference in quality was apparent from the opening moments – not unexpected given the teams' recent form, venue, and the early stages of the 180-minute battle. Still, it took only 12 minutes for City to turn their control into goals, with a long ball from inside his own half by Yaya Touré meeting Álvaro Negredo in the middle of the West Ham area. Not waiting for the ball to drop, the Spanish international nailed a left-footed volley inside Adrían's left post, giving City an early lead.
Fourteen minutes later, another highlight-worthy goal saw a long pass from right back Pablo Zabaleta flicked on to Edin Dzeko by Negredo, who turned to sprint through the West Ham defense before running onto a through ball from his strike partner. Beating the oncoming keeper to the ball, Negredo finished into the vacated goal to double City's lead in the 26th minute.
But halftime Touré had added a goal of his own, with Negredo affirming City's dominance four minutes after half-time be completing his hat trick. Over the match's final half hour, Dzeko would add two goals of his own, the second coming one minute before full time, completing an unexpectedly easy night for the competition's favorites.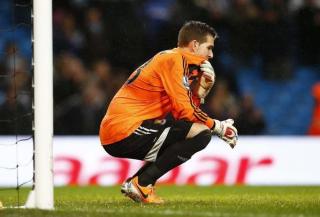 It was a matchup unbecoming of a Cup semifinal, let alone one that still has 90 minutes to play. While a City team on pace to set a record for most Premier League goals placed their full talents on display, there was no resistance from a West Ham team whose form continues to regress. Having won only once since Nov. 30, the Hammers are preforming more like a fledgling Championship team than a member of the Premier League, form that will continue to prompt questions about Sam Allardyce's future at Upton Park.
Throughout the season, West Ham's lack of healthy strikers has been the excuse, but the problems on display at the Etihad transcend issue at any one position. The 29-shot disparity between City and their guest is something a Premier League team would post against Conference-level opposition. The complete lack of initiative — an unwillingness to fight, even for pride — hints at a squad that's reached its end mentally. A talented Citizens' squad certainly deserves some credit for the result, but it's not too much to expect West Ham to produce better performance in the face of the club's best chance to win silverware this season.
City's early goal (and talent) may have created a momentum that cautions against reading too much into one result, but after Wednesday's embarrassment, West Ham fans may be asking themselves the same questions Spurs fans held in the last days of André Villas-Boas: What has to happen for Allardyce to be replaced?