On Wednesday former German international midfielder Thomas Hitzlsperger became the most high-profile former soccer player to announce he is gay following his retirement from the sport.
Hitzlsperger, 31, retired from playing last season after multiple injuries meant he had to cut his promising career short. Stints in the Premier League with Aston Villa, Everton and West Ham saw him become a fans favorite as he was nicknamed 'the hammer' for his ridiculously hard shot with his left foot. Now he has decided to follow the LA Galaxy's Robbie Rogers, who announced he was gay but then left English soccer and moved to MLS.
During his playing days Hitzlsperger represented his national side 52 times, and after revealing his sexual orientation earlier this week, he hopes players currently playing at the top level will speak out and become the first to reveal their gay while still playing professional soccer in Europe.
"Hopefully talking about it the way I am now, it encourages some others because they see that they can still be professional football players, play at the highest level, and be gay," Hitzlsperger said. "It is not a contradiction as I proved. Therefore, hopefully it gives some encouragement to young players."
But, given the huge level of interest from the media, fans and just about everyone out there, is it actually possibly for a current player to reveal his homosexuality and still concentrate on being a professional?
"I certainly think that it is possible and it will happen one day," Hitzlsperger said. "In my case it just took longer to realize that I'm gay and t admit it to myself. But I think young players these days, when they're sure about their feelings, they can talk about it."
(MORE: Former German national teamer, Aston Villa star announces he's gay)
On a personal level, Hitzlsperger was with his former female partner for eight years before breaking off their engagement and solely focusing on soccer.
"It took me a long time to realize how I felt," Hitzsperger said. "When I started playing as a professional footballer I was in a relationship with a woman. we stayed together for eight years but after that time when we broke up. I focused more on football because this was what I always wanted to do, be a professional football player. Only the last few years I've realized that I do want to live with a man, that I am gay."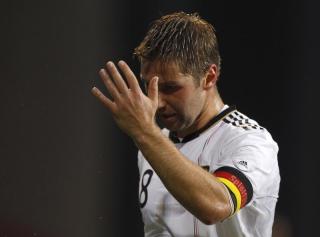 But what about the conception that soccer fans across Europe are against homosexual soccer players and all of the stereotypes that exist? Hitzlsperger thinks he did a lot with his playing style to help get ride of those negative connotations.
"I've heard that in professional football you have to be strong, powerful and they think being gay means you aren't that. You're soft, don't like to tackle and that you're very weak," Hitzlsperger said. "But then I look at myself and people nicknamed me 'the hammer' early on because I have a powerful left foot and I'm a strong guy. So that's a contradiction again. Why do people think that if you're gay that you're also weak? I think I proved the opposite"
In the future Hitzlsperger hopes the visibility of gay players will be embraced by fans across European soccer. But right now, it's like they don't even exist in many leagues and cultures.
"It's difficult for me to say if there's an anti-gay atmosphere because so far there isn't an openly gay footballer in a European league," Hitzlsperger said. "It's probably easier if you compare it to racism. In racism you know who people dislike when they shout things at them, it's clearly visible. But gay players, so far, don't exist officially."