Clint Dempsey is back in the Premier League and will likely start for Fulham as they welcome him back to Craven Cottage against Jozy Altidore's Sunderland.
The two clubs are looking to stave off relegation, and Dempsey's arrival on a two-month loan is just in time to see the Cottagers rise out of the relegation zone for the first time in months.
The USMNT captain returned with Fulham in the FA Cup last week, and will be seeking his first Premier League appearance with Fulham since May 6 of 2012, ironically in a 2-1 home Fulham win over the Black Cats.  A win this weekend plus a bit of help elsewhere around the league could see Fulham climb as high as 13th in the league, a shocking ascent given the dire situation just a month ago.
For Jozy, it's been a real struggle in the first half of the season at Sunderland.  He was one of Paolo Di Canio's major summer signings, and played in 581 of the team's first eight matches (a possible 720 minutes). With just one goal on the year, and a new manager in place, Steven Fletcher has snatched many of Altidore's minutes up front.  He's logged just 502 minutes since that aforementioned mark, a span of 11 matches and 990 possible minutes.
This match will be available online at NBC Sports Live Extra, kicking off at 10am ET.
Let's go around the world to see what else a number of USMNT stalwarts and hopefuls are up to:
England:
Brad Guzan has a tough task as Aston Villa welcome Arsenal Saturday.  The 29-year-old shot-stopper has played every league minute for Villa thus far, and has led them to a stellar defensive record so far, despite their woes up front.  He has six clean sheets this year and commanded a defense which has allowed just 25 goals through their first 18 matches.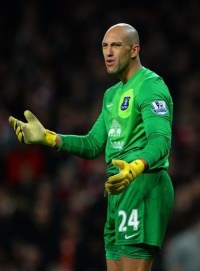 Another American in goal, Tim Howard, welcomes Norwich City to Goodison Park.  Last time these two teams faced, Howard allowed a pair of goals as Norwich worked a draw with visiting Everton.  Howard's manager Roberto Martinez said of his performances this year, "I would certainly find it difficult to see a better keeper in the Premier League this season."
Those previous two matches are available tomorrow on NBC Sports Live Extra.
On Sunday on NBCSN, you can watch Geoff Cameron look to stave off a slumping Liverpool squad at 11am ET.  Cameron has impressed lately, getting much more freedom than in the beginning of the season to make runs forward and have a pop at goal.
Before we head away from England, a bunch of Americans are playing in the lower leagues that we should keep an eye on.  Brek Shea made his debut with Barnsley following a move there on loan, and got a start and 72 minutes of game time at left midfield in a 1-1 draw.  Barnsley travel to Charlton on Saturday.
Eric Lichaj continues to see success this year with Nottingham Forest, who travel to Bolton in the Championship.  The right-back has been a workhorse for Forest this season, logging 1,750 league minutes out of a possible 2,160.  As a reward, the Midlands club sit in fifth place in the Championship table, seven points out of automatic promotion and good enough for a spot in the playoffs were the season to end today.
Germany:
The winter break is taking place in Germany now, but there is still some news to keep an eye on as Jermaine Jones may be on his way out of Schalke.  It was reported a few days ago that he could be looking for a move elsewhere, so keep a look out for news regarding that. He is not currently with the club training in Qatar during the winter layoff.
Mexico:
A pair of fixtures come to us tonight, as Edgar Castillo, Hercules Gomez, Joe Corona, and the rest of the gang at Tijuana take on Club America.  It's only the second fixture of the Clausura, but both sides have seen different starts.  Club America toasted Tigres 3-0, while Tijuana grinded to a 0-0 draw at Atlas.  Gomez and Corona started in that, while Castillo came off the bench.
DaMarcus Beasley and Michael Orozco join forces at Puebla on Sunday as they host Monterrey.  Puebla started their Clausura season last weekend with a 2-2 draw at Pumas that saw an incredible comeback, with the good guys snatching a stoppage-time brace.  Beasley played the whole match, while Orozco watched the match from the bench.
France:
FC Nantes are shocking the Ligue 1 world as the newly promoted side have found themselves all the way in seventh position.  They've stumbled of late, but Alejandro Bedoya and the rest of the squad look to get back on track Sunday as they host Lorient. Bedoya has featured much of the year in a number of different positions, but he was an unused substitute in 2-0 home loss to Nice last time out.
A number of players are on winter breaks around Europe, so the load is lighter this weekend.  We will have a full recap on Monday of all the American action around the globe!