Chelsea find themselves between a rock and a hard place regarding their goalkeeping future.
It's an age-old problem in sports that to this day no one has perfected (save maybe the Indianapolis Colts).
In one hand: an aging, tenured veteran who the fans adore and still has a bit left in the tank at the top level. In the other hand: a budding young star who wants to play and deserves to.
The first is Petr Cech. The second is Thibaut Courtois.
With Courtois already a household name having spent the past three seasons on loan to Atletico Madrid and supplanting Simon Mignolet as the Belgian number one, he's going to start – somewhere – next season.
Unfortunately for Jose Mourinho, having the legendary Petr Cech in goal makes things difficult.
"My agent is talking with Chelsea. One of the coming weeks I'll have a chat with Jose Mourinho," Courtois reportedly said. "I think there will be a decision about my future at the end of March, or in the first weeks of April."
Mourinho is well aware of the situation, and outwardly he's confident.  Back in November, he reassured fans saying,
"In this moment we are in a good situation," he said. "I repeat that because we have the best goalkeeper in the world at a stable age. And Courtois is undoubtedly the best young goalkeeper in the world with two more years of contract. We are in control of the situation."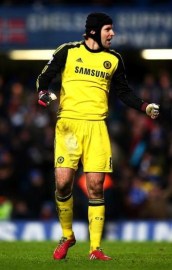 But it wouldn't appear that is the case.  At 31 years old, the Headgear Hero still has a lot left in the tank. Mourinho in November referenced Edwin van der Sar's long-lasting career.  The legendary Dutch keeper moved from Fulham to Manchester United at an older age than Cech is now (35, to be exact) and proceeded to become an Old Trafford icon.
However, Courtois wants to start now, and that's understandable.  The 21-year-old has a clean sheet in half his La Liga matches this year, and has helped Atletico Madrid into a title challenge against Barcelona and Real Madrid.
But the real reason he's swiftly becoming so coveted is because he's been able to keep his form in the Champions League, something where many budding players falter.
Barcelona originally approached Courtois about becoming their goalkeeper of the future, but when he turned down the advance they opted for Marc-Andre ter Stegen, a move which looks imminent this summer.
With Barca out of the picture, Mourinho can breathe on the situation…for now.  But convincing Courtois to stay put much longer as second fiddle is going to be next to impossible.  So what is a Portugese manager to do?
Will he cement Cech's legendary status by keeping him at Stamford Bridge for a while longer? Or will he disrespect Chelsea's all-time great by selecting Courtois as Chelsea's keeper of the future?