As the English media continues to force this rumor through the presses, it's hard not to ask the simple question:
Why?
Sure, Arsenal need striker depth, Berbatov is nearing the end of his contract, and Arsene Wenger is a frugal manager.
But that's about all that fits this situation.
First of all, Berbatov doesn't do sitting on the bench.  It's been heavily documented over the years how much Dimitar's confidence plays into his success or failure on a given day.
Even match to match, as attacking options dwindle in a defensive showdown, Berbatov makes less and less noise throughout such a match.  Sitting on the bench caused him to ask to leave Manchester United two summers ago.
So why would he move to Arsenal, where he would be the third choice striker? Wenger needs to get quality depth up front in the worst-case scenario – an injury to Olivier Giroud.  But he needs to find a player who would accept such a role, playing behind Giroud and Lukas Podolski, and Berbatov would surely be against that.
What's there to scoff at when moving to a title contender?
Well, the Bulgarian is the man at Fulham. Even having scored just four goals this season, the attack still runs through him.  He has the Fulham youngsters on a string, playing them into his hand like a marionette.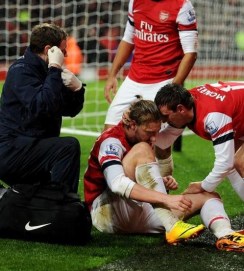 Berbatov has developed an exceptional relationship with a number of the young Fulham attack men, especially Alex Kacaniklic.  The 22-year-old Swedish winger often found himself on the end of vicious verbal assaults during the beginning of Berbatov's Fulham tenure.  Now, Berbatov has the young talent feeding him the ball at every opportunity.
And despite Fulham's precarious league position, with Premier League status still very much in doubt for next season, Berbatov has nothing to worry about. His contract expires at the end of the season, and he's almost a guarantee to depart Craven Cottage when his deal runs out.
Finally, that precarious league position Fulham find themselves in only serves to strengthen their desire to keep their main talisman.  With Bryan Ruiz set for departure, why on earth would they sell Berbatov and leave themselves entirely empty up front? Should Berbatov leave the friendly confines on the banks of the Thames, Fulham will surely be playing Championship soccer next year.
Not surprisingly, the English media also continue to ignore the comments of both managers squashing the deal.  Rene Meulensteen publicly acknowledged he is aware of the 32-year-old's importance to the club's relegation battle, saying, "He is a Fulham player & a very important one for us."
If that's not enough, Wenger also did his best to put the rumors to rest, saying a week ago, "'I won't go into any specific names. That would be disrespectful. We are assessing our options which are restricted. Berbatov is not a name we have considered."
So while injuries to Nicolas Bendtner and Theo Walcott have Wenger searching for cover at not just the striker spot but the wing position as well, don't expect a mercurial Bulgarian with a sublime first touch to be the final choice.