If you told me before the season that I would get to watch both Mesut Ozil and Ilkay Gundogan in the Premier League this year, I'd probably try my hardest to give whoever made that happen a big ol' hug.
Having seen what beautiful things Ozil has brought to the English game at the Emirates, the prospect of both being on my television come February 1 is salivating.
Manchester United, having been linked heavily with a bid for Gundogan, will have to try very hard to pry him from the clutches of a Borussia Dortmund side already reeling from the thought of losing Robert Lewandowski this summer.  It's not a long shot, but it's close.
However, should David Moyes pony up a successful £24 million ($39.6 million) offer, and convince Gundogan to risk his Champions League playing time (think green, that usually helps), the German could very well save their season – and the manager's job.
The 23-year-old is currently missing long-term from Dortmund's lineup, having made just one appearances this year due to a spinal injury.
But when healthy, Gundogan is an absolute workhorse. His style isn't exactly as "sexy" as Ozil's, but having completed a position change from a No. 10  to a holding midfielder, he possesses the best qualities of both roles melded into one player – what is known as a "complete midfielder."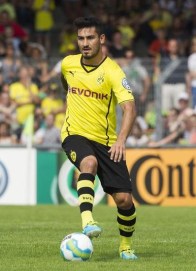 It's a style of player that fits beautifully into the rigors of the Premier League.  Technical yet physically weak players are eaten alive (see: Ruiz, Bryan) but Gundogan possesses the seizing abilities of a holding midfielder while still proving dangerous in both build-up and attack.
The German international had an 87% pass completion during the 2012/2013 Bundesliga season – not stellar until you notice Dortmund play a style that relies on an incisive yet risky passing attack.
He also paired the following statistics together last year: an outstanding 80% tackle completion percentage (51/64) and a 64% take-on success rate (58/90). He can dispossess and dribble.
With Manchester United's midfield currently featuring such yawn-inspiring players such as Tom Cleverley, Michael Carrick, and 40-year-old Ryan Giggs, the middle of the pitch at Old Trafford could use some life.
That's what David Moyes thought he was doing bringing Marouane Fellaini with him from Everton, but Fellaini's been both injured and underwhelming, proving his passing abilities to be sub par when thrust into the bright lights.
Gundogan's playmaking abilities would light up Old Trafford, and feed Wayne Rooney and Robin van Persie (given he's on the pitch and not in the physio's room) the service they've so lacked this season.
Rooney should be lauded by United fans, having singlehandedly created nearly every sliver of United's attack – nine goals and 11 assists (61% of their goals this season!). Pair the two playmakers, and watch Manchester United soar up the table.
If it happens, consider yourselves lucky to be graced with the ability to wactch the beautiful playmaking skills of two different yet equally tantalizing players.