Barcelona got Lionel Messi back just in time.
The superstar returned from a long-term hamstring injury on Thursday, and it looked like he hadn't missed a beat.
Thank goodness for Barcelona, because they'll need the four-time Ballon d'Or winner come tomorrow, as they travel to the Vicente Calderon to face off against Atletico Madrid.
The pair are tied at the top of the La Liga on 49 points, with Barcelona only ahead on a 5-goal spread in differential.
The Catalan giants also get Neymar back from his gastroenteritis, having played 10 minutes in their last three matches.
These two squads faced off twice earlier in the year in the Supercopa, and while Barcelona won on away goals, Madrid did well to hold them to just one goal over the two matches.  They sat back to defend and hit Barca on the break.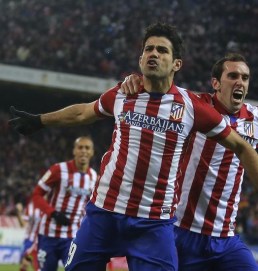 That will likely be their strategy this time around, and barring another duo sent off late (Arda Turan and Filipe were each sent off in the final 10 minutes of their 0-0 Supercopa draw), they could get more goals this time around.
Atletico manager Diego Simeone has experimented with a few different formations this season with smashing success.  The loss of Falcao to Monaco a  year ago has had a Ewing Theory affect on the squad, and Diego Costa has filled in with flying colors.
Messi and Cristiano Ronaldo get all the overseas headlines from La Liga, but it's Costa's 19 goals in 18 league matches that have Atletico planted in the top of the table.  Add another nine from David Villa plus the best defensive record in the league (11 goals conceded in 18  matches), shake it all up, and you have the recipe for a pretty tasty La Liga season.
However, a loss to Barcelona would put a serious, serious dent in the title hopes of the Madrid faithful. Barcelona hardly falter elsewhere in the league (they have just a single loss to their name thus far), and those three points dropped to their competition would likely spell doom.
The hosts will be boosted by the knowledge that right-back Juanfran will be eligible to play.  He was originally suspended due to yellow card accumulation, but a court of arbitration ruled that his fifth yellow was received due to acting by a Malaga player, and revoked the caution.