A frantic, back-and-forth match saw Stoke shoot themselves in their foot twice early, come back from two goals down, and concede a penalty early in the second half which Steven Gerrard converted for the win.
Finding themselves 2-0 down thanks to a bit of bad luck and a lot of bad defending, a ferocious Stoke side roared back to draw level at the break, with Peter Crouch and Charlie Adam on target.
However, Raheem Sterling won a soft penalty, Gerrard finished, and Luis Suarez revitalize his relationship with Daniel Sturridge to seal the win.
An early bit of fortune saw Liverpool ahead inside the opening five minutes, and started off a tough day for Stoke City.
Liverpool defender Aly Cissokho took a "why not" shot from distance as both teams settled into the match, and the shot was going comfortably wide.  But it smashed into Stoke defender Ryan Shawcross who had little time to react, and the ball redirect past Jack Butland into the net.
As the match progressed, it became a physical battle, with a number of thumping 50/50 airborne challenges.  A 20th minute spell of pressure by Stoke City backfired, and only resulted in a counter-attack by Liverpool leading to a shot for Philippe Coutinho that blazed over the bar.
Stoke built momentum though, and they seiged the Liverpool defense in the 26th with a beautiful spell of pressure involving a pair of corners.
The home side however gifted the visitors their second goal, and made things incredibly difficult for themselves going forward.  A poor header backwards from Marc Wilson allowed Luis Suarez to chase the otherwise lost cause, and when the ball came to Shawcross the pressure from Suarez caused him to bungle possession.
Suarez cooly took the ball and finished between the legs of a confused Butland for a 2-0 lead and the Uruguayan's 21st goal of the season in just 16 matches.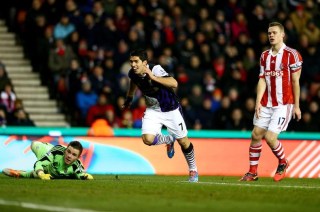 But the home side wouldn't quit, knowing they've only done themselves harm, and pulled one back before halftime.  With Suarez defending Marko Arnautovic, the winger whipped in a cross and Peter Crouch connected with his head, directing from some way out past Simon Mignolet.
It's the first headed goal for Stoke City all season, leaving just West Ham without a headed goal this Premier League season.
And directly after, Stoke completed the frantic comeback. Jordan Henderson was caught in possession deep in Liverpool's own half, and Charlie Adam pounced on the loose ball, slicing through the defense and unleashing a powerful shot into the top corner for the equalizer at 2-2.
On a day when refereeing decisions have already been brought to the forefront at St. James Park, Liverpool benefited from another contentious decision. A penalty was given by referee Anthony Taylor after Raheem Sterling had a breakaway but failed to get clear of Marc Wilson.  With Wilson defending tightly, instead of attempting to cut inside Sterling went to ground and won the penalty.
Gerrard finished the penalty low and hard for a renewed Liverpool lead. Replays also showed the officials may have missed a handed ball by Sterling in the buildup to the goal.
Nevertheless Liverpool were ahead again as the game continued to fizz back and forth.
Stoke kept up the attack, but Luis Suarez killed Stoke off.  With his early-season strike partner Daniel Sturridge on as a substitute, the two rekindled old brilliance.  The English international brought the ball up from the Liverpool half, cut back at the top of the box, and flicked on for Suarez who finished strongly at a tight angle.
Stoke pressed for another miraculous comeback, as Jonathan Walters slid a shot past Mignolet in the final five minutes with the keeper screened by his defender. It wasn't enough though, as Sturridge swung the final swipe of the blade with a brilliant late goal as the rain came down.
After some holiday stumbles, Liverpool are back above cross-town rivals Everton and into the top four.
GOALS:
Liverpool – Suarez 32′, 71′; Gerrard 51′ (pen); Sturridge 88′
Stoke City – Shawcross (og) 5′; Crouch 39′; Adam 45′; Walters 85′
LINEUPS:
Stoke City – Butland; Cameron, Shawcross, Wilson, Pieters; Walters, Nzonzi (Ireland 81′), Adam, Whelan, Arnautovic; Crouch.
Liverpool – Mignolet; Johnson, Cissokho, Skrtel, Toure; Lucas, Gerrard, Henderson; Sterling, Coutinho (Sturridge 66′), Suarez.