Let's say a friend comes to you today; he has a huge career choice ahead. He wants to bounce some thoughts off you. But honestly, you don't even need to hear the details, do you? The bottom line, you'd say:
"Do what's best for you and your family, what's best in the long run for you and the people who love you."
That's where it's going to end, right? If you're a good friend, it is. That's the advice that comes from every reasonable mouth, right?
Every man and woman has the right in our great land to make choices that benefits themselves and their family – not necessarily the choice that benefits the kingdom or the corporation or whatever, right?
Except this: when it comes to U.S. Soccer players making that critical choices of where to earn their pay, here or in the glorious "over there," these soccer heroes of ours have somehow forfeited that right. That's what plenty of aggrieved U.S. fans seem to believe, that these men have signed some secret deal with the devil, one that says they must do what's best for the longing U.S. Soccer fandom.
And that's so wrong.
Somehow, plenty of soccer fans in this country don't believe that basic human right – again, and say it out loud, the right to simply do what is best in their lives – somehow doesn't extend to this country's talented, highly skilled soccer luminaries.  In that case, so many U.S. fans want the Michael Bradleys, the Clint Dempseys the Landon Donovans, etc., to make decisions best for us, not them, what's best for the U.S. soccer-loving public.
(MORE: On U.S. player destination debates, all these conversations are different)
Too many soccer supporters here are falling over backward in selfish, sour-faced consternation over Bradley's choice to leave the good, sweet, pristine air of European soccer for the allegedly grimy, polluted air of Major League Soccer.
Oh, the villainy!
But why shouldn't he? If this is what Bradley wants to do, why hasn't he earned that right? It's the same argument I made with Dempsey and Donovan (for a bunch of years in Donovan's case.)
(MORE: Michael Bradley and Jermain Defoe unveiled at Toronto FCU.S. Soccer fans )
In some cases, it might not be the best thing for the player's development. It may not be the choice that manages to squeeze the very most juice from this orange; the player may only gain 90-95 percent of full potential. Well, so what? Isn't that the individual's choice?
Because I've got news for you: fully accessing e every last store of soccer talent is a big part of these guys' lives … but it's not their entire lives, now is it? Don't they have a right to think about their kids' ability to be close to their grandparents, about where they want to live, about overall quality of life?
Soccer considerations are a big part of these decisions, but they aren't always 100 percent of the equation. Because somewhere around age 31, 32 or 33, they'll be looking for one last contract … and then they'll be done earning a paycheck for playing soccer.
Here's the bottom line on all this:
We must reframe these discussions. (About where the talented U.S. players earn their keep, that is.) And perhaps we need to reshape these conversations radically. Too many U.S. soccer fans continue to look to these guys for validation of where the game stands in our own country.
Too many continue to want talented, influential players like Bradley to validate the game they love in the country they love. And while I understand the complicated background and origins of the sentiment, it's wrong.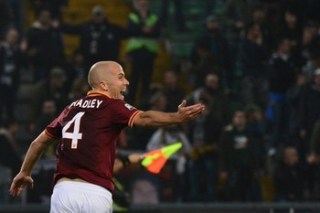 It's not Michael Bradley's responsibility to make you feel better about the quality of soccer in your beloved land.  Period. If you think soccer here, Major League Soccer and the larger game, isn't where you want it to be, that's your right. But that's not Michael Bradley's problem.
(Honestly, the game here is fine, steadily progressing in so many areas, just as it has been for years and years, no matter what the soccer snobs may say, or what the last vestiges of old-white-guy fear of societal change may tell you about the game's popularity here. But that's a different conversation.)
To put it another way, United States soccer fans need to confront their insecurities – and in a lot of cases, they need to get over themselves.
Beyond the man's right to make the choice that's best for his life …
I do get that a lot of people in the maddened crowd have trouble with Bradley's choice because they fear the deterioration of his ability and its potentially negative impact on national team this summer in Brazil. They badly want the team (and the player, of course) to be the best they can possibly be. I get it. It's about passion for sports and for your team.
I'll address why you shouldn't worry so much about that part in the next post at ProSoccerTalk, in about an hour …
(MORE: Where Bradley's signing falls in all-time MLS significance)
(MORE: What Toronto's starting lineup might look like with Defoe, Bradley)
(MORE: Why Bradley is worth the money for Toronto FC)