Reports on Tuesday are linking FC Barcelona and Spanish national team legend Xavi with a switch to New York City FC for the start of the 2015 Major League Soccer season.
According to the details dished out in publications across Europe, Manchester City (who own the vast majority of NYC FC along with the New York Yankees) are desperate to bring Xavi to the Big Apple and make him the new franchises leading light when they begin play in 2015.
Xavi, 33, has spent his entire career at hometown team Barcelona and has won just about every trophy known to mankind in his glittering career as a tiki-taka general in the heart of Barca and Spain's midfield. When 2015 rolls around Xavi will be 35 and will have just one year left on his current contract with the Catalan giants and City's hierarchy believe it will send out a message of intent from the very beginning, that their franchise in MLS will play an attractive style of soccer similar to that of Barcelona.
(MORE: Learning more about New York City FC, about DPs and training grounds)
So why not pick up Barca's creative hub and drop him in Manhattan? Xavi is said to earn $11 million a year in salary and would likely arrive on a free transfer, so from a financial standpoint it doesn't seem like a problem. City's owner Sheikh Mansour has already shown he's willing to splash the cash and the same is likely to apply to the three Designated Players Jason Kreis will have at his disposal when he leads New York City FC into the first steps as an MLS franchise.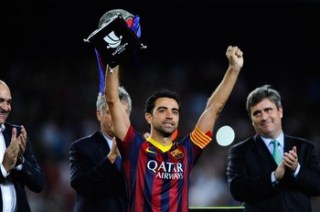 Speaking of Kreis, he's surely an admirer of Xavi as the intricate passing style that the Spaniard has helped become a worldwide phenomenon is exactly the way he instructed his former Real Salt Lake team to play. Quick passing, mesmeric movement, making triangles and third-man runs, that's right out of Kreis' coaching manual. That said, Xavi may not be running around much at the age of 35 but he'll surely have a few good seasons left in him and recently the Spanish midfielder sparked intrigue when asked if he will end his career at Barcelona.
"Being tied to Barcelona is a privilege," Xavi said, "but I don't know what will happen in the future."
Let's see if this is just another transfer rumor, or has more substance than most whispers of European legends joining MLS do.
I'm certainly hoping it's the latter.