Playing against Peter Crouch is one thing, but standing next to 6-foot-11 Kevin Garnett was another matter altogether for Chelsea players Andre Schurrle and Demba Ba.
'Kevin Garnett was really, really tall," Schurrle said. "It's unbelievable, but when I saw him it was good to see how this great player who achieved so many things was so happy to be at our stadium."
Garnett's Brooklyn Nets are in England to face the Atlanta Hawks, and members of both teams paid visits to Stamford Bridge, with Garnett donning the jersey of his beloved Blues. It's not a publicity stunt, as Garnett has talked about his love for Chelsea and ex-player Didier Drogba in the past.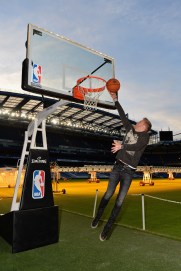 From the Chelsea press release:
Garnett, a huge Chelsea fan, who has a pair of specially-designed shoes in our museum, admitted: 'I'm like a kid in a candy store right now!'

Among the Hawks visitors were German Dennis Schroeder, who spent time talking with Schurrle, and Kyle Korver, who presented Chelsea's German international with his own team jersey in the Chelsea dressing room.
It's not a bad marketing ploy for either side. Brooklyn and Atlanta fans just tipped off — pun intended — to the glories of the Premier League may not have a dog in the hunt yet, while the English NBA fans might be swayed in their potential love for an NBA team by The Big Ticket's love for Chelsea.
The Hawks and Nets square off at O2 Arena on Thursday night and Schurrle is one of the Premier League players set to take in the contest. And by the way, though I doubt he took an NBA dribbling start on the pitch, he's got ups (right).