A $1.2 million salary in U.S. sports makes you a middle class athlete, at best. In Major League Soccer, however, it's a big deal. When the players union made its biannual release of wage data last September, only nine players were making seven figures. Major League Soccer millionaires are still relatively rare, especially compared to the other big four sports.
That's the context for today's report from ESPNFC, the outlet reporting that Major League Soccer is pushing back against Philadelphia's desire to make Stoke City's Maurice Edu the league's next millionaire. According to Jeff Carlisle's sources, the Union want to give Edu in the neighborhood of $1.2 and $1.4 million dollars per year, a number that would likely put him in the league's top 12 earners at the start of the season.
Last September, the millionaire's list was made up of Clint Dempsey, Thierry Henry, Robbie Keane, Tim Cahill, Landon Donovan, Marco Di Vaio, Obafemi Martins, Danny Koevermans, and Kenny Miller. Even when you take Koevermans out (not returning to Toronto) and add Michael Bradley, Jermain Defoe, and Omar Gonzalez to the list, MLS's Millionaires Club is still rarefied air. Edu's salary would slot in right above Miller's who made around $1.1 million last season for Vancouver.
But why should MLS care? It's probably best to let them explain (if the move ever happens), but if you're a league that wants to keep bringing U.S. talent back to North American teams, overpaying early in the game could lead to a lot of lost money down the road. Not everybody can argue they deserve Bradley or Dempsey money, but Maurice Edu is a borderline national-teamer, a distinction that's shared by a number of Jose Torres, Brek Shea, and Sacha Kljestan-esque talents. If the Edu contract means the price to bring those players home climbs into the millions, it may not be an example MLS wants to set.
There has to be a happy medium. MLS wants to present itself as a better option than most mid-tier destinations in Europe, but they can't be so stingy that mid-table clubs in Greece, Turkey, Belgium or Holland can offer better deals. While a sub-million dollar contract is unlikely to convince a player to turn his back on his chances with bigger clubs, MLS doesn't want players leaving North America for just any European opportunity. Unless you're going to one of the top 20 or 25 clubs in Europe, MLS should be able to offer talented North American players a viable alternative, the thinking goes.
Unfortunately, the stalemate leaves a series of questions, all of which hint at the continuing evolution of MLS's rules ("evolution" being a euphemism, for some). If MLS is unwilling to sanction a $1.2 million salary for Edu, what is the right number? Is MLS's front office really the right entity to be making those decisions, and if so, could those decisions end up keeping some U.S. internationals away from the league?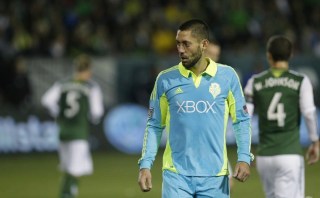 That all comes down league preference. Unfortunately, the million-plus figure being linked with Edu also points to a more definable league conflict. When Clint Dempsey came back to Major League Soccer, we were told some players go through allocation, others come straight to teams, and the Designated Player process was one of the mechanisms for making that distinction. Michael Bradley didn't come back through allocation. He was a DP signed by Toronto.
Whether he makes $750,000, $1 million, or $1.2 million, Edu will likely be a Designated Player. So what is Philadelphia doing trading up in the allocation order? Shouldn't they be able to sign Edu and bypass allocation by virtue of the Designated Player rule?
Apparently not. Some speculation says this comes down to the league's role in facilitating the move (Dempsey's transfer fee was covered by the league; it's assumed Bradley's was also subsidized). Perhaps Edu was merely tagged for allocation before Philadelphia started position themselves to acquire him. While there are explanations, there aren't without inconsistencies – conflicts that only seem to be addressed after the moves are made.
When Clint Dempsey came back to Major League Soccer, I bought what we were told. Designated Player not going through allocation? Okay. I see why people are upset, but it's plausible. Sure, it feeds the conspiracy theorists, but tinfoil gonna tinfoil, right?
Admittedly, in light of what we're hearing about Edu, I feel a little naive. A player is going through allocation, even though he's a Designated Player. Is it plausible? Sure, if we add the "did MLS help" standard, but the more post hoc justification we get, the more it seems that each scenario is judged by a complete different standard. Some outcomes just happen to look like others.
If that's the case, I've got no problem with it. Welcome to life in an 18-year-old league. New situations arise, the league makes decisions, and life goes on. It's less an issue of transparency than a league coming to grips with its new identity, one that's trying to spur a period of rapid maturation.
We'll have to wait and see what happens to Edu, but at this point — whether he comes back to MLS; whether he's a Designated Player; whether he goes through allocation — it's another opportunity for our 18-year-old league to mature.