SOUTHAMPTON — In a packed press room at St. Mary's Stadium on Thursday afternoon, Southampton manager Mauricio Pochettino announced he will remain in charge of the Premier League club.
The Argentine boss, 41, was rumored to be heading out the door alongside Executive Chairman Nicola Cortese who left on Wednesday, after he'd previously stated he would leave if the mastermind behind Southampton's recent success walked out.
However as the national press descended on Southampton to hear Pochettino's decision, the exciting young manager made a massive U-turn as he decided to stay on at St. Mary's.
"I am staying as Southampton Football Club manager," Pochettino said. "I have a professional responsibility to everyone."
Disaster has been averted at Southampton, for now, as the South Coast club can at least count on its manager being around for the foreseeable future. Pochettino took the opportunity to thank Cortese for getting him involved in the project at Saints and revealed his shock about the Chairman's departure.
"First of all I want to show my complete gratitude to Nicola Cortese from me and my staff for bringing us to the club," Pochettino said. "It has surprised me quite a bit, and like everybody I knew nothing about his departure. What's quite clear is that I have a very good relationship with Nicola Cortese, he agrees with my decision to stay. He only asked me for one thing, that's to win on Saturday."
Cortese left on Wednesday, after transforming Saints' fortunes from League One basement boys in 2009 to excelling in the top ten of the Premier League. Owner Katharina Liebherr has now stepped in as non-Executive Chairwoman in Cortese's absence and Southampton have begun their search for a Chief Executive Officer to replace Cortese.
Pochettino spoke briefly with owner Liebherr after she took over the everyday running of the club, but Pochettino revealed he has no idea whether she intends to sell the club.
"No, we just spoke briefly," Pochettino said. "She wanted to see me and say hi and show me her full support. She transmitted her full trust and support to me and my staff and people working at this club."
But what about Pochettino's U-turn after stating last May he would leave Southampton if Cortese walked? As now he has decided to stay without the man who appointed him.
"The situation right now is completely different," Pochettino said. "We are in the middle of our project at Southampton Football Club. Nicola knows of my decision to stay. It shows I am fully committed."
(MORE: Nicola Cortese resigns as Southampton Chairman, manager Mauricio Pochettino could follow)
Cortese — an Italian banker who aided German billionaire Markus Liebherr with the acquisition of the club back in 2009 for $20 million when they were on the brink of extinction and bottom of English soccer's third-tier — has walked away from the project which has seen him turn Saints into a top 10 PL club after they were down and out. The club is now worth an estimated $180 million after a dramatic rise.
ProSoccerTalk can reveal that Liebherr's daughter Katharina, who assumed control of the club when her father died in 2010, will not move to England and will remain in Switzerland. She is currently in the United Kingdom heading up the search for a successor to Cortese, after yesterday revealing she was desperate for the Swiss-Italian maestro to stay.
"With great regret we have accepted the resignation of Mr Cortese," Liebherr said. "He has done a wonderful job at the club and we very much wanted him to stay. A search has now begun for a successor. In the meantime, it is business as usual and we will ensure that the manager, the team and all the staff at the club have all the help and support they need."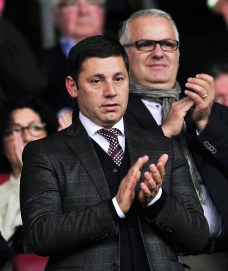 Branded a controversial and brutal figure by many, Cortese, 45,  has led Southampton's charge up the English soccer pyramid following the sudden death of Markus Liebherr. Following that setback, Cortese has ruthlessly transformed Southampton into one of English soccer's great success stories of recent times after back-to-back promotions from League One saw them return to the top-flight in 2012-13 and establish themselves as a forward-thinking club this term.
After sacking Nigel Adkins and Alan Pardew ruthlessly in the past, Cortese always did what was right for the club, and his appointment of Pochettino obviously follows that trend. Pochettino celebrates a year in charge at Southampton this Saturday, January 18, and after making his name as a promising young coach at Espanyol in La Liga he's turned Saints into a promising outfit which relies on a much-admired high-pressing style with a plethora of teenagers already present in the starting XI.
With Pochettino staying on board, rumors of a quick-fire sale and Southampton being stripped of all its assets are unfounded, for now. The Saints are currently enjoying their best spell in decades, with the team pushing for only their second top ten finish in PL history after their best-ever start to a top-flight season to begin the 2013-14 campaign.
But the futures of several first-team stars is apparently up in the air, 18-year-old Luke Shaw is attracting the interest of Manchester United, Manchester City and Chelsea, while England internationals Rickie Lambert, Jay Rodriguez and Adam Lallana could all leave in the January transfer window.
For now, the storm has passed at St. Mary's.
But with rumors swirling about the club being sold and the search for a new inspirational leader to take the exceptional progress Cortese made to the next level, turbulent times could still be ahead for the Saints.