It's not the primetime spectacle we get from the NFL or NBA, but Major League Soccer's annual draft has come a long way. Once an overlooked part of a fledgling league's landscape, MLS's annual event now serves as the highlight of the offseason, with college soccer experts, mock drafts, and live television coverage making previously anonymous collegiate stars into symbols for professional hope. There may not be any Jabari Parker- or Andrew Wiggins-level stars in the field, but for one day, somebody will be the Jabari Parker of Major League Soccer.
For North American professional soccer, that day is Thursday (noon ET), though as with every Major League Soccer SuperDraft (yes, they do call it "Super"), any description of event come with disclaimer on its changing identity:
The Big Story
Each January, MLS officials convene on the NSCAA convention, ready to draft a new platoon of talent. Each January, the rest of the MLS world debates why they continue to do so. With more talent coming into the league as Home Grown Players or foreign free agents, with wages and the rising level of competition keeping more talent in the league, it's becoming more difficult for drafted players to make an impact in Major League Soccer. The league has grown beyond its dependence on the college pipeline.
Even if the draft is less super than it used to be, it still has serves a purpose. Andrew Farrell, Deshorn Brown, and Dillon Powers went from first round picks to starters on playoff teams last season. Kelyn Rowe, Nick DeLeon, and Austin Berry were top nine picks in the 2012 draft, while Darlington Nagbe, voted the league's best player under 24 years old last season, was selected second overall in 2011. Perhaps the draft's waning influence has increased the importance of higher picks, but the process hasn't reached irrelevance. Yet.
Who's going number one
Thanks to an aggressive offseason makeover, D.C. United, holders of the first overall pick, doesn't have a clear area of need. They've brought in goal scoring (Eddie Johnson) and defense (Jeff Parke, Bobby Boswell, Sean Franklin) to a team that already had Perry Kitchen, Luis Silva, and Nick DeLeon in midfield. While Ben Olsen's three-win squad still has weak points at all levels of the field, it's just unclear which one they need to address first.
That's why you see a number of different players occupying the number one spot in mock drafts:
Steve Birnhaum, D, California – Just short of his 23rd birthday (Jan. 23), Birnhaum is seen as the most MLS-ready player on the board. A center back with size (6'2″) and the ability to play with the ball at his feet, Birnhaum has been evaluated as a strong passer whose only potential physical drawback is the lack of top-end speed. The other obvious drawback: At 23 years old, he's approaching "what you see is what you get" territory.
Christian Dean, D, California – A natural left-footer with the athleticism to play wide, Dean is a central defender whose 6'3″ frame sometimes overshadows his skill on the ball. A converted attacker, he reportedly can still show his lack of defensive experience. While on one hand, that means the 20-year-old may not be as polished as some other prospects, it also means his best is yet to come. He's also two years younger that his highly-rated teammate, and with D.C. United potentially needed a left back to go with their other offseason acquisitions, a year's apprenticeship out wide could be the perfect transition period for Dean.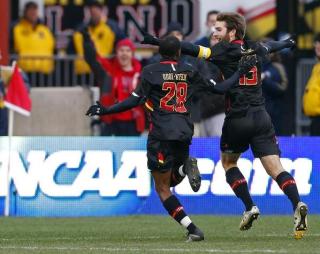 Patrick Mullins, F, Maryland – The 6'1″ forward out of Maryland scored 16 goals in 23 games during his senior season, but like Birnhaum, he may have less upside then somebody like Dean. For a D.C. United team that was shy on goal scoring last year, that may be a good thing, as could the local connection of somebody who spent four years with the Terrapins. Mullins' ability off the ball means he could potentially mesh well with Eddie Johnson, and with D.C. making other "win (more) now" moves this offseason, going for Mullins' combination of polish and first could make sense for Dave Kaspar and Ben Olsen.
Others: Jamaican goalkeeper Andre Blake (Connecticut) is the draft's best No. 1; teams looking for midfielders could focus on Marlon Hairston (Louisville), J.J.Koval (Stanford) and Brazilian Pedro Ribeiro (Coastal Carolina), Maryland's Schillo Tshuma and Georgetown's Steve Neumann are other attackers who could go in the top 10.
Your Must Knows
The four-round, 77-pick draft lasts two days, with the first two rounds televised via ESPN News on Thursday.
The third and fourth rounds take place via conference call on Friday.
A number of players are members of this year's "Generation Adidas" class (Blake, A.J. Cochran, Dean, Hairston, Damion Lowe, Eric Miller, Tshuma). They've already signed league deals and will not count against their teams' salary caps as long as the remain in the GA program.
Philadelphia and Vancouver each hold two of the top seven picks, while New England has three first round picks (4, 12, 19).
Sporting Kansas City, LA Galaxy, New York Red Bulls, and Chivas USA do not have picks in the first round.
The Picks
Round 1
1. D.C. United
2. Philadelphia Union (acquired via Gabriel Farfan trade with Chivas USA)
3. Vancouver Whitecaps (acquired via Eric Hassli trade with Toronto)
4. New England Revolution (acquired via Michael Parkhurst trade with Columbus)
5. FC Dallas
6. Philadelphia Union
7. Vancouver Whitecaps
8. Seattle Sounders (acquired via Jhon Kennedy Hurtado trade with Chicago)
9. San Jose Earthquakes
10. Montréal Impact
11. Colorado Rapids
12. New England Revolution
13. Chicago Fire (acquired from Seattle)
14. Columbus Crew (acquired via Hector Jimenez trade with LA Galaxy)
15. Toronto FC (acquired via Bobby Convey trade with New York Red Bulls)
16. Houston Dynamo
17. Portland Timbers
18. Real Salt Lake
19. New England Revolution (acquired via Benny Feilhaber trade with Sporting Kansas City)
Round 2: Chivas USA, Seattle, New York, LA Galaxy, Toronto, Philadelphia, Portland, Philadelphia, San Jose, Montreal, Vancouver, New England, Houston, Colorado, New York, Colorado, Portland, Montréal, Sporting KC
Looking back – last year
The five best picks from last year's draft (a.k.a., "Why the draft is still relevant, now"):
1. Deshorn Brown, F, Colorado (Central Florida) – Scored 10 goals in his debut and played his way into the Jamaican national team.
2. Dillon Powers, M, Colorado (Notre Dame) – Immediately started in Colorado's midfield, and won Rookie of the Yea.
3. Andrew Farrell, D, New England (Louisville) – Was a regular at right back for the Revolution after going first overall.
4. Devon Sandoval, F, Real Salt Lake (New Mexico) – Make the team as a second round pick and played a vital role as Álvaro Saborío's replacement as RSL won the Western Conference.
5. Kofi Opare, D, LA Galaxy (Michigan) – By season's end, the second round draft pick had won a spot in central defense for the defending MLS champions.
Looking back – RECENT HISTORY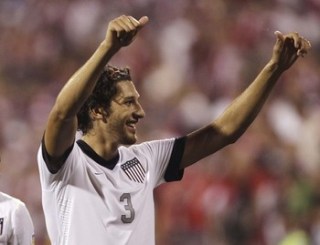 The five best picks from the draft's last five years (a.k.a., "What the draft can do for you"):
1. Omar Gonzalez, D, LA Galaxy – Selected third overall in 2009, Gonzalez has become a U.S. international, Defensive Player of the Year, All-Star and earned a Designated Player deal with the Galaxy. In 2012, he was the Most Valuable Player at MLS Cup, winning his second league title.
2. Graham Zusi, F/M, Sporting Kansas City – The best value pick in recent history, Zusi went 22nd overall in 2009, one spot behind former Michigan State forward Doug DeMartin. Now one of the league's best midfielders, Zusi is contention to start for the U.S. at Brazil 2014.
3. Matt Besler, D, Sporting Kansas City – For many, Besler is Gonzalez's equal in defense. Selected eighth overall in 2009 out of Notre Dame (the same year as Zusi), Besler has also worked his way into the U.S. National Team, winning the league's Defensive Player of the Year honor in 2012.
4. Darlington Nagbe, F/M, Portland – Selected second overall out of Akron in in 2011, Nagbe has 17 goals and eight assists in three years with the Timbers. His nine goals in 2013 helped his team to their first playoff appearance, with the Timbers finishing first in the West during the regular season.
5. George John, D, FC Dallas – Perhaps overshadowed by Gonzalez and Besler, John is still one of the league's best central defenders. Selected 14th overall in 2009 out of Washington, John has already flirted with a move to England, earning a loan spell with West Ham United in 2012.